2004 Trip to Eastern Canada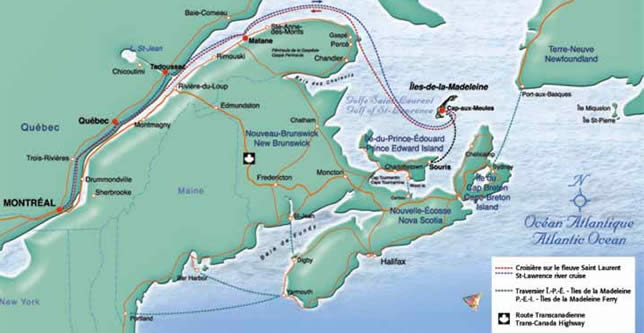 July 3: From Waterloo, took a limo to Pearson Airport in Toronto. Flew to Montreal.
July 5: Flew from Montreal to Halifax.
July 6: Picked up a rental car and drove to Mahone Bay, then Lunenburg (southwest of Halifax).
July 7: Drove through Kejimkujik (east to west). Stayed in Annapolis Royal.
July 8: Drove to Digby, had lunch at Bridgeport, and stayed in Parrsboro (northeast of Digby).
July 9: Drove into PEI. Visited Victoria-by-the Sea, Cavendish, the Dunes, and stayed in Charlottetown.
July 10: Returned car and took a taxi to Souris. Boarded ferry. In 5 hours, arrived at Cap-aux-Meules sur les Îles-de-la-Madeleine.
July 13: At night, boarded cruise ship at Cap-aux-Meules.
July 14: Stop in Chandler on the Gaspé coast.
July 15: Stop in Québec City.
July 16: Disembarked in Montreal.
July 17: Flew back to Toronto. Limo back to Waterloo.
Sights
https://www.jean-cathy.com/Travel/TravelAmericas/Maritimes-2004-IDM-1
Activities
Stuff we did…
Jo and Jon's condo, Montreal
The new condo is quite nice, with hardwood floors, large windows, a lot of storage, and very good use of space. But the building itself is still very much under construction, so it was mildly entertaining directing cab drivers to it. With all the scaffolding and workers around, it doesn't quite look like someone should be living there yet…
Jazz Festival, Montreal
During our first Montreal weekend, many downtown streets were blocked off for live performances, as part of the annual Jazz Festival. If we'd had our camera with us at the time, we could have taken this cool picture of a large crowd under a brilliant blue sky, soaking their feet in a city fountain while looking down at a stage where Jazz musicians were performing live. Unfortunately, we did not have a camera, so you'll just have to imagine it.
Fisheries Museum, Lunenburg
Similarly, we didn't take our camera into the Lunenburg Fisheries Museum, but it was well worth the visit. It featured aquariums with various sea creatures, boats on the dock you could tour, demonstrations of boat building, sample of products made with fish parts (beyond the obvious), art… Well worth it even if you don't have a particular interest in fishing.
Moonlight graveyard tour, Annapolis Royal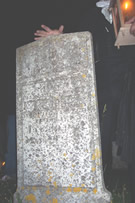 Annapolis Royal is a small town with big history. One of the events offered by the Historical Society there is a moonlight tour of the town graveyard. Our guide was an Acadian whose family was expelled at one point, but who made their way back to Canada. The graveyard here contains the oldest stones of English settlers to Canada.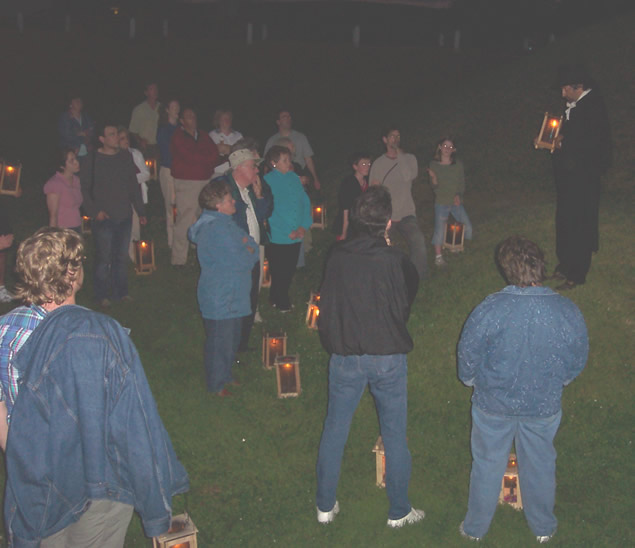 Parrsboro Geological Centre
Where Annapolis Royal focuses on human history, Parrsboro is known for its geological riches. These fossil and mineral artifacts are featured in their small but well-presented Geological Centre.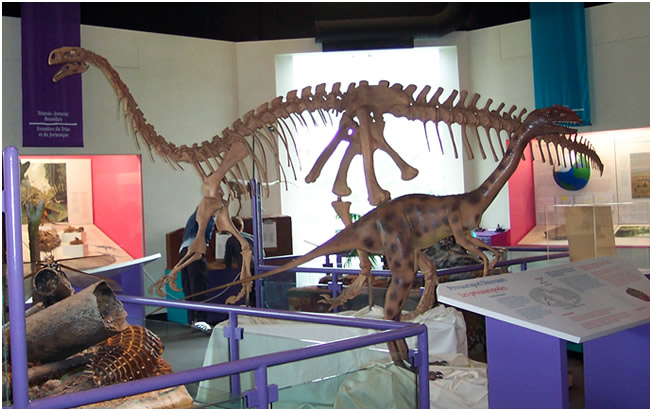 Sailing lesson, Îles-de-la-Madeleine
We decided to give sailing a whirl on the windy yet controlled waters around the Île du Havre Aubert. The two-person boat we were in was designed for racing, and featured two sails, a steering mechanism, and a "braking" mechanism. After about a personal 20-minute land lesson and changing into wetsuits, we took off in the boat while our instructor followed along in a motorized rubber dingy.
Despite the fact that I was hopeless at steering, we experienced no major disasters: neither of us got hit in the head with the "bombe", we didn't fall out of the boat, we didn't ram into anyone else. And it was kind of fun! The next day, however, I was surprised at the location of my sore muscles: I expected sore arms and shoulders, but it the front part of my thighs that were just killing me. Going down stairs became an absolute trial. (Thank goodness we weren't in the stair-filled Québec City yet.)
Live theatre, Îles-de-la-Madeleine
We went to see On a jamais une deuxième chance de réussir sa première dépression (rough translation: You never get a second chance to succeed at your first depression), just one of many live plays and concerts available. We were very impressed at the quality of the comedic acting, and the writing which made such fun of someone feeling so down.
Sea kayaking
The next day, sore legs notwithstanding, we went sea kayaking. We were in a tandem sea kayak, which proved to be a bit of a relationship test. (We did argue, but not as much as the other couples on the tour. Does that mean we win?) The highlight of the trip (apart from the really cute instructor — see left) was getting a different view of the caves and dunes in the area, although the waves were to big to allow us to go through them safely. And speaking of waves, we were both soaked with sea water by the end of this three-hour trip.
Cruising down the St Lawrence
Jean did not experience the boredom he'd feared he would on the cruise from Îles-de-la-Madeleine to Montreal. I think it was short enough, and featured enough stops, to avoid that. It was kind of "light" version of the Alaska cruise we'd taken before: meals were reasonably good, but not the same quality (nor could you eat all the time); the live entertainment was OK but not great (and there wasn't as much of it); the bars were pleasant but none as outstanding as the Crow's Nest (and there were only 2, not 12). So it was all pleasant enough, but I'm not sure we'd repeat it.
One of the highlights, though, was seeing the Gaspé coast from the water. We'd been to Gaspé a few times, and had therefore driven on the coast. But you really don't appreciate how gorgeous it is from the car. You can only see that from the water.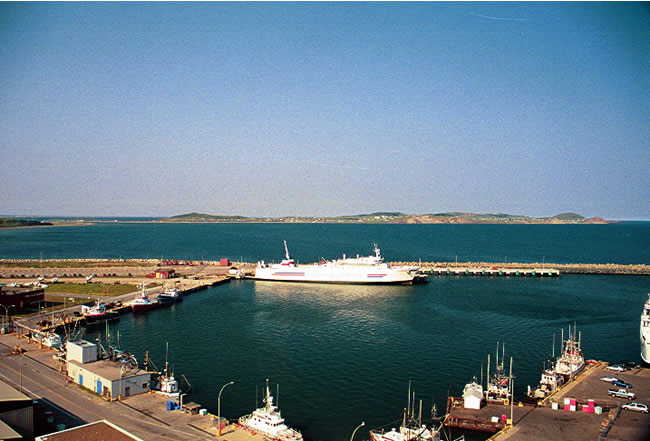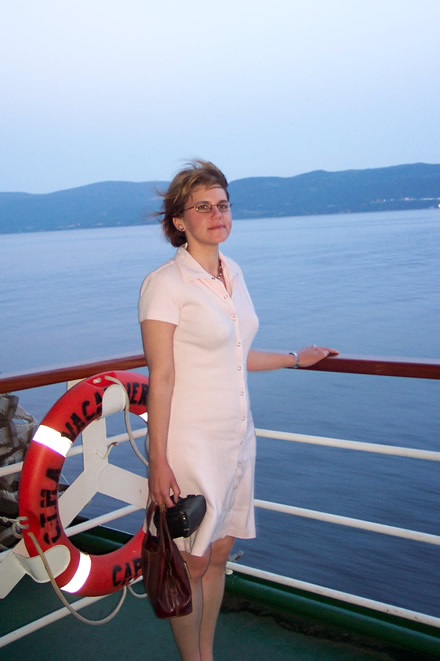 Fine dining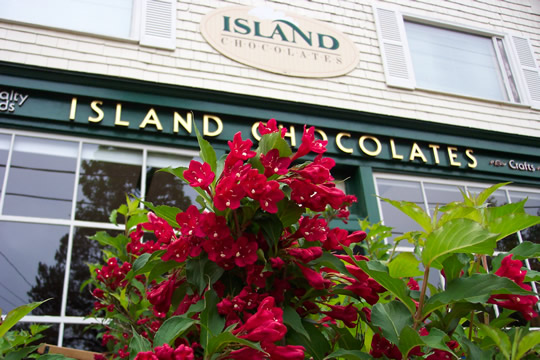 We ate an alarming number of incredible meals on this vacation—to the point where we were almost getting blasé about it! Here are some highlights. Star ratings are from Where to Eat in Canada, a book we're kind of addicted to. Any links are to the restaurant's Website, if I could find it…
Nova Scotia
Sweet Basil Cafe, Halifax (not listed)
We had skipped lunch and were really hungry when we choose this place, largely on the basis of its being open early for dinner. But it turned out to be a very nice place where Jean had the first of many clam chowders (I went for gazpacho), followed by a variety of seafood: grilled scallops, Cajun-spiced salmon, and basil-encrusted fish.
Seven, Halifax **
This restaurant has a distinctive look, with soft lighting, exposed brick, and old wood. We were there for lunch, so didn't go for the full, three-course experience. We shared a nicely done sushi appetizer, then I had farfelle in a rosé sauce with duck while Jean had pasta in a wild mushroom, prosciutto, and chèvre sauce. I found my pasta dish pleasantly rich without being overwhelming, but Jean felt that his was just a little too salty.
Arbor View Inn, Lunenburg
This was nice but not fantastic meal. Certainly the Inn itself was lovely—a 1907 Edwardian house. We did very much enjoy the crab cakes with mango and Thai spices appetizer, as well as the silky strawberry sabayon for desserts. (Strawberries were in season at this point and were quite delightful everywhere.) As a main, Jean had chosen lobster in truffle oil, but it unfortunately sounded better than it was.
Newman's, Annapolis Royal *
Where the three previous restaurants listed all looked like places that served excellent food, Newman's looks like it's in dire need of renovation. Not dirty or anything; just out of date. But the food is superior to the surroundings.
The mulligawtany soup was very nice, and while the pâté with pistachio and cornichon looked nothing like I expected it to (speckled and solid rather than creamy), it did taste good. Jean wasn't overly thrilled with his pork and fish stew, a new trial item on the menu, and my halibut with almonds was a bit dry. We had strawberries and home-made chocolate ice cream for dessert—hard to go wrong with that.
Harbour Restaurant, Parrsboro (not listed)
This is one of those seafood restaurants located right at the harbour. It was mainly notable for its unexpectedly excellent soups—both the seafood chowder and chicken vegetable were excellent. The mains featured really fresh seafood at good prices, but… while my scallops were fine, all the sides (veg, potato, salad) were pretty yuck. And Jean learned a lesson about three-pound lobster.
Prince Edward Island
The Landmark Cafe, Victoria-by-the-Sea
Here's another place that looks like any casual, basic cafe but serves really excellent food. I took a little break from all the seafood to have their Lebanese lunch special, featuring humus, grape-leaf rolls, and parsley couscous salad—all excellent. Jean just raved about his grilled tuna. We were a bit surprised that dessert was included, but that didn't stop us from eating up the delicious strawberry rhubarb pie.
Sirenelli Ristorante, Charlottetown (not listed)
Mainly notable because we found it ourselves, without help of any guidebook. It was a perfectly acceptable Italian restaurant, where we both enjoyed varieties of marinara pasta with seafood.
Blue Fin, Souris
With the regular weekend ferry traffic augmented by a regatta, this diner-type place was completely insane, crowd-wise. It was fortunate that, as pedestrians on the ferry, we did not have as tight a deadline to get to the boat. That allowed to enjoy the food that was much better than you would have expected looking at the place, particularly the broiled hake, the fresh fish of the day. Not a relaxing meal, but it certainly held us well through our five-hour ferry ride.
Iles-de-la-Madeleine
Does this place even have any bad restaurants? If so, we didn't find them… Even the smallest, most casual place had really excellent offerings.
Chez Diane, Cap-aux-meules (not listed)
We ate both our first and last meals on the Islands here. Both times we sat in the back area, which has wood-paneled walls and a fireplace (not lit, of course). The waitress was lovely. The food highlights were the locally made cranberry cider appérot; the seafood bouillabaisse, featuring an entire half-lobster (much easier to eat than whole lobster); and the tarte au sucre dessert.
Hôtel Vieux Couvent, Havre-aux-Maisons (honourable mention)
We had to try this place after not one but two of the locals recommended it. As the name suggests, it is housed in an old convent, which gives it a very interesting look. We were housed in the sun deck area, with a view of the sea. Our waitress, I am informed, was very cute.
They specialize in mussels, so I went for the "moules et frites" option. They were, in fact, probably the best mussels of the vacation. As the special, they also came with a chocolate mousse for dessert. It was small but delicious. Jean opted for making a meal of two appetizers: oysters with cheese and clam chowder.
Auberge de la P'tite Baie, Havre-aux-Maisons *
A really nice little place set in a century-old home. Our meal started with a bowl of soup that featured cream of cauliflower on one side and cream of carrot on the other. Very pretty as well as tasty. Jean decided to try a seal meat (yes, you read that right) burgundy stew. It has a very rich, sort of earthy taste. We both then ordered the seafood pot-en-pot, the specialty of the house, though we didn't quite know what that was. It turned out to be like a seafood pot pie. And dessert was crêpes with bananas and rum.
Near the end of our meal, the restaurant was disrupted by a group of Americans carrying cameras. It turned that PBS is working on some sort of travel special about les Iles. We were to encounter this group of journalists again on our cruise. We'll have to keep an eye out for the actual show…
La Table des Roys, Cap-aux-Meules ***
Only 25 restaurants in Canada have earned a three-star rating from Where to Eat, so we had high hopes for this meal. The restaurant itself is quite small, with only 12 tables, but it does have an elegant air. And the food really was fabulous, from the sparkling cranberry cider appéro to molten chocolate cake dessert (crispy chocolate on the outside, warm gushing chocolate on this inside).
In between we swooned over the lovely California cabernet sauvigon wine, a nice change from the fine but bland house reds elsewhere; the exquisite scallop sashimi (so weird that fresh fish is better the less you cook it), and Jean's silky foie gras; the outstanding lobster-mushroom ravioli (my only complaint is I wanted more); the onions so sweet I seriously thought they were raisins; and the rhubarb-strawberry mille-feuilles Jean had for dessert.
Our only slight complaint was the somewhat slow service. Every course seemed to take just a little longer than it ought to.
Québec City and Montreal
Le Saint-Amour, Québec **
It was quite lovely to enter the bright, colorful back area of this restaurant on the rainy day we were in Québec City. It was like walking into sunshine. Even though we were there for lunch, Jean could not resist ordering off the regular menu, so this ended up being perhaps our most expensive meal of the trip. All quite lovely, though. Here's what we had for dessert: Crémeux Manjari à la fève de cacao supérieure coeur fondant au Brandy d'érable sauce vanille et chocolat glace à la lavande. Don't you kind of want that, even if you don't read French?
Laloux, Montreal *
Lunch at Laloux is quite a bargain, so we had to take advantage. It's a white linen sort of place, and we were in jeans, but I joked that they could just seat us at the back, near the kitchen. Which is what they did! But really, there was this very big, very loud group at the front, so it was good to be as far from them as possible.
This is where Jean had his best soup of the trip, the orange-tinged soupe aux moules. I was quite happy with my salmon salade niçoise, again with the lightly cooked very fresh salmon, and I was just blown away by my dessert. A very innocent-sounding chocolate ice cream, it was the richest, creamiest stuff imaginable, all in a dark chocolate coated cup. Yowsa. Jean's three flavours of fruit sorbet were also excellent.
Chez l'Epicier, Montreal *
Located in a interesting-looking old building in Old Montreal, we called this our anniversary dinner, though we'd had any number of candidates for that previously. It had a lot of wines available, but few by the glass or half-liter, and all rather heavily marked up. The one we chose was nice, but… All the food was well-prepared and the service was attentive.
Items purchased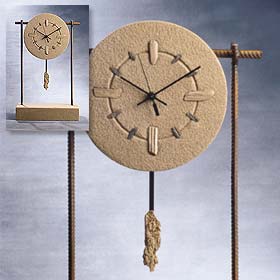 At left is a clock made of sand. We also bought a clock made of sand, though not that particular model, and a candle lantern as a housewarming gift for Jo and Jon. This was all at Artisans du Sable on Iles-de-la-Madeleine—a really cool shop to visit.
We also bought a couple of paintings from a gallery in Lunenberg, after talking to the artist, Daniel Richards, for about an hour. He was interesting guy, using creative paint techniques to make his art more affordable. You can some samples of his work here.
Old Montreal has a store that specializes in wine-related items. I bought one of those little gadgets to remove the plastic covering the cork (after seeing one at Robin's). I also bought a couple other items I won't mention, lest I decide to give them as gifts.
At a PEI shop, I picked up earrings in which one is in the shape of a treble clef, the other the bass clef. They appealed my musical side.
In Montreal, after resisting the many fine clothing stores there, I bought a pair of shorts and tank top, together, for $15 including tax. It was just too hot to keep wearing jeans…
I bought a cookbook called Summer Drinks, with a lot of yummy-sounding recipes for smoothies, punches, iced coffees, mocktails… I've already tried a few, and so far, so good.
As a joint gift, we acquired the DVDs Le déclin de l'empire américain and Les invasions barbares.
And we bought food! Of course we did. Chocolates in PEI, chocolates on the Islands, Island cheese…
Lessons learned
The amount of weight you gain from fine dining for two weeks is considerably less than what you gain eating McDonald's for two weeks (comparison: Supersize Me). (And so much more worth it!)
If your computer is really slowing down, and you're constantly being bothered by pop-ups and whatnot when web browsing, first clean up your computer with software like Spybot, and switch from IE to the Mozilla Firefox browser. Tip courtesy of Joanne and Jon.
Do not order large lobsters (over three pounds). All you get for the extra bucks is pasty meat and truly nasty-tasting green stuff.
If flying out of Montreal's Trudeau Airport on Air Canada, get there early. And don't be afraid to use the automatic check-in. Sure, you'll still have to line up to check your baggage, but the line-up will move a lot more quickly.
If you're planning to ferry off PEI, trying driving on. It's free!
A "canicule" is a French word for a long period of hot, humid weather. Being "emborver" is madelinot for getting drenched.