25th wedding anniversary party: An inside look
A common comment when I expressed some nerves about organizing our 25th wedding anniversary:
But surely this was nothing compared to what planning the wedding was?

Various people
Well… Our wedding was a two-parter, with the actual ceremony arranged in two weeks (though it took place in a church) and sparsely attended. We did have the larger dinner / dance reception about three months later (after the honeymoon), but I don't recall much anxiety about organizing that. Probably because we got so much help from my parents. These events were in Timmins, where my parents lived, while Jean and I were in Waterloo. We did our bits, like send out the invitations and pick a song to dance to (Queen's "One Year of Love"), but they were just bits. A lot of the details, my parents handled.
Largely, Jean and I just had to dress up and show up. I do recall that my Mom seemed somewhat worried that day, about everything going well. At the time, I didn't really get why. Now, I do.
The invitation is in the mail
A local restaurant we quite like, called The Berlin, has some rooms on the second floor that groups can rent. We thought it would be nice to have dinner there with family, who would all be coming from out of town, and some closer friends. And then send out another invitation, more widely, for a party following at the very cool Tannery Event Centre, a couple blocks from The Berlin.
We didn't want to track everything in email, so we used an invitation service called Pingg, which worked fine, except for:
The guests who never received it, because it likely went straight to their Spam folder.
Guests who responded directly to us by email anyway instead of through Pingg.
Hosts (that's me) who set up the form incorrectly for some guests, so they couldn't report how many in their family were planning to attend.
etc.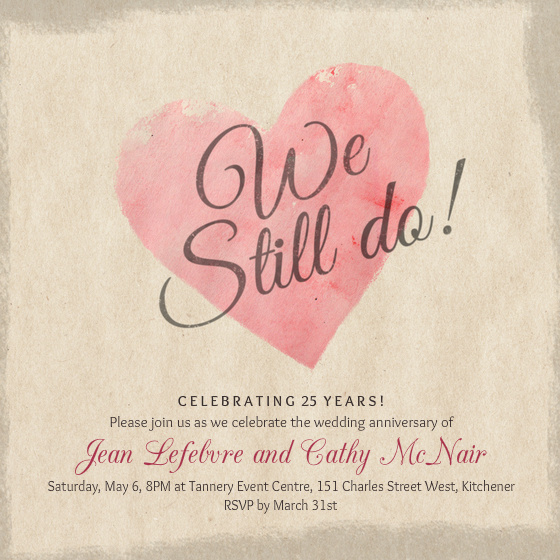 In the end, it was helpful, but did not eliminate the need to send a lot of communication by email anyway, and to keep track of guest counts ourselves in spreadsheets.
The important thing, of course, is that so many agreed to attend: All of Jean's brothers and sisters and all of mine; a lot of friends from work and the canoe club, and a great turnout from the ballroom dance contingent. We got responses well in advance, though, and I couldn't help but worry that something else was bound to come up for at least some of these people.
… which of course is exactly what happened. Deaths in the family, illnesses, and other troubles did mean that a few people we'd hope to see couldn't make it in the end.
But there were victories, too. My Dad, who hasn't felt up to travel for the past year, concluded just a couple days before that he could make this trip, with the help of my brother and his wife. I was so happy to hear that.
And Jean's Mom, who'd taken ill a week before the event, recovered enough to make the trip down with her sons and their wives. I was quite happy to see her walk in, also! And though heavy rain, possibly in record amounts, was predicted, it wasn't quite as bad as that. It was definitely an unpleasantly cool, wet weekend, but not to the point of interfering with anyone's travel plans.
Dinner is served
If there's one thing that especially niggled at me throughout this planning process, it was: would we be done our three-course dinner in time to make it to our 8:00 party at The Tannery?
I will say The Berlin staff was very helpful in working with us on that point. We knew when we had to get everyone seated and ordering, though that left some of the late arrivals scrambling a bit to find their seat. (The reason that some in my family were on the late side was that, after standing in a long line, some of them found that their hotel room wasn't ready, despite it being well past the check-in time! They had to scramble and share space in the ones that were ready. I don't know what else was going on in KW that weekend, but it was a busy place, hotel-wise.)
I had thought there would be a wine list and all, but the restaurant's approach of just selecting an appropriate red and white for the menu was much more efficient (and both were quite nice). And they took our credit card number ahead of time, streamlining that billing process.
The food was very good. My nephews were very proud of their adventurous eating—("I had raw fish!" "That goat cheese sauce was amazing!")—though a little less impressed with the portion sizes, in some cases. (My pork entree serving size was more generous than my nephew's trout, so I gave my remainder to him.) Oddly, my niece's "children's" menu was more adult in size, being a double burger she had some trouble handling. She also had to request mustard. "You'd think a fancy place like this would have more interesting toppings on their burger," nephew Caleb remarked. (I think their idea was to let the meat largely speak for itself?)
My only disappointment was that one of the selected desserts did not appear on the menu—they'd reverted to what we'd picked at first, but had changed our minds about a week later (that is, four months ago). And that dessert happened to be the exact item I'd most been looking forward to trying: chocolate mousse with ginger ice cream (doesn't that sound amazing?). Admittedly, the chocolate hazelnut torte I had instead was quite delicious, but I'm really going to have to look for that chocolate mousse on their regular menu.
What's that you say?
The Berlin had rented a little AV setup for us, for speakers to use. For efficiency, we had speaking interspersed through the evening instead of all at the end. I went up first with some thank you's and tribute statements that I'd been working out over a few weeks (notes here).
I then introduced Jean, who whispered, "What am I supposed to say, again?"
And that basically encapsulates our different approach to this thing, which also became a bit of a theme for the evening—how we're very different people, but we've made it work.
Between appetizers and mains was when the McNair contingent spoke. First up was my cousin Monique, reading some notes on behalf of my Godmother, Irène Charlebois, listing the ways which in which I reminded her sister, my Mom. (Page 1, Page 2) Kind, but I have some ways to go to be the hostess she was, that's for sure.
My sister Michelle recounted how she used to compete with me for grades at school, though I had no idea—given our age difference of six years, I was on to other things by then. She'd go look up my old report cards, which Dad had filed, and used that as her benchmark to beat. (She's a bit competitive, my sister.) She also recollected how Jean had stepped up when my mother passed away, helping with the memorial arrangements, acting as MC at the memorial, and so on, and expressed the family's appreciation for that.
My brother Neal was up next. He complained that Michelle's two pages of notes made him look unprepared, but he was a fine speaker, as always. He recalled that he was only one really around at the very start of Jean's and my relationship, as my parents and Michelle were on vacation at that point, and Joanne no longer lived at home. (Jean and I appreciated his discretion, as Jean and I were annoyingly into each other at that point, as I recall.) Neal also talked about how we'd melded our interests, for example in the He said / She said movie reviews.
The Lefebvre's, in a more free-wheeling style, did some speaking between mains and dessert. Ginette listed the ways in which the family had prepared Jean for future married life. France recalled some past adventures with Jean, many of which took place in a canoe. And, Jean's Mom presented us with the glasses she and Jean's Dad were given by the family on the occasion of their 25th wedding anniversary.
And with a combination of speech and video, Jean and I gave some accounting of what our wedding was like (1.5 minute video—featuring the Wedding March played by Queen, and how we met (3-minute video), though the video sound was less than ideal because we didn't take the time to hook up the Bluetooth speaker we'd brought.
Get me to the church on time
We were able to leave the restaurant pretty close to 8:00 and get to the Tannery, with the dinner guests gradually following. We arrived to an already pretty big crowd. My two priorities were to get the music started and to change my shoes. (It was also a super-rainy day, so definitely no wearing of dance shoes outside.) There was an AV guy there, so with his assistance, the music starting was pretty smooth. The shoes were a greater complication, because people of course kept coming over to welcome us, and strappy dance shoes just aren't the simplest thing to get on your feet! (Thank goodness I had abandoned my earlier idea of possibly changing outfits for this part of the evening.)
Historically a tannery, the Tannery building now hosts a bunch of software companies and stores that might appeal to tech workers, such as restaurants, coffee shops, and interesting shops. The Event Centre is most often used for corporate events, but is available evenings and weekends for weddings and parties. It features these absolutely massive screens with eight projectors. There was an extra cost to use them, but ultimately we couldn't resist.
For the opening, Jean worked on a banner image with a resolution of 13050 by 1080 that wrapped around three walls of the event space. It was a collage of images on different themes: travel, hobbies, his family, my family. His hobby of canoeing and camping naturally lent itself to some lovely photos.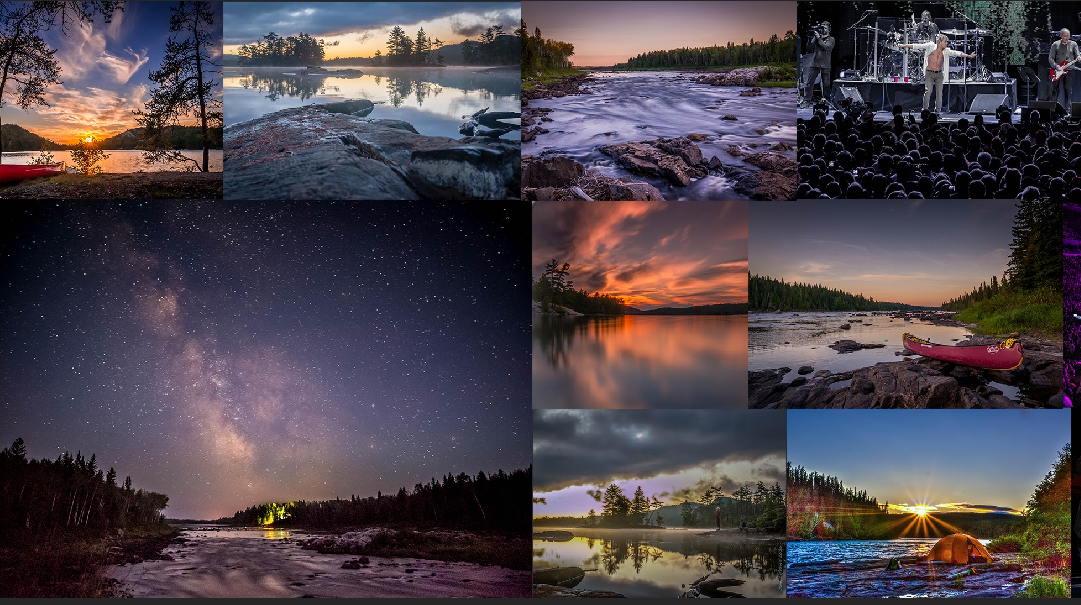 My hobbies of of reading, writing, and cooking are… not so visual.
So Jean instead went with photos from some of the rock concerts we'd attended together. Those definitely raised the most questions of the evening. "Were you guys in a band?" (no) "Is that… Roger Daltrey?" (yes) "How did you get that picture with Freddie Mercury?" (wax museum) Biggest puzzle was definitely Bob Geldof—apparently some people even thought it was Jean in wig ?!? But at least the crowd was of an age that when I named him, they did know who he was. ("Oh yeah! Live Aid!")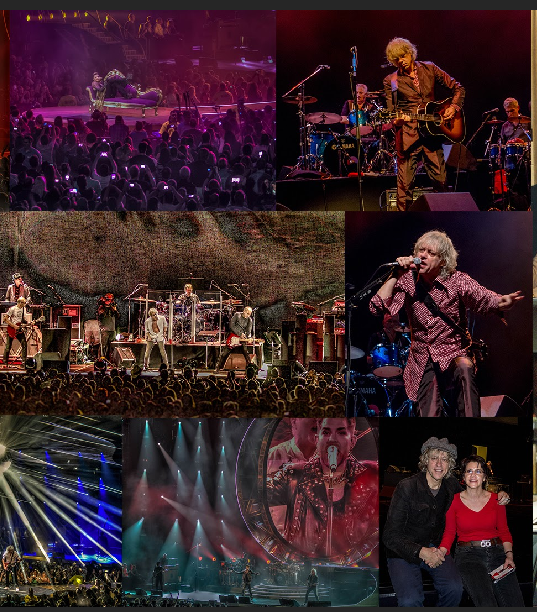 Unfortunately, we didn't think to take a picture of the banner as projected. Still hoping one might come in from one our guests? In the meantime, at least you can see part of it in the background of this one:
Jean also put together a 1-hour montage of other still photos and videos (of canoe trips. And rock concerts). About 45 minutes in, we switched the display to that. We had two laptops, so we projected the videos on various walls at different timings so there were different things to look at. It was kind of cool.
There are shortcuts to happiness, and dancing is one of them
Jean handled the visuals; I handled the music. Which was tricky; there were all these ballroom dancers coming, but the floor was kind of small for your waltz, quickstep, and slowfox. And of course, not all guests ballroom danced. And I wanted to reflect my music taste to some extent, so… There was no pleasing everyone, but it was (mostly) fun attempting. This article is an annotated list of the songs I included: Anniversary dance playlist: Final.
I knew we'd be socializing so much we couldn't dance the night away, but I told Jean in advance that there were a few songs he simply had to make the effort for. The first was a set of three about 40 minutes in. Jean wanted at all costs to avoid us being alone on the floor, doing a "first dance" kind of thing, as we hadn't particularly rehearsed anything. But, while I did my best to stack the early part of the playlist with songs people typically like to dance to, what usually happens at dances happened this evening: There isn't much dancing right away—just a few people here or there. Most, early on, are too busy socializing.
But Jean was a trooper. When it was time for those songs, he addressed the crowd, said we would dance a few numbers, and encouraged others to join us. Which, thankfully, some did, eventually. The songs were:
"Crazy Little Thing Called Love" by Queen: Because I love Queen, and I love jive, and it's love song, and we danced to Queen at our wedding. Short video of us dancing to that
"Are You With Me" by Lost Frequencies: Because I love this song (which is a merengue), and it's also quite romantic
"Fever" by Michael Bubble: Because it's a slow fox, Jean's favourite dance, and also pretty romantic
Overall, I considered it a successful evening of dance. Despite all the socializing, Jean and I managed to dance to Queen's "The Millionaire Waltz", which was my other main request of Jean—and others joined in on that one!, and "Beyond the Sea" (slow fox), the one song Jean specifically asked to include in the playlist, and an Adam Lambert / Tove Lo mashup (a chacha, and "Ghost Town" was another song I'd been wanting to dance to for some time) and "Vote for Mr. Rhythm" (a quickstep), and "Livin' La Vida Loca" (kind of of a mambo, so fun), and "Hot Hot Hot" (samba), among others.
Among the ballroom dancers, Sarah McLaughlin's "Rainbow Connection" waltz was definitely the most popular, but they were good about trying to figure out other rhythms through the evening (as "strict tempo" wasn't a guiding principle of mine). And, as I'd hoped, non-ballroom people joined in, too, whether they had dates or not. (The playlist was biased in favor of fast songs.) My niece and I did a rousing version of Swing's "La Goutte" and followed up with some Latin. The ladies were on the floor for "Kiss", "Faith", "I Will Survive", "Sisters Are Doing It for Themselves", "Roar", and more. The later night crowd got a second wind with the "Grease Megamix", "I Love Rock'n'Roll", and "Scream & Shout" "(You are now… rocking with… Will.i.am and 'Britney, bitch'.")
When we were gathering our stuff up at the end of the evening, the Tannery hostess told me they had never before had such a big group of talented dancers there before. (Now they just need a bigger floor to attract more…)
And now, a word from your sponsor
We did take a bit of pause around 10:15, after the food was out, to show the wedding and the "how we met" videos again, this time with proper sound, along with a reel of Jean's "canoe bloopers" video (why not). It appeared we had ordered about the right amount of food, and while I didn't have time to try much of it, what I did was good. On offer was a fruit platter, vegetable tray, gourmet cheese collection, and assorted desserts.
In the aftermath
So, we had fun. The crowd dwindled as it got later, of course. We had time to talk to more with those more hardy souls, which included some of the Lefebvre Timmins crew. We started packing up shortly after 12:30 and were home around 1:00 AM.
We were up early-ish the next morning to breakfast with the Timmins folk from both families before their long drive (or short flight, for some) home.
Back home, we had a look at all the cards and such we'd received.
We then had a nap, and were basically couch potatoes for the rest of the day.
I hope my mother did something (or rather, nothing) similar the day after our wedding.
Also see: Anniversary dance playlist: Final