Amazing Journey: The Story of The Who
Directed by: Murray Lerner. Starring: The Who—Roger Daltrey, Pete Townshend, John Entwistle, and Keith Moon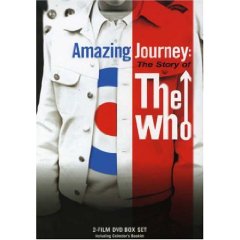 Synopsis: Documentary telling the history of The Who. Includes new interviews with Roger Daltrey and Pete Townshend, interspersed with some historical commentary from John Entwistle, Keith Moon, and Kenney Jones. Also has interviews with former and current management, friends, wives, collaborators, and some rather famous fans, such as Sting, The Edge, Eddie Vedder, and Noel Gallagher.
The emphasis is definitely on the story, the history, so while there is a lot of footage of various concert performances, including some really fascinating old footage, it's not the place to see songs performed in their entirety. There are other DVDs for that.
Sample quotes:
"I love him."

Pete Townshend on Roger Daltrey
"I've always loved him."

Roger Daltrey on Pete Townshend
Comment: Very enjoyable set for Who fans (and who else would watch this?). The sound is fantastic, and the old footage has been restored to sparkling clarity. Some of the information presented was new to me (or, had long been forgotten):
That Roger had actually founded the band, and used to play lead guitar.
How Moon came to join the bad, and how he had revealed his demons from the start, well before the fame and fortune.
That Townshend's guitar destruction had its roots in his art school training.
That the reason for their repeated "good-bye" tours was to help Entwistle, a hopelessly compulsive shopper, pay off his debts.
Other things, I knew—the various band names (The Detours, the High Numbers), the impact of Tommy, the failed Lighthouse project and its evolution into the brilliant Who's Next, the deaths of Keith Moon and John Entwistle, the personal difficulties. But it was still interesting to hear it from the perspective of band mates now in their 60's, who have renewed appreciation for it.
Most touching, and certainly new to me, was to see how close Daltrey and Townshend have become, after the years of turmoil, and despite, as Townshend notes repeatedly, the two still being "so fucking different" from one another. In his songwriting, Townshend now finds his path to the audience "by writing for Roger's voice." And Roger still seems in awe of Townshend's song-writing genius.
And, on a more shallow note, also nice to be reminded of that Roger Daltrey, in his prime, was simply sex on a stick. (And frankly doesn't look so bad now, either—dude°s nearly 65!)
Couple Tommy-era shots: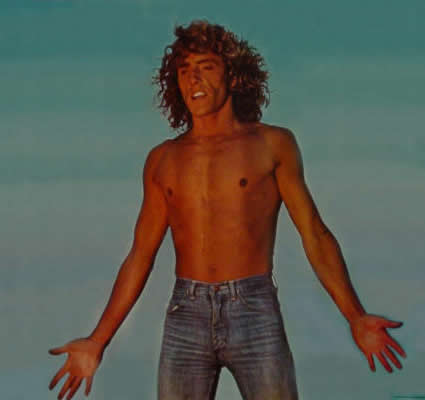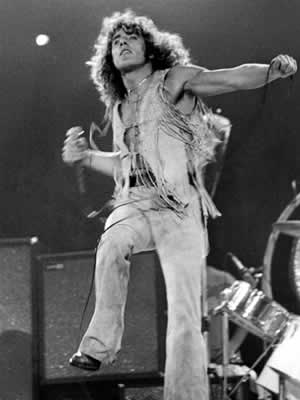 Looking tanned and buff in 1985's Live Aid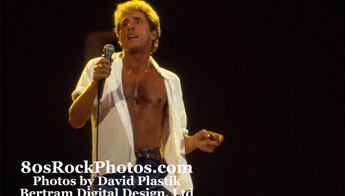 The rather impressive biceps of his later years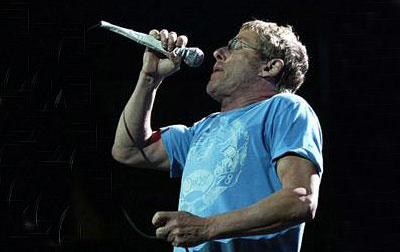 Rating: ***½
The Extras: The DVD comes with an additional disc whose contents may even be better than the main feature. Certainly the small segments on each original band member's musical contribution really highlights what a brilliant band this was (is). Entwistle redefined bass playing, turning it into a truly lead instrument. Moon's drumming was also incredibly interpretive, totally following the lead harmony. Townshend's flamenco-like acoustic guitar playing is contrasted with his unleashed electric playing. And poor Roger was… just a singer! With the feeling that he didn't really come into his own until Tommy, when performing through that character allowed him to really reach the audience and truly lead the live performances.
Another lovely bit is the Who's Back segment that shows Daltrey and Townshend working on a new song in the studio. Just interesting to see the dynamics at work, and it's a catchy song… I ended up buying it on iTunes afterward. And for those missing the lack of complete performances on the main disc, you do see two complete songs being performed by The High Numbers way back in 1964. Dig Roger's extreme soul sound.
Rating: ****
Usability: No weirdness with the menus, or anything, and the accompanying booklet makes it clear what all is available for your viewing pleasure. The special setting for the hard of hearing is a nice touch, considering Townshend's own problems.
Also see: