Chicago weekend
Getting to Chicago an unusual way: by train. Recommended! May 8–12, 2008
Preparation
We had decided not to fly this time, because Chicago isn't so far, flying isn't that much fun, and we were getting low on points. But Jean was also worried about driving into Chicago, as that also didn't sound like that much fun. Then he got the bright idea of checking out the train. Turns out that Amtrak offers overnight trips from Buffalo to Chicago. When adding in the sleeper, it's not super-cheap, but it's not outrageously expensive, either. So we decided to give that a whirl.
We did check on whether train connections from Canada were possible. They were, but they really weren't practical; you ended up having to wait 12 hours in Buffalo and so on. So the plan was to, indeed, drive to Buffalo, leave the car at the train station there, and get the train to Chicago.
After booking our train tickets online, Amtrak had a link to hotel offers, so we figured we'd check those out as well. There were some good deals to be had. We booked a 3½ star hotel in a downtown location for about $95 (prices in Canadian, actually) a night, plus taxes.
Finally, dining. We'd realized that we were there for Mother's Day, and recalled that we'd had some trouble getting into New York restaurants without reservations, so we just decided to book all our suppers in advance. Unfortunately, Chicago does not have a red Michelin Guide that had proved so handy in New York, so we had to go by various websites and general travel books, which proved somewhat exhausting. Especially at first, when we didn't know what neighbourhoods were accessible. At any rate, in the end, we did manage to book three places: A wine bistro, a French/Vietnamese restaurant, and a seafood restaurant.
Getting there
Our train was scheduled to leave at midnight, and we allowed lots of time to get there. But our first stop was actually the camera store, since Jean didn't want to bring his "big" camera, and our little one had given up the ghost. He bought a waterproof Olympus 1030WP.
The drive went really well, and there was no wait at the border. The border guard asked the purpose of our trip, whether we were visiting friends or relatives in Chicago (we silently wondered why that mattered, but I've long puzzled over "Do you have any friends or family there?" being one of the first questions people ask when you say you're going somewhere interesting. Isn't the place enough?), and stated that our plan to take the train was "a first" for her.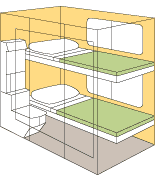 With the help of Google Maps, locating the train station also went well. And we got our tickets. And we still had a lot of time to kill. So we decided to visit a Borders store we'd seen on the way in. We browsed there for a couple hours—it was huge but curiously uninteresting—but in the end didn't buy anything other than a couple decaf lattes. In fact, if our New York trip developed a pattern of "and then we saw the lineup, and changed our mind about going in", Chicago's pattern was destined to become "But in the end, we didn't buy anything."
Once on the train, we were a little startled by just how small the room was. It looked so much bigger in the diagram! 🙂 Really, only one person could stand in it at a time; the other had to get on one of the bunk beds. We got instructions on using the sink, toilet, fan, and heat, and we found cubby-holes for our shoes and luggage. It wasn't the greatest night's sleep of my life—whereas Jean felt he'd slept pretty well—but still. the time passed quickly.
Breakfast was included—adequate scrambled eggs and fried potatoes, with juice and coffee—and just after, our room was converted from sleeping to sitting configuration. We arrived in Chicago around 10:00.
Day 1: Art and wine
Unlike airports, train stations are downtown, so we were able to walk the few blocks to our hotel. The lobby was under renovation—partly explaining the discounted prices—but the room was just fine. We were on the 8th floor with a reasonable view, and we never seemed to have to wait for the elevator for very long.
We started by just walking around the immediate neighbourhood (The Loop), seeking but never quite finding the Tourism office. We did find the office for the Chicago Architecture Foundation and popped in there to book a tour. Everything for Friday and Saturday was sold out, so we went with the Sunday, 10 AM architecture river cruise. They also had a store with some interesting items, but we didn't end up buying anything.
It was getting close to noon, and we thought some lunch might be in order. Our cat-sitter had mentioned a Cajun place he liked, called Heaven on Seventh. It wasn't far, so we decided to try that. There was a lineup, but we were trying to avoid being deterred by those on this trip. Too bad.
We eventually managed to seat ourselves (the hostess got tied up with a phone call as the long lineup elongated) and ordered jambalaya and linguine with oysters, respectively. Both came with a gumbo soup, which wasn't bad. The jambalaya, as well, wasn't too bad. (Nothing that spicy—there were all kinds of hot sauces on the table for self-spicing.) But the linguine was just nasty. The sauce was weirdly tasteless, and the oysters had a texture that was plain unappealing. After a few bites, I concluded I just couldn't eat it. Jean was going to be gallant and trade entrees… Until he tried it. And concluded he couldn't it eat it, either.
So instead we both shared the jambalaya. Thing is, servings were so huge, even with us both working on that one entree, we had jambalaya leftover. At any rate, that was a meal best forgotten, though the restaurant was packed, with more lined up to get in, the whole time we were there. Maybe I just happened upon the one bad thing on the menu?
Jean was kind of sorry about missing some of the bigger New York art galleries due to crowds, so we determined not to do that in Chicago. So the next stop, Day 1, was the Art Institute of Chicago, crowds be darned. But in fact, though we had seen lineups earlier, when we arrived there was minimal initial waiting. And it is a fantastic art gallery—highly recommended. Some renovations were going on, which made some parts a bit confusing, and a number of school tours were happening, but that didn't really diminish our appreciation of both the European and American collections. It just had a really nice number of works from many renowned artists—Monet, Renoir, Degas, Picasso, Chagal, Van Gogh, Seurat, Gauguin…. I was really impressed with the "3D" effect that you get from the actual Monet paintings (vs. the reprints), and Jean was quite taken with a larger Turner piece. And for both of us, it was cool to see some really famous paintings, like Grant Wood's American Gothic, Van Gogh's self-portrait, and an Abraham Lincoln statue (smaller than I expected).
We felt too tired to continue on to the basement for the works of more ancient civilizations, and we actually went back to the hotel for a nap. Suitably refreshed, we changed and headed out to see some of the Public art in the Loop, including a large Picasso, Alexander Calder's Flamingo—which we could actually partly see from our hotel window—and Jean Dubuffet's Monument with Standing Beast.

We then walked over a bridge, to the Gold Coast area, for our first dinner reservation, at Bin 36. Featuring a menu on which every entree and appetizer is matched to at least two wines from their collection, all of which are available in 2 or 6 oz glasses, not to mention a 35-item cheese bar, I wanted to go as soon as read about it. It was described as very bustling and noisy, but we didn't find that to be the case—it was pretty relaxed, and we were able to speak at normal volumes. We also saw that they offered wine flights, in which you could order four 2-oz servings of a wine "set" for comparing and contrasting purposes. That sounded interesting, but we decided to stick with the one food, one glass of wine approach.
I chose my appetizer from the Chef's Tasting menu of the day. It was pan-roasted halibut with morels and other vegetables. The fish and everything was very nicely done, but the morels… Those are astounding. I only had two, but still shared half of one with Jean—aren't I nice? I also got a "cellar" wine with that one, a white Burgundy that is one of those amazingly complex drinks that definitely remind you that not all good wine is red.
Jean contented himself with a starter of a choice of smoked fish and seafood—scallop, salmon, whitefish—which was also really good, and came with a white that was an interesting blend of three grapes. My main was an unusual choice (for me) of chicken, which came with a California merlot, while Jean got the duck confit and a delicious rich red wine with that. Then we had a chef's selection of cheeses for dessert. I thought this might be a good opportunity to finally try sherry. Based on my liking port, I was steered toward a cream sherry, which was good. Jean had a sauternes wine.
So we left in a very good mood and ambled in Millennium Park, which was really lovely, and featured yet more public art monuments. Most famous is the reflective "Bean".
Day 2: Art galleries, a navy pier, and Vietnamese food
Chicago has an art gallery district, and the Fodor's guidebook mentioned a free gallery tour that left from the Starbucks there every Saturday at 11 AM. So after a merely adequate breakfast at the Elephant and Castle beside our hotel, we headed in that direction. We decided to take Michigan Street most of the way—the Magnificent Mile. There certainly are a lot of fancy stores on that strip—Bloomingdale's, Saks Fifth Avenue, Tiffany's, Victoria's Secret, Ann Taylor, Ralph Lauren, Neiman Marcus, Nike World… But we didn't buy anything.
We saw the old Water Tower Building, one of the few survivors of the Great Fire of 1871, then we headed down toward the art gallery district. We did find the Starbucks, and an employee confirmed they did still start tours there. By 11:05, just as we were beginning to doubt it, a small crowd gathered for that purpose. Led by an attractive employee of one of the galleries, we visited four. At each we were given an overview of the works currently on exhibit there.
It was interesting. The first included a artist who had worked creating film storyboards, which required a very realistic style, but now combined that style with fantastical scenes. Another worked with a Canadian artist who included expensive metallics in his work, which produced large, luminous landscapes. Another of his artists created all black paintings except for a single small object that was spotlighted—a very neat effect. He also happened to collect jewelry that WWI and II soldiers created from whatever scrap metal or other materials they could get their hands on, to send to their wives and girlfriends. He hoped to write a book about that. And the final one featured photography, including an interesting series of a formally dressed Chinese man and mannequin in bridal gown, posed in various unlikely places (though I'm not sure what a "likely" place would be for these two…).
We then visited a few galleries on our own. We were definitely most struck by one that featured works by artists we've all heard of—Renoir, Picasso, Chagall. Not paintings, of course; generally lithographs. That's when the artist creates a metallic plate, applies coloring, and creates a series of images from that plate. Most were still well out of our reach, price-wise (e.g. $48,000 for a Picasso). But Jean got struck by one small piece by Marc Chagall, on a romantic theme, that actually approached affordable, at $3000. But part of the lower price was because this lithographic wasn't signed.
There was some temptation to buy it on the spot (the gallery owner was also quite persuasive), but Jean was determined that we think about it first. We decided to think about it over lunch, which we had back at Bin 36. The purchase remained remarkably tempting; admittedly, just partly because it would be cool to say we owned a Marc Chagall! But, more practically, we hadn't really allocated that much money for discretionary spending. (And food at Bin 36 was quite good, again. I was feeling somewhat veggie deprived by this point, so I had the market salad, while Jean went for the ravioli. And we tried a different cheese assortment—the American sampler. Not quite as great as the Fleur de Sel selection of American cheeses in New York, but still quite good.)
So not quite resolved, we next went to the Navy Pier area, which turned out to be mostly a big amusement park on the water, with Ferris wheels and mini golf and such. We weren't really in the mood for that, but it was a nice day, so pleasant to walk along the water and see the boats. And eventually conclude that we weren't going to buy the Chagall, though that was a little sad. We took their free trolley back to the midtown area, then walked to our hotel to change for dinner.
Le Coloniale, the French-Vietnamese place, turned out to be quite bit farther than we had expected, but we got there in time (walking). When we'd called for reservations, the white-linen downstairs was already full, so we were seated upstairs, which was much darker and extremely noisy. Especially since we were in one of the worst possible tables, right in the middle of everything. We could only speak to each in raised tones.
We both started with asparagus and crabmeat soup, which was good, if not quite as great as at some Montreal Vietnamese restaurants. We then had very good, crisp spring rolls with pork and mushrooms, and nicely light ravioli with chicken and cremini mushroom. As mains, Jean had a bouillabaisse with assorted seafood in it, including crab, while I went with the grilled duck with ginger dipping sauce. The duck was good, not great, but the dipping sauce was very nice. For dessert we shared a banana tapioca pudding which, while not unpleasant, was strangely unsweet.
All in all, wouldn't eat there again unless we could get in downstairs.
Afterward, we tried to go up the Sears Tower, but discovered it was closed at that time.
Day 3—Day of water: Rain, a cruise, an aquarium, and seafood!
The weather forecast for Sunday, Mother's Day, unfortunately turned out to be absolutely correct, and the morning was very windy and very rainy. And we had prepaid for our architectural cruise. We did have an umbrella, but after assessing our wetness level from the short walk to the cafe where we had breakfast, we thought a bigger umbrella would be in order. So we got that at Walgreens, and made our way to the boat launch area.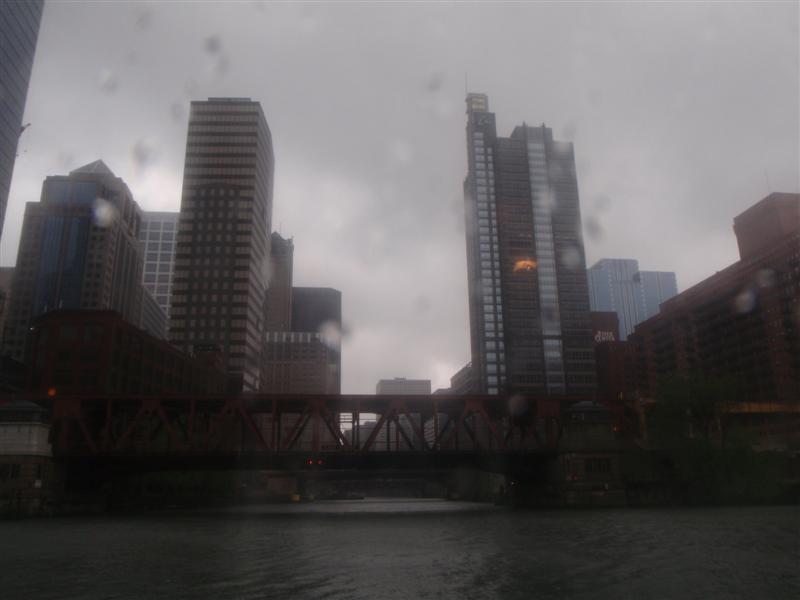 Usually people sit on the upper decks of the boat for these cruises; today, naturally, everyone—including the guide—choose to sit in the sheltered downstairs. They handed out paper towels so we could keep the windows reasonably free of condensation. And despite the reduced sight lines, it was an informative tour. We learned about the river itself—its move from industrial wasteland to scenic oasis, the fact that its course had been reversed (!) to protect the city's drinking water, the law that all new developments had to include public walkways along the river. We were recounted the extent of the 1871 Fire, and the very deliberate rebuilding effort that made the city an architecture's dream. We covered and saw examples of various periods of architectural styles, along with "philosophical" approaches such as River City, where stores, jobs, and living spaces are all gathered together, and the fact that all new buildings are built according to "green" principles.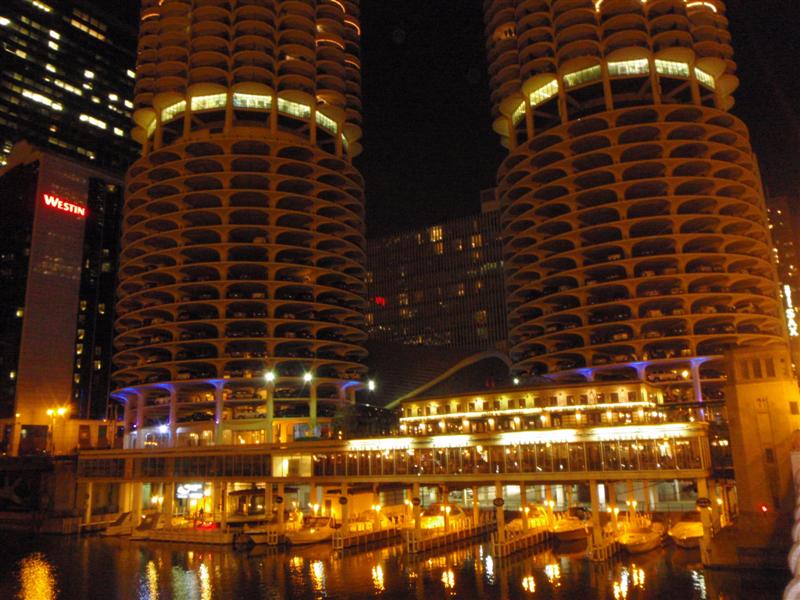 Afterward, it was still raining, if not quite as hard. We picked up a few items at a chocolate shop, then tried figure out how to take the subway to the Shedd Aquarium. However, the first El Train station we got to was closed, so we flagged down a taxi instead.
The Shedd Aquarium was very busy, but again, we didn't let that deter us—it seemed one of the best ideas for whiling away the rainy day. And once in, we quite enjoyed our visit there. They have some very good exhibits on different aquatic environments—the north rivers and lakes, the Amazon, and the Coral Reef with its brilliantly coloured fish, sharks, and swordhead fish. Also fun to watch was the large penguin colony, and the two otters that had been rescued from the Exxon Valez oil spill. A lot of large turtles as well.
To see the dolphins and whales, you can actually go to an underwater viewing area that is really cool. There's nothing but water, then whoosh! A dolphin swims by. It was also neat to see the trainers interact with the animals. The beluga whales seem to be really enjoy having their tongues pet, and kept popping up beside the trainer and opening their mouths for that. The dolphins, we saw as part of a show. Lots of fun to see their "dance" moves, the spin around in the water, and most flashy of all, the synchronized dive and flip in the air. (I still don't know how they get them to do that one.)
[Should add from the vantage point of 2019: We didn't realize in 2008 that there were inherent problems in keeping whales and dolphins in captivity, and wouldn't go to this type of show now/]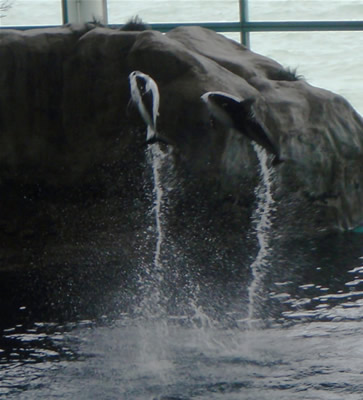 We also had lunch there. It was actually very good! And using sustainable, organic sources. I had the nicely broiled tilapia, while Jean enjoyed the ravioli. And the store was pretty interesting too. I was hoping to find something for my Mom here, but couldn't quite settle on anything. (And so, the "not buying" theme returns….)
It had finally stopped raining by now, but we still cabbed back to the city, because the Aquarium is a bit of a ways out. But we had some time before dinner, so we ambled again in the Gold Coast neighbourhood—with all the buildings, parks, stores, it seems I would see something new every time we went by.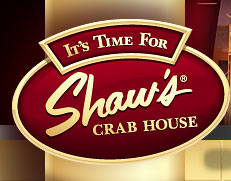 Dinner was at Shaw's Crab House. It was quite bustling, but again, once seated, was a pretty nice, quiet dinner. (So the restaurants we expected to be loud weren't, and vice versa.) Our waiter was very good at guiding us through the menu—partly, I'm sure, because they had a full night ahead and needed to get us out in time, but he was also good at not making us feel too rushed. We had pretty much "pre-decided" we wanted oysters to start, so we had six each—six from BC, six from PEI (very patriotic). And we'd noticed a NZ Sauvignon Blanc wine flight on offer, so we each had that as well—2 oz. of three different Sauvignon Blanc. The oysters very tasty, and very different from each other, and the wines equally showed remarkable difference for all being the same grape from the same country.
For mains, I went with the recommended Lake Erie Walley, which was indeed very good. Jean decided on the Alaskan king salmon, which was well prepared, but not really that flavorful—maybe not quite the right season? We also had a side of asparagus. We were going to have the dessert sampler when a complimentary piece of key lime pie showed up. It was delicious, so we just stuck with that. And were out pretty promptly, and with some time to kill before taking the train.
So we went back to Bin 36—no, we didn't eat again, but we did buy a couple bottles of wine. Then we gathered our luggage at the hotel, and walked back to the large Chicago train station. Here we were escorted to the "first class passenger" lounge (ooh, la la!) and promptly boarded. Complimentary cheese and wine were available for us in the dining cart. Seats were limited, so we sat with a couple other gentleman, each traveling solo. One looked like a young hippie dude, the other was a retired army guy, but we all got along just fine, even as we did end up talking about the war and all. Kind of interesting.
I seemed to sleep somewhat better this time around—if not quite long enough—and we were back in Buffalo around 10 AM.
Day 4: Niagara wineries and Malcom Gladwell
Driving and border crossing was just as smooth in this direction. We had all Monday off, so decided to head into Niagara-on-the-Lake to visit a few wineries. First stop was Chateau des Charmes. We tasted and bought a few types—the Riesling, Viognier, Gamay Noir—and after some disagreement on this point, decided to stay for the noon tour (normally in French, but since we were the only two and kept talking English, they switched it to English). It was a good tour—saw the vineyards, where the wine was pressed, fermented, bottled, and did more wine tasting! Particularly interesting to learn that it was the owner of this winery who first came up with the idea of grafting French grapes onto Canadian grape roots—the very idea that created the entire wine industry in Ontario.
We were hungry now, so next priority was a winery with a restaurant. We went with Peller Estates. Now that's a fancy place, and we weren't all that dressed up, but service was just impeccable regardless. And what a nice lunch. I was able to match each course, while Jean (the driver) just had the one glass that went with his main. My starter was a delicious paté kind of thing, matched with their champagne lightly blended with ice wine. Jean had the day special, a very good asparagus soup. My main is frankly slipping my mind, though I know I liked it, but Jean had the excellent lamb, which came with an amazing Gamay in which you actually could taste the chocolate accents. My dessert was the iced meringue parfait, served with their vidal ice wine. Jean had the trio of brownies, which were also lovely, and would have been served with a cabernet franc ice wine had he been able to.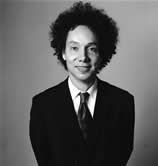 We then bought a few bottles of wine, but it was high time we drove home, as we had a Malcolm Gladwell benefit dinner that night (in Kitchener). (The dinner wasn't benefitting Gladwell himself; it was to raise funds for a nursing home, and he was the speaker.) We did manage to get home, change, and arrive in time for that. Much bigger event than we were expecting—sold out, 800 people. We were seated with various people from St. Mary's Hospital who proved to be very good company. After such a large lunch, I wasn't all that hungry for dinner (and declined all wine, believe it or not), but tasted enough to know that Bingemann's did a reasonably good job with the food. There was a silent auction for various art objects, such as gorgeous quilts and an original Peter Etril Snyder painting. We bid on a few things at lower price points, but why break our streak and buy anything now? 🙂
Gladwell's talk was quite interesting. On the theme of community, he contrasted two groups of people in the US, both living in remote, hilly lands. One was a nasty, violent culture of retribution. The other was a sharing, building place where individuals lived a remarkably long time despite less than healthy habits. The real difference between the groups was their origins—replicating cultures that were either damaging or sustaining, in their new lands.
Also see: New York City weekend, 2008