Freddie Mercury Video Collection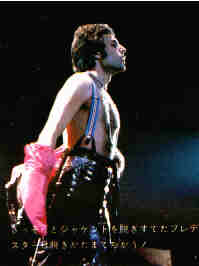 Synopsis: A collection of all the videos Freddie Mercury did as a solo performer. Highlights are the two versions of "The Great Pretender," which contain re-creations of multiple past Queen videos—as well as Freddie and Roger Taylor in drag—and "Living on my Own", which contains actual footage from one of Freddie's infamous parties. It also contains four duets between Freddie and Montserrat Cabellé.
Comment: It's a must-have if you're a real Queen fan. But there are moments of entertainment for anyone.
The Extras: Director's commentaries—more stories relating to the making of each video—are available for each of the videos, and many of them are priceless. In a nice touch, each commentary is preceded by a catchy quote, so you can decide whether you want to listen to it or not.
Also see: