Grease VHS(!)
Directed by: Randal Kleiser. Starring: John Travolta, Olivia Newton-John, Jeff Conaway, Stockard Channing, and Didi Conn.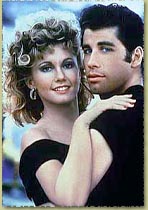 Synopsis: Musical set in the 1950s. It focuses on the rocky romance of the clean-cut Sandy, a foreign exchange student from Australia, and greaser Danny Zuko.
Sample quote: "We go together like ramma lamma lamma ka dinga da dinga dong."
Comment: Given that Sandy's transformation into a smoking sex bomb is much more dramatic than Danny's embracing of jock culture, the movie's message seems a bit dubious, when you think about it. But ultimately, who cares. [Actually, 2020 me does. This was originally written some time ago…] This is a really fun and funny movie with great songs and a lot of energy. Rating: ***½
The Extras: Although this is a video, not a DVD, it nevertheless comes with extras: a half-hour retrospective interview segment, the full shooting script (on paper), and a CD with dance remixes of three Grease songs. All are a lot of fun.
Usability: Well, it's a videotape. Usability is not really an issue; your only options are play, rewind, and fast forward.
Also see: Hair DVD