Iles-de-la-Madeleine 2006
September 2–9, 2006.
Since the first thing many people ask is "Where is Iles-de-la-Madeleine (or Magdalen Islands, in English)", I'll start with a map, and few facts about the place. Then I'll give a synopsis of day-by-day highlights, followed by some photos and stories by theme.
Quick Facts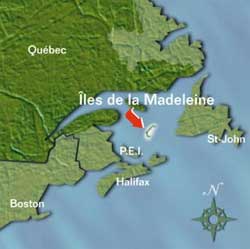 – Part of the province of Québec. 80% French speaking (and quite separatist); the other 20% Anglophone (and rather federalist).
– About 14,000 residents, with around 54,000 tourists annually.
– Accessible by ferry from PEI; by cruise ship from Montreal; or by air from Montreal, Québec City, and Gaspé.
– Total area of about 202 square kilometers—around 60 km long, and narrow.
– Made up of several islands: Havre Aubert in the south; Cap-aux-Meules, Havre Maison, and Ile aux Loup in the middle; Grosse Ile and Grande d'Entrée in North, all of which are connected by bridge; and the nearby Ile d'Entrée.
– Main industries are fishing, agriculture, salt mining, and tourism.
Synopsis of our week there
Saturday, Sept. 2: Very early morning flight, with one transfer in Montreal; orientation—walking, driving around a little; dining at Chez Diane.
Sunday, Sept. 3: Fête champètre (county fair) with local food products; zodiak boat ride into the grottes and falaise (grottoes and cliffs); walks on the beach; dining at Auberge de la Petite Baie.
Monday, Sept. 4: Shopping at la Grave; Aquarium visit; massages for two; dining at La Marée Haute; Mes Iles, Mon Pays (My Islands, My Country) musical theatre.
Tuesday, Sept. 5: Tour of the Seal Interpretation Centre; hike onto Ile Boudreau and seeing many seals in the water; hike on part of the Long Beach (10 km); moules et frites Au Vieux Couvent (mussels and fries at the Old Convent bar and restaurant).
Wednesday, Sept. 6: Shopping at Etang-du-Nord, including purchase of Don Quixote fantasy figure at Le Flaneur; visit Schoolhouse Museum at Old Harry; guided swimming expedition into grottes et falaise; dining at the three-star Table des Roys.
Thursday, Sept. 7: Zodiak boat ride to and around and on to part of the ecological preserve of Ile Brion, where we saw thousands of seals and birds; dining at Auberge de la Petite Baie again, where we met another couple from Waterloo.
Friday, Sept. 8: Visit various art galleries; visit le Site d'Autrefois, preserving the islands' past; fine dinner at Au Bout du Monde (the Ends of the Earth).
Saturday, Sept. 9: Purchase various island food products and some gift items; flight back home.
The Sea
The islands are narrow in most parts, so the sea is more often than not in view, sometimes on both sides. It makes for a beautiful and relaxing location.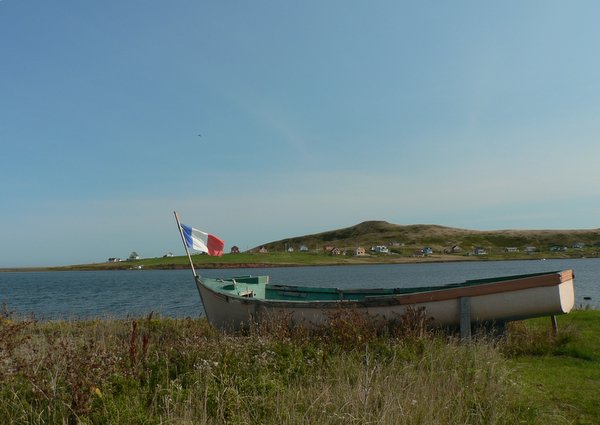 But you have to respect the sea, too. The owner of the Site d'Autrefois got into the restoration site after a near-fatal boat accident left him with post-traumatic stress disorder. (He explained this at the start of his one-hour presentation on the islands.) Even the two zodiak boat rides we took, though both on calm days with low winds and a lot of sun, were nevertheless very choppy—still not for the faint of stomach. And as for actually swimming in the sea, well, if I'd known more what I was in for, maybe I wouldn't have done it!
One thing I noticed as we signed up for these various tours was a pretty lackadaisical approach to how fit you were to do the various activities. Like, nobody asked if we could swim, if we got motion sickness, if we were claustrophobic, if we had poor circulation…
For the sea cave walk, we were put in wetsuits and given life jackets. One guide was in the water with us, while the other was in a kayak with various rescue equipment. We walked about 15 minutes to the water's edge, then plunged in. We were then given quick tips on moving around in the waves—backstroke was best—and how to right yourself if you ended up, turtle-like, stuck on your back. Then we went off, in the impressive waves, to climb onto and into tight rock formations.
Various caves required different techniques. For one it was necessary to time it with a big wave in order to get in. And then you had to follow another out. In another you slid in the "mouth" and were pushed out the, uh, other end. You never obliged to follow the group into any particular caves and honestly, I sat (or swam) a few out. Jean did them all, of course.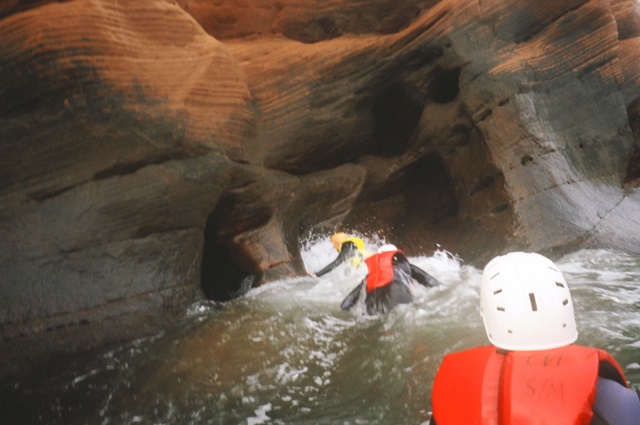 The swimming in the huge waves was at first exhausting, but eventually we got the hang of it. Except for a few scrapes on the rocks, we didn't hurt ourselves, but we did grow weary of the water up your nose, in your mouth, and burning your eyes. Still, definitely something of an accomplishment—something you don't get to do every day, or in many places.
The local beer is called Ecume de Mer or Sea foam; we tried a small glass at the fête champètre. For beer, it wasn't bad. We found out later they also make three other types, associated with better-known local bars. And glass polished by the sea is used to make some really lovely jewelry at the Maison du Héron (Heron) on Ile aux Loup.
Sand
There are beaches everywhere, and most beaches are sandy. Many of the hikes we took also had significant portions on sand, an added walking challenge. Sometimes the sand was pretty firm, though, making the going a little easier. When truly compressed together, the sand forms look like rocky shores. It's a bit mind-boggling to think that it's actually just sand.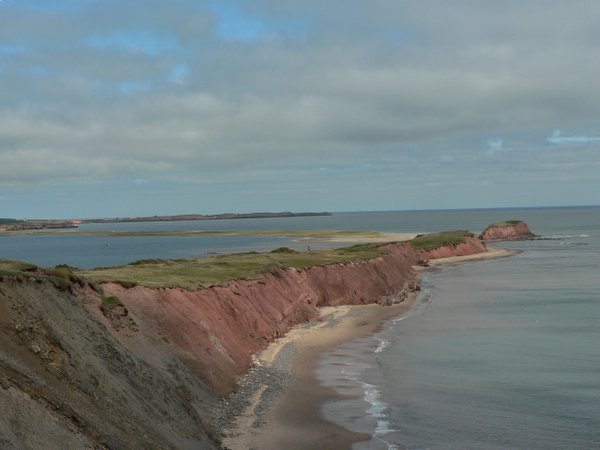 The Artisans du Sable in Havre Aubert contains art objects made of sand, along with a sand museum. Though we weren't quite as bowled over by the place this time around, it's still well worth a visit.
Earth
The islands are also extraordinarily fertile. With apologies to Newfoundlanders, Cartier declared that one acre of the islands was worth the entirety of Newfoundland's rocky foundation. Though you don't see that many trees there, this is more man's fault than nature's, as over-cutting reduced the tree cover from 80% to about 20% at its worst. It's now risen to 40% or so with recent tree-planting efforts. On the uninhabited Ile Boudreau, we found the largely meadow walk reminiscent of part of the Rockies (only without the bighorn sheep), and the ecological preserve of Ile Brion really showed how rich and green the islands would have looked to Cartier.
Ile Brion's ecological integrity is maintained by allowing only limited numbers of people to visit the island, and limiting them to a very small area—the part that retains evidence of past human occupation, such as the lighthouse and former storehouse (now a small museum). There is also an old house, but not on the area we can get to. The people who did live here before were truly isolated—Maclean's once run a story on them as "Canada's Swiss family Robinson".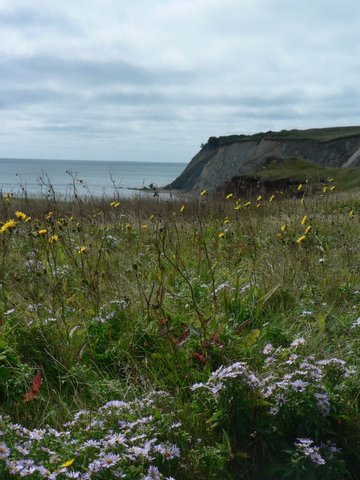 The main islands are noted for their food quality, and part of that is due to using local ingredients. At the fête champètre, we were delighted to discover strawberries in season (a bit of a different cycle than Ontario!). Restaurant salads always seemed to feature the local, organic lettuce. Also local are chanterelle mushrooms, which, for example, formed the basis of the amazing mushroom risotto I had at Au Bout du Monde.
This is also a good place to raise farm animals, and not in a factory sort of way, which is becoming important to me. Pork and wild pig (sanglier) showed up frequently on menus, in many delicious ways: rillettes, which is almost like a paté, but with bigger chunks of meat; jambon appetizers that reminded us of some of better food items in Spain; and your general grilled pork, though it was often served with grilled scallops. Mmm.
We also drove past herds of dairy cows, some of whose milk is used to create the local Pied de Vent and Tome des Demoiselles cheese. The Pieds de Vent (literally feet of wind) appears frequently on local menus in various forms. This is a truly rich, stinky cheese which I nevertheless enjoy in moderation, and Jean can handle in somewhat larger amounts. Our Auberge made a potato/pied-de-vent appetizer that Jean said only became better as you ate it (I found it really rich); he also had it in risotto, at the Table des Roys, which he didn't like quite as much; but he assured me it really improved his Pas Perdus (a small restaurant/bar) poutine, which I just didn't try.
Wind
As a local told us, if you're going to go to the Maritimes and complain about the wind, you might as well have just stayed home. Yep, the wind is pretty much a constant. Sometimes it's very light, other times pretty vigorous; we didn't experience anything that could be described as "nasty". In general, we were blessed with good weather, with only one day of rain.
If we go back, we will have to take more advantage of the wind and try at least one of the many wind-based activities you can do here: probably not the wind-surfing on water, because I had trouble enough with the sailing we tried on our last trip, but maybe the kite buggies or at least flying a big kite. At any rate, for this round we restricted ourselves to taking pictures of other people doing wind activities. One of these included a big wind sport competition that was winding up our first weekend there.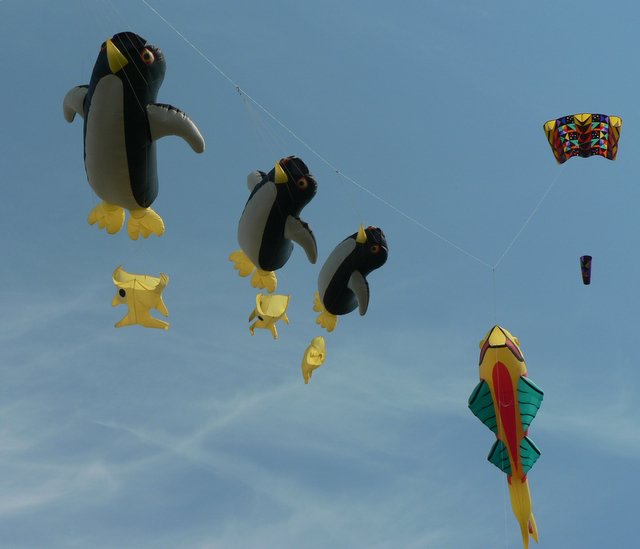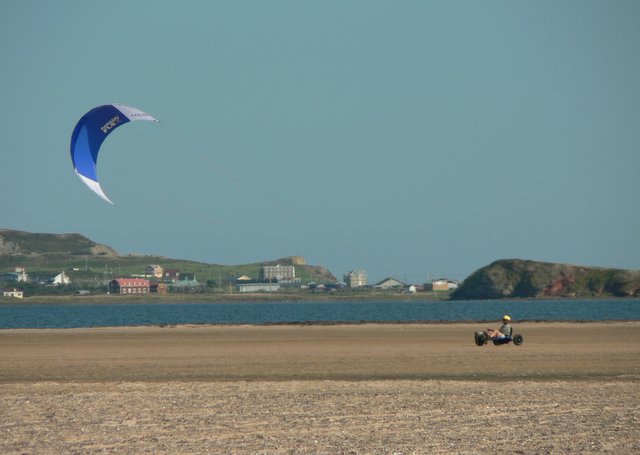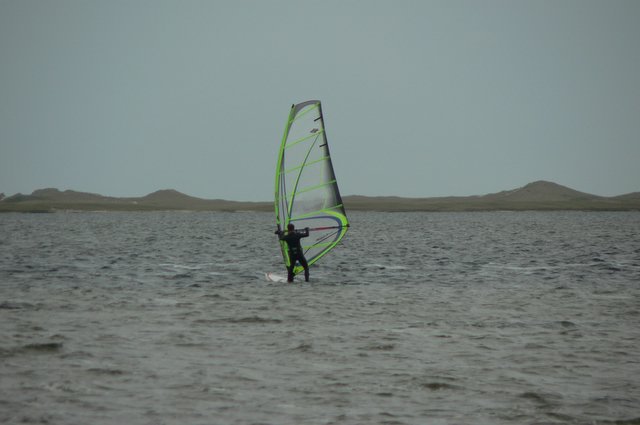 Interestingly, the islands have two windmills, neither of which are in use—because they weren't built strongly enough to withstand this much wind!
Seals
We first spotted seals in the fairly un-natural setting of the Aquarium in La Grave, where we didn't bring a camera. They were a cute couple of guys, though! You could look at them over-top, or through the window looking underwater. Jean amused himself and them by making fish-like motions with his hands, to their endless entertainment.
Our first natural sightings were on our Ile Boudreau walk, though it took us a while to realize that all the black dots in the water were actually seal heads. And though we had the camera this time, we had forgotten our binoculars. We'd parked near the start of the trail, though, so at that point we went to get the binoculars and confirmed we weren't imagining things: there were indeed many seals in water.

But that was far from the best sighting, because on our Ile Brion tour, the zodiak boat drove right into a huge colony of seals, until they were completely surrounding us. Though they are somewhat timid, their sheer numbers and the fact that they're used to this particular boat meant that they came pretty close, and even swam alongside us, much in the manner of dolphins. It was very cool!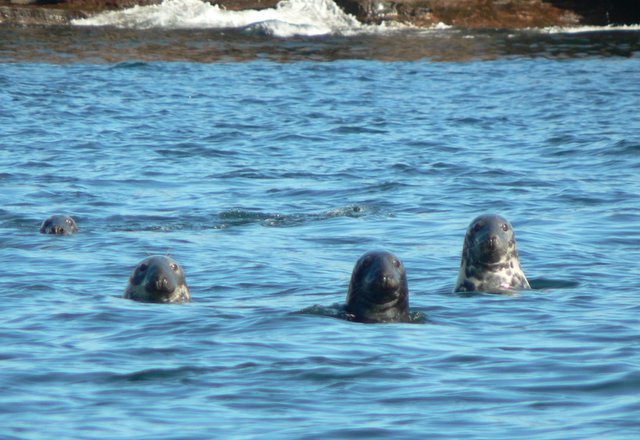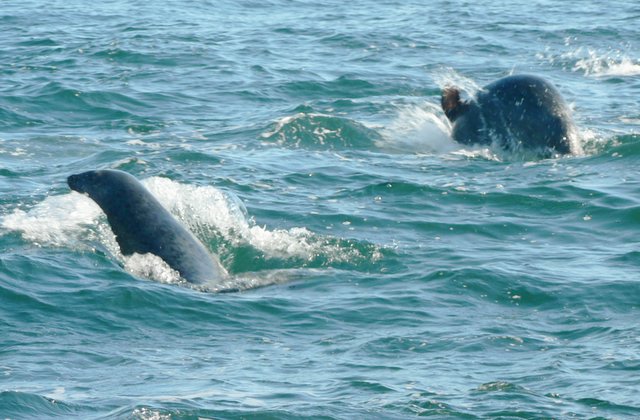 Mes Iles Mon Pays is a long-running production on the history of Magdalens. Featuring locals rather than professional actors, it's relatively hokey, but had its charms. And it was our first inkling that seals are a somewhat sensitive topic to islanders. You see, Newfoundland is not the only place that has an annual seal hunt. One of the sketches in the play was on the necessity of this hunt, to preserve the balance of nature.
We learned yet more about this at the rather good Seal Interpretation Centre, part of the Club Vacance les Iles, where we signed up for our sea cave swim. Our tour was guided by a young woman from the islands. Downstairs we learned about the animal itself: the big two weeks the young get with Mom before being booted out on their own; the four types of seals seen in the area; the natural life expectancy (about 20 years). Upstairs focused on the seal hunt: ancient and modern hunting tools, regulations around the hunt, the various bans and protests over the years (Bridget Bardot and Paul McCartney are not the most popular celebrities in these parts), the lack of natural predator of seals, the amount of fish they eat.
Seal meat was also available on some menus. I tried it in the form of rillette at our Auberge, mixed with pork; it was very good, but I couldn't really pick out what made for the "seal" taste. On our last visit, Jean had also tried the seal stew.

Fish, Seafood, Seabirds
At the Aquarium on La Grave, they gather various forms of sea life for the summer, then return them to the sea before winter (when they close down). The museum guide there was very good, letting us hold starfish, showing us a lobster with her eggs (we had no idea the females carried their eggs with them for months, until ready to hatch), demonstrating how this flat fish (name escapes) really liked to be pet. It was odd—this fish would swim up to touching distance, then swim away in apparent ecstasy.
The Site d'Autrefois gave us our best insight into the lives of fishermen. As mentioned on page 1, this tourist site is run by a former fisherman whose near-fatal accident left him unable to continue in that field. The visit there began with about an hour of talk. He gave his own story, demonstrated lobster and other fishing techniques, described life in winter, discussed current issues affecting the island (environment, tourism, politics). It was different than visits to other historical sites we've been to, but in a good way. This is really a one-man show.
The property itself has older houses, barn, baraque (a kind of shed with a retractable roof, very characteristic of this region), chicken coops, all filled with various artifacts and costumed dummies from past times. In the pond is a full representation of lobster and other fishing. Then he had a section of miniatures—churches, horses, stores, and so on. It was kind of neat.
Seabirds, you would see around all the time—herons, gulls, and so on. But at Ile Brion we saw the most interesting examples. You sometimes see puffins, but I don't think we did this time. However, we did see these birds (cormorans, I think) that just dive down into the water from enormous heights, then come up, fish in mouth: really impressive! You'd just see it happen out of the corner of your eye. We also saw some "penguins"—not the king penguins depicted in March of the Penguins, but the smaller black-and-white birds that can fly. In French, they aren't actually called penguins, but manchots.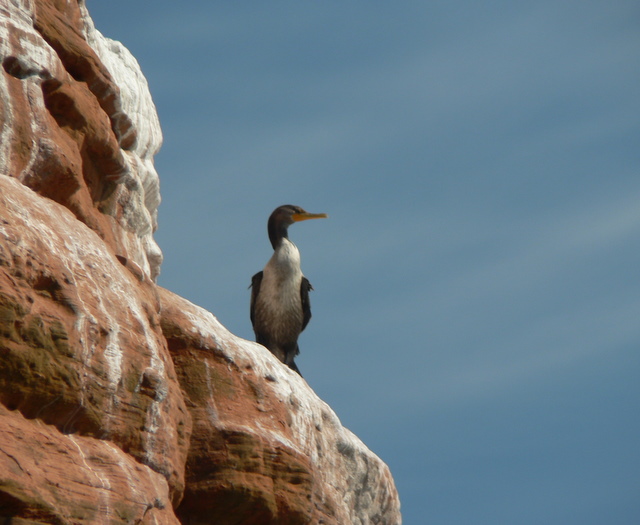 Naturally, a lot of local seafood is available on menus. We were too late for fresh lobster, but in time for many other items, including sébasse (a mild fish, not related to sea bass); great grilled scallops; fresh mussels in various sauces (the Vieux Couvent, a former convent, now bar/restaurant, is particularly known for this); excellent crab and cod cakes (one at a tiny casual diner on the north islands, the other at the three-star Table des Roys, but both great); amazingly good smoked herring; and the Auberge's "pot en pot", which is shrimp, scallop, and lobster in a pastry. Yep, the islands are definitely a good destination for foodies.

People
On this trip, we did a better job than we usually do talking with the locals and other tourists. For example, at the fête champètre, we sat and talked with some locals, who were frankly kind of relieved that the number of tourists was diminishing. And certainly, with our three tours, it's unavoidable to talk with the guides and the other people on the trip with you. Then we'd sometimes see them again later, at stores or restaurants. The other people on our sea cave swim just kept going on about the wonders of the local beer. Our Ile Brion trip included a whole group visiting a Montreal-based woman who had bought a house on the island, plus a guy who had only just now managed to get a trip to the islands after signing up for it for eight years in a row. (It's a much more dicey proposition in September, because of the winds.) And our first zodiak trip included a blind man, which made for a different experience: the texture of the caves, the smells, and the water motion took on heightened interest.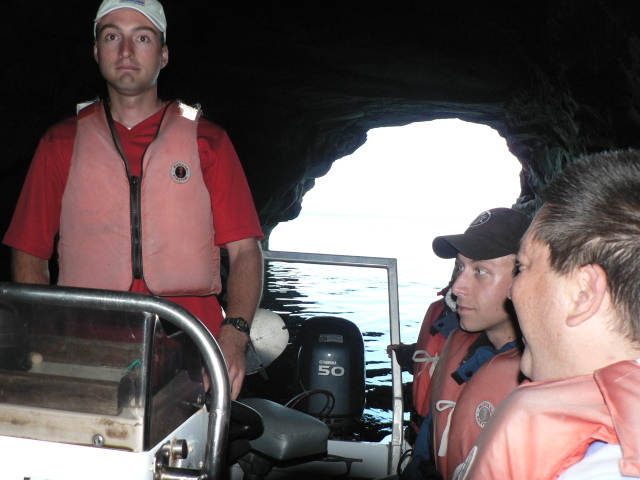 A lot of the shops are owned by the craftsmen themselves, who are of course pleased to speak about their work. At la Grave we visited a shop where the owner makes jewelry from polished stone of the islands; I bought an agate necklace there. On Iles des Loups, the woman made jewelry from found objects: polished glass, sea shells, stones… I also couldn't resist some of this as well. At an Etang du Nord shop, the owner gave us sucre à crème samples and gave restaurant recommendations. But the most interesting owner had to be the owner of Le Flaneur tea shop. One half is a tea and pastry shop; the other is where she sells "fantasy figures". She has stories around each one. It's really a magical place.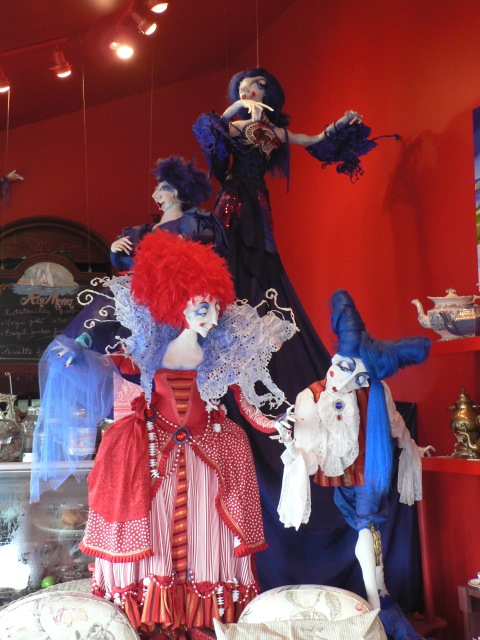 This woman is also a book publisher, and we bought one of the books from her house, on the subject of the islands themselves.
The service at the restaurants was generally good and friendly. At the Table des Roys, the wine steward actually remembered us from our one visit two years earlier! This reminds me of the Verses hostess; maybe it's a thing with people who work in fine restaurants.
Our Auberge was a family-owned affair, where the husband is chef, the wife manages the restaurant and inn, and their daughter is the waitress. Though an older place, we enjoyed the quaintness. On our second dinner there, we overhead people at the neighbouring table speaking in what sounded like a Franco-Ontario accent, and then they mentioned "20 King". Jean couldn't resist turning around and asking if they were from K-W. And you know, they were. In fact, they live in our neighbourhood. We ended up having breakfast with them for the next two mornings and comparing travel experiences (both this one and others). Probably some lesson here in how far you have to go to meet your neighbours… At the airport in Toronto, we also spoke to some people who had made the journey back with us, and were concerned that the fresh fish they were "importing" survived the journey. (It did.)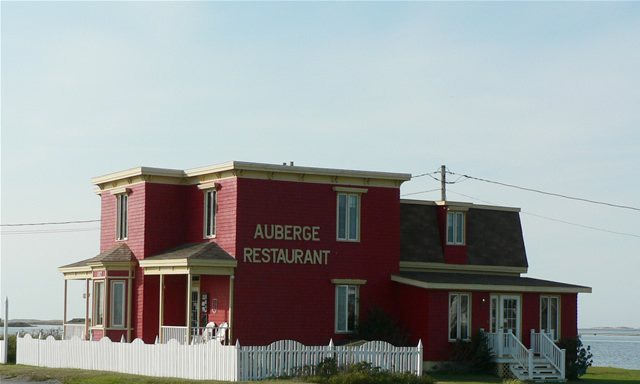 Art
Walking around Le Flaneur, we were both thinking that it would be really nice to own an example of her work. But though agreeing in that point, we found we were drawn to opposite examples of what she did. Jean liked the more fantastic examples which, to me, were just too Halloween-like to picture in my house year-round. I liked the "prettier" examples which, to Jean, looked too much like dolls. Amazingly, though, we were able to come together, finally, on one figure: Don Quixote, who was neither too ugly nor too doll-like. And also reminded us of our Spanish trip. So he's now ours.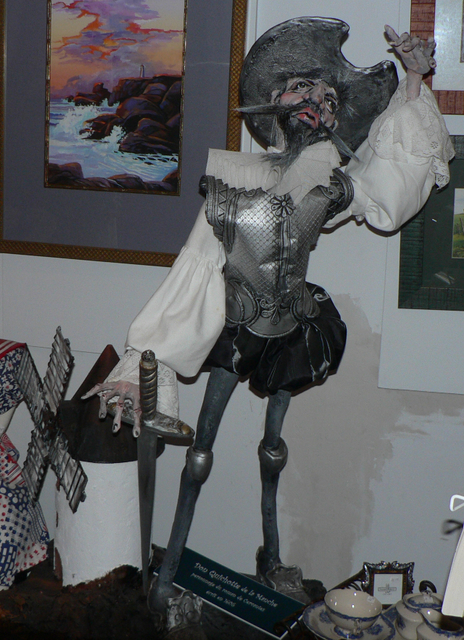 We were actually tempted at a number of other galleries, however. La Baraque gallery featured polished stone sculptures of seals, fish, human figures, and bears, with beautiful lines and details. Some were even two-sided, depicting, for example, a fish on one side and a flying bird on the other. The Gallerie Méduse, a glass-blowing gallery, also showed paintings by a local artist that were just stunning. We found that a lot of artists there used very bright colours in their work, likely reflecting the colour and beauty of the area, creating art that was very appealing to us. And the prices were not excessive for original pieces of work. If only our art budget were unlimited…

The Inconvenient Truth about les Iles-de-la-Madeleine
While not particularly seeking this sort of information, we nevertheless found out the following during our week on the islands:
For the first time in memory, this past winter the Magdalens did not even have enough snow for snow-shoeing.
The lack of snow is threatening the islands' only source of fresh ground water, as snow is normally a major source of replenishment.
The sandy shores of the islands are "naturally" being eroded by the sea at the rate of 1 meter a year—significant, but still allowing for habitation for another 500 years or so, if the rate holds. Recently, however, less protective ice has been building up around the islands, which could lead to faster erosion.
Because of melting ice, the waters of the Gulf are expected to rise significant over the next 40 to 50 years. This increases the risk of flooding on these low-lying island.
Though over-fishing was the main factor in the cod disappearing, the warming of the waters around the island is largely why they're not coming back. That's also why the mackerel found there are small: big ones bypass this area for cooler waters.
The warmer waters are also affecting the traditional lobster season: in the last weeks, many more lobster had to be returned because they had already laid their eggs.
On small, resource-dependent islands, global warming is none too theoretical. The threats are greater and they strike sooner.
So if you want to visit the islands—and we'd highly recommend it—I wouldn't put it off too long.
See also our Smugmug Web Album