Planning a trip to Italy in two weeks
This wasn't supposed to be an Italian trip, originally. The idea was actually a Danube river cruise. We were just waiting for that to go on sale. Only when it did, we discovered that the tour company wouldn't sell to Canadians. It would not send any information to a Canadian address. So although we figured out US addresses we could use, we also got to thinking that we should maybe book something else. Our time off was about two weeks away.
After a lot of painful searching, we came across Gate 1 Travel's Italy trips. Inputting our data seemed to be pop out a reasonably priced itinerary, and we (Jean says especially me) were interested in Italy, so we decided to give them a call. The travel agent was quite helpful, suggesting that we really didn't want to miss Rome (Jean was leery of it), for example, and finding us some pretty good airline prices.
Gate 1 ended up booking the flight, transport in Venice and Rome, and all hotels except the Cinque Terra ones. We also added the tours a few days later. Cinque Terra we booked ourselves, with the help of guidebooks.
It seemed we could relax until… We realized our passport expiry date was too close. One week to go, and we had to get new ones. Turns out, with a trip booked and a little extra money, you can get that done.
I'm writing this all very calmly here. At the time it was incredibly stressful!
Things the guidebooks don't tell you
Protests seem to be just part of the fabric of daily life in Italy. In two weeks there, we encountered one train strike, one large protest in a Roman public square, and a student occupation of a building. Each was perfectly peaceful, scheduled in advance, and well-communicated to the public. Oh, and I think there will be a general strike there on December 12.
Some of the toilets there are seatless—just the porcelain bottom there, no liftable plastic seat over it. At first we thought some public places had just rudely removed all seats that were originally in place, but after encountering them repeatedly, I had to conclude these seemed to be a style of toilet one could select. I don't see the style taking off in North America. (And no, they definitely weren't bidets.)
Most hotels don't supply Kleenex. Perhaps Italians use handkerchiefs more.
Every Italian carries an umbrella, and will raise it at the slightest sign of rain. If you do not follow suit, you will be besieged by umbrella salesmen on the street, some quite adamant that you need an umbrella now.
If you don't like eating Italian food (pizza, pasta, grilled meat and fish), you're not going to be too happy with the dining options in Italy. Cause most places, that's all there is.
Italy doesn't seem to have a weather network on TV. They could really use one.
Getting lost in Venice
We initially weren't sure about Venice. It's particularly expensive, in a country that isn't all that cheap otherwise, and it's gotten mixed reviews.
But really, we loved it. It's just a very neat-looking place, with all the canals, the little twisty streets in between them, the gondolas and water taxis, the sinking buildings reflecting faded glory. And while it might accurately be described as a "decaying" city (it is literally sinking, many of its buildings water-damaged), I would not describe it as "dirty". The streets were regularly cleaned and the canal water, while I would not swim in it, did not smell.
Our first day there, we were, of course, pretty sleepy with the time change. After a confusing wait at an empty booth, we did get a semi-private water taxi ride to our hotel, which wasn't far from the train station, and was overlooking a canal. It was a pretty nice room, fairly large for Europe, and we had a helpful porter. I tried not to think about it probably being the most expensive hotel room I've ever stayed in.
We decided not to nap immediately and instead went out to take a "vaporetti" tour of the city. This means getting on the Venice version of public transit: a large commuter boat, then staying on for key stops from one end of the city to the other, while you look up in a guidebook what you're seeing. It sort of dawns on you how everything is done by boat here—garbage pickup, fire-fighting, getting the groceries…
Our final stop was the San Marco Square, which is really impressive looking.
We decided against going into Doge's Palace, shown above, (which looked very cool from the outside and was no doubt impressive inside) and just walked around the twisty streets for a while. Around 4:00, though, we concluded we were starving. Now, Italians normally eat between 7:30 and 10:00, and many restaurants aren't even open at 4:00, but Venice is pretty touristy, so we did find a restaurant. It was one of the more mediocre meals of our trip, but it did the trick of satisfying hunger.
"Get lost in Venice" was advice in both of our guidebooks, and we took that to heart in our amble back to our hotel. Even when we knew we were very close to it, it seemed impossible to find that actual building. But finally we did.
Then we went to bed early and slept about 12 hours (!).
Venice Day 2
After a quite lovely breakfast (Venice would turn out to have the best breakfast buffet of our tour), I wanted to go to the Accademia Art Gallery. Getting there was not a simple thing, but transit is expensive, so we figured it out. Eventually.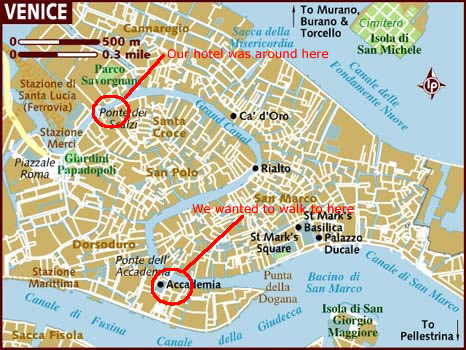 We enjoyed the Accademia Galleries (no photographs allowed), which focused on Venetian artists such as Titian, Bellini, and Carpaccio. Many of the paintings had religious themes. We used the audioguide, which was very helpful in getting more out of it. The one painting that sticks most in memory was a huge canvas depicting hellish images of snakes, bodies, attacks… Course I don't remember the artist or the title, now. "By far, my favourite," said Jean, looking on the horrific scene.
After lunch, which was mostly notable for the spaghetti I ordered turning out to be completely black (squid ink—it tasted good, but was very surprising!) and enjoying the richest red wine of the entire vacation, we somehow managed to get lost again on the way to the Guggenheim Gallery, which really wasn't very far from the Accademia—on the map above, it would be pretty much just up the street. But somehow we ended up on the completely wrong canal, not able to orient ourselves on the map. (Perhaps it was all that rich wine.) At any rate, we did eventually find our way there to see this collection, which was all modern works—Pollock, Dali, Picasso, Chagall, Miron, Magritte, and so on—collected by an eccentric, wealthy American woman. We used the audioguide here too, though large groups of visitors made viewing some works a challenge.
It was already getting dark (it got dark around 5:00) so we went to San Marco Square again, to see it at night. It was quite lovely and lively.
Dinner this night was our first noteworthy meal. We wanted to try cicchetti, which are kind of like Spanish tapas—little appetizer portions of food, often served in stand-up bars. We selected a spot recommended in one of the guide books. We met a local there, who assured us that "everything here is good"—that he ate there every day. He turned out to be right. Our plate of cicchetti had lots of nice tidbits—tender squid, tasty tomato and cheese, marinated green beans, shrimp, etc. And then we had some pasta: A very good tagliattele with seafood for Jean, and what was probably the best gnocchi with tomato sauce I've ever had, anywhere.
We were seated at a long table, and we talked to a couple of other couples who eventually also were seated there. Both were Americans, one from Ohio, another from Florida. The Ohio couple commented on how their Italian hosts were upset that they were missing their election! They had to explain they had indeed voted, in advance, by absentee ballot. (I like to think they voted Obama, though I didn't specifically ask.) They also told us about their time in Rome, which included getting caught in a huge student protest!
Climbing up to see Florence
We couldn't afford to stay longer in Venice, so we took the train to Florence the next morning. That all went fine, and we quickly found our Florence hotel, as it was across the street from the train station. On check-in, they informed us we'd been upgraded to the "Waldorf Suites", the renovated section next door. (Little did we know this would cause us some grief later.) The room was fine—again, pretty big for Europe, and the toilet had a seat. There was no Kleenex, but there was CNN International and BBC News, which was important for the upcoming election news.
It was drizzling a bit, but we headed out anyway. After car-less Venice, Florence seemed really loud and busy, the narrow streets a bit hazardous. But we got ourselves to the Duoumo, a really massive church with an incredibly ornate exterior. We considered climbing the Dome this day, but with the gray skies, decided against it.
So after getting maps and such from the tourist office and a fairly indifferent pizza lunch, we decided to just walk around and look at some of the shops. Florence does have some nice stuff on offer, particularly in the leather arena. In one store, Jean tried on a really gorgeous black and brown leather coat that fit him beautifully, and that he said felt wonderful on. But it was also 285 Euros, so he managed to walk away, despite the offer to barter.
We decided to have dinner at Osteria Congrega, which proved a good choice. It was a funky-looking little place with a very attractive waitress. And our appetizers were amazing. I had risotto with porcini mushrooms; Jean had smoked goose in truffle oil with taggliatelle. Florence's specialty food is actually beef, so that's what we both had as main courses. Jean's was served with gorgonzola, mine with balsamic vinegar. Both are very well prepared, very tender. We also had side veggies and ended up too full for any dessert.
Rain had stopped now, so we walked around the city a bit more.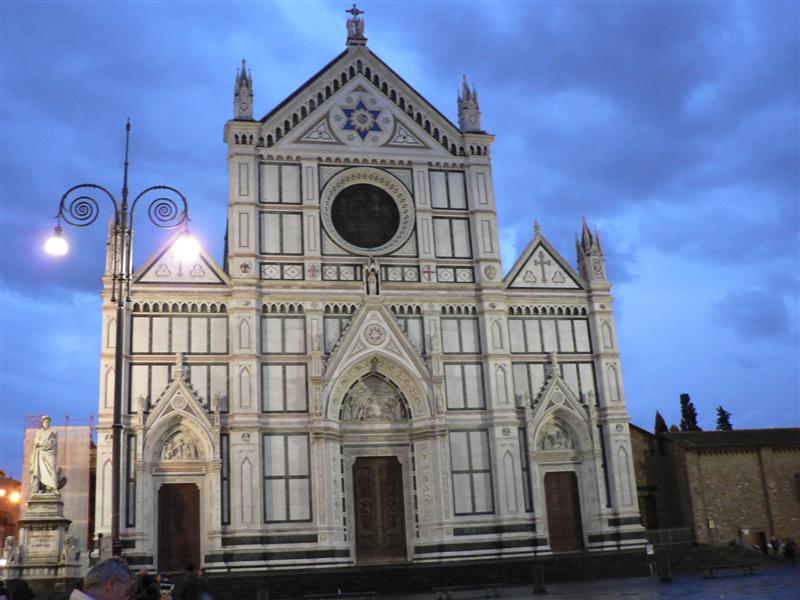 We ended up at some elaborate building with all these statues outside it. Quite striking looking in the dark.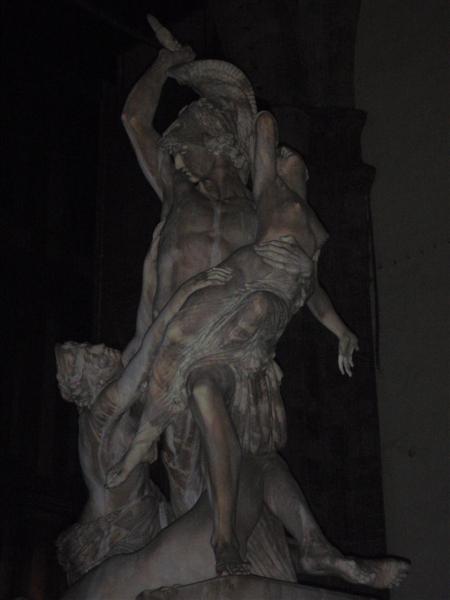 Then we went back to the hotel to watch news of the US election, but on European time, there was really no news yet… Not even any exit polls.

The next morning, I waited a little impatiently for Jean to wake up, so I could turn on the TV and find out what happened. And what happened was, Barack Obama was making his victory speech! Live! Nice start to the day, which also dawned very sunny and warm.
Then, after a few errands at the train station and such, we started our climbing. Back at the Duomo, we stood in the short line to climb up to the Dome of the church. We were informed it was 467 steps—no elevator! As it's a tower, some of the steps are also pretty twisty and claustrophobic.
But, it was very cool to see the Dome up close. It's a painted ceiling—the Italians are very fond of painted ceilings. There are hellish scenes near the outer edges, and things get more heavenly as one proceeds toward the centre.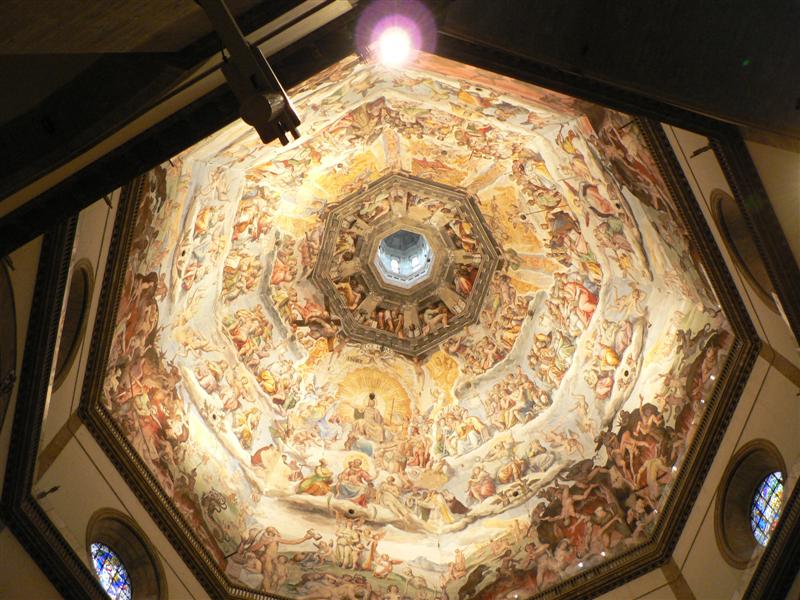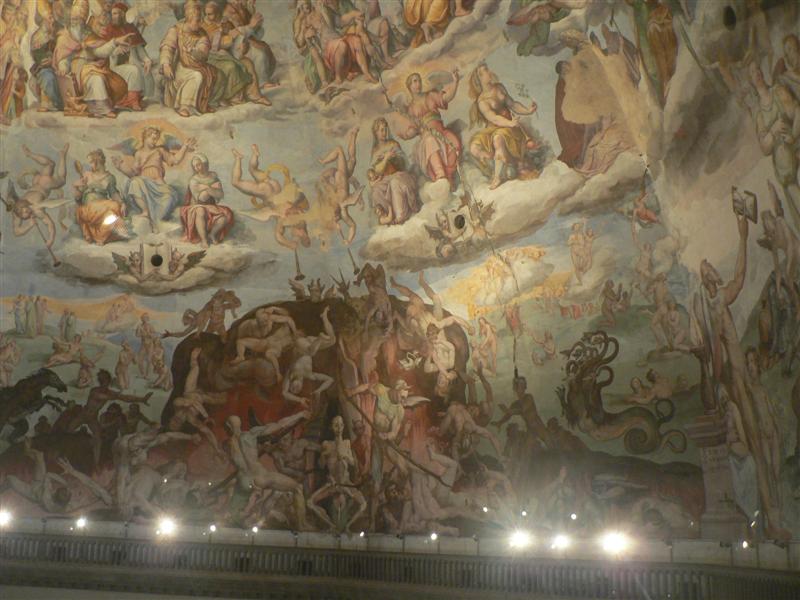 Further up some more steps, one then ends up outside for a nice view of Florence.
After lunch, we visited the Uffizi, one of the more renowned art galleries in Florence. It also turned out to be the place we'd seen the day before with all the statues outside!

The Uffizi contains a fair number of famous works, such as Boticelli's Venus (beside—not our picture). It's also a fairly impressive building in itself. For some reason, though, we didn't warm up to this gallery that much. Maybe it was the less-stellar audioguide, which is by room only, making it hard to know what was even being discussed. Maybe it was the seatless toilet seats. Maybe the extra charge for a special exhibit we were not that interested in. At any rate, although it got better at the end with the Rembrandts, it was far from our favourite gallery.
It was still nice and there was still daylight, though, so we decided to go across the bridge over the River Arno (as an aside, we were listening to Room with a View on the Ipod on this trip, and the view in question was that of the River Arno in Florence), headed up yet more stairs—these ones outside and much wider, though—and got to a church from which you got a really nice view of Florence and nearby Tuscanny. (The church itself was also worth a boo, with its big pipe organ.)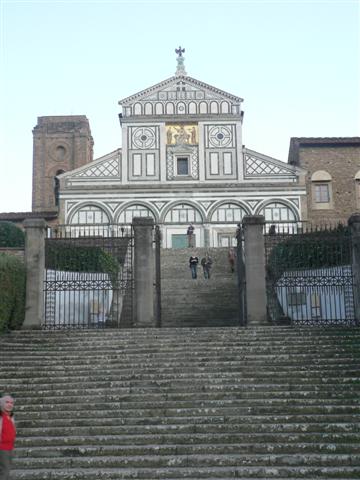 Where the church area wasn't crowded at all, a nearby square was crawling with tourists and locals, but it was also a good place for a view.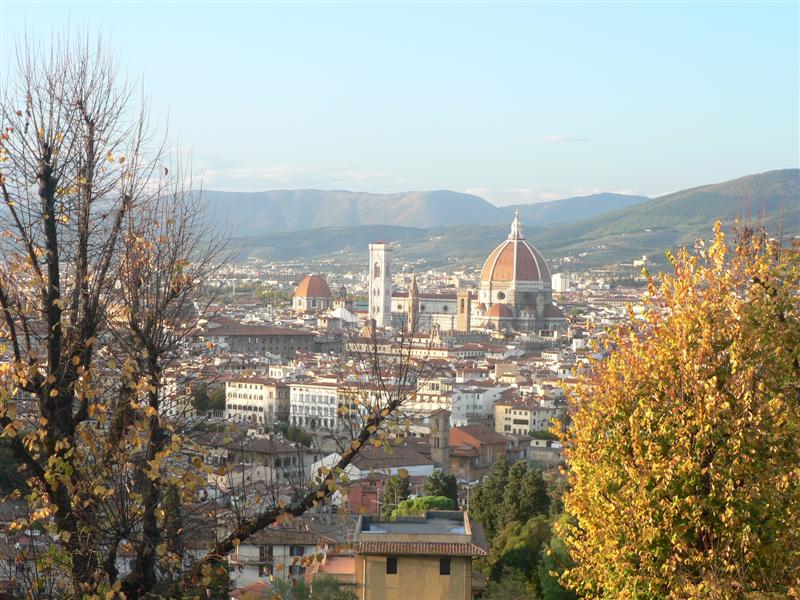 We refreshed ourselves with some gelato and coffee before ambling back to our hotel. Dinner that night was at a more "basic" little restaurant, but one that also had good, substantial food. I started with soup, Jean with ravioli, then he had another type of beef (the osso bucco having sold out at lunch) while I had roast pork with side salad. Though a perfectly fine meal, we were both (yes, Jean too) feeling that two days in a row of red meat was one too many.
Florence/Tuscany Day 3
The next day was to be our Sienna/San Gimignano all-day bus tour. The day before we had scoped out where the tour pass said we were to meet for the tour, and we had double-checked that with the hotel manager. So we found it very odd to be practically the only people waiting for the bus in that location. Surely they wouldn't run a tour for just two?
There was a tour information booth nearby, but it wasn't occupied, and a sign on it advised checking in with the general bus information. We did, and were told we waiting at the right place. But our departure time came and went, and still no sign of a tour bus.
Finally we called the number on our information sheet (at a pay phone—my cell phone doesn't work in Italy), only to be told that we were waiting at the wrong place, and the bus had already left.
The previously unoccupied tour information booth now had an agent, who we went to see. She explained that she had faxed a sheet to our hotel saying we had to meet elsewhere, and earlier, than what was stated in the information we had. Only they'd sent it to the original hotel (before our upgrade) and somehow it had never made its way to our Waldorf room. We were also told that the Chianti tour with dinner, that we were signed up for the next day, was also likely to be cancelled due to an insufficient number of participants.
All quite annoying. But after some discussion with the agent, we signed up for a Chianti tour without dinner that was that afternoon (and given a 10% discount on that for our troubles), and were told that we could go on the Sienna/San Gimignano tour the following day.
The new Chianti tour didn't leave until 2:00, so we had to figure out what to do with ourselves in Florence. Reading through the guidebook, we hit on the Pitti Palace as sounding like an interesting place to visit. (The usual recommendation for another museum was the Accademia, which features Michelangelo's David status. But while that statue certainly seemed worth seeing, it was fairly expensive to get in, and it didn't seem there was a whole lot else to see there besides that one statue.)
So off to the Pitti Palace it was, on another nice sunny day. This proved to be a very large, impressive building, with painted ceilings and other ornate aspects. It housed five museums, of which we saw two, the first being the Galleria Palatina. We enjoyed it more than the Uffizi, even though it featured many of the same artists, but probably with lesser-known works. But they also seemed more dynamic, or something. Perhaps it was more of a focus on the later rather than earlier Renaissance era.
The other museum we visited within the Palace was the Galleria D'Arte Moderna. "Moderna" in this case did not mean abstract Picassos and such, but just latter-day Italian artists, most of which were still painting very recognizable subjects. You could see pointillism and expressionism coming into the styles; it was a really good collection.
We would have liked to have visited the outdoor Boboli Gardens as well, as they're supposed to be quite something, but we were getting concerned about time. We weren't about to miss another tour!
Bus touring through Tuscany
We were in plenty of time, and at the right place, for our Chianti tour. On the ride over, the guide gave us a lot of facts about Florence, Tuscany, Italy, the Chianti area, the wines of the region, and olive oil production. As we got stuck in traffic, he commented that traffic logjams were a problem in all Italian cities, with their narrow streets and such. Rome had special problems in trying to add subway lines: whenever they dug anywhere to add them, they made archaeological finds that slowed everything down. Florence was in the process of adding a tram line (it currently only had buses). "We need to stop using cars in cities," he concluded.
Chianti is divided into 12 wine regions, and bottles from each are labelled accordingly. "Chianti Classico" was the area we were going into, the original wine region. They also grew olives there, and he explained about the different qualities and why the best kind is somewhat pricey. The olive industry isn't nearly as well-regulated as wine, though, which makes it tricky sometimes to identify the good oils.
The ride was maybe an hour, and then we went into some very narrow, twisty roads up to the Castello di Querceto winery. There, as the skies clouded over and it started to rain somewhat, we were met by a local guide. He showed us around the grounds, gave some more explanation of the Chianti region and its wine, and brought us into the wine cellar to see some of the ancient (and more recent) stock. It was surprisingly warm in the cellar.
Next was the wine tasting, which was set up at tables stocked with cheese and plates of bread with salsa and olive oil. We tried three wines: a fairly young red, a more aged red, and a sweet dessert wine made from dried grapes. Though both reds were good, there was no doubt the aging made the second one more interesting. The sweet one was unusual in that it had a bit of a burn on the way down. Not unpleasant, but not what I've experienced with sweet wines before. The olive oil on the bread tasted just astoundingly good.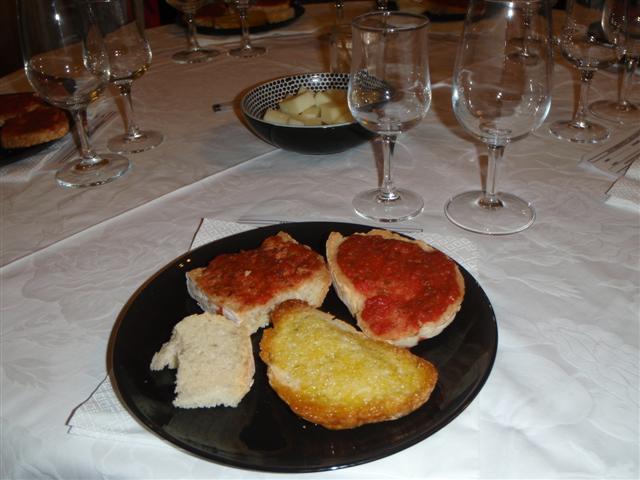 At our table was a British couple and her mother, who was in from South Africa. (And unlike some other tables, ours drank every bit of wine available!) We didn't actually converse much until the British fellow commented that the best sweet wine he'd had was Canadian ice wine, whereupon we piped up. Turns out he worked in the restaurant business, which is how he came to trying ice wine. And some other table wines from Canada. "You know, until I worked there, I had no idea Canada even made wines."
One type of wine not included in the tasting were the "super Tuscans", made from one type of grape (where other red wines are typically blends). We asked if we could try those (possibly at higher cost) and were told they'd see if they could manage it without having to do so for the whole group. Just on the way out, we were waved over for a taste of one. It was certainly the finest, most complex wine of the day. So we did buy a bottle of that.
Next step was in Greve, a small Chianti town not far. Unfortunately it was still raining, and dark by now, but the stop wasn't all that long anyway. We went into a few stores, concluding with another wine store, before getting back on the bus and heading back to Florence.
In an effort to avoid another red meat meal, we found information (in one of our guidebooks) about a seafood restaurant, and went there for dinner. (Florence never got the rain we encountered in the Chianti area, by the way.) There we had quite the extraordinary meal. We ordered the appetizer sampler to share, not realizing this meant we would get platter after platter of appetizers—smoked tuna, bocconcini with tomatoes, prosciutto, fish on tomato… And our mains were fantastic also, both involving combinations of seafood and pasta.
And for a change, we had a bottle of white wine with everything. To end the meal, we were given complementary glasses of strawberry wine, which was very good. It was one of the more expensive meals we had, but well worth it.
The next day, we did succeed in going on a Siena/San Gimignano bus tour.
It was quite a big group for this one and, it turned out, a trilingual one: All information was provided in English, French, and Spanish. I felt exhausted for the tour guide.
Siena used to be as big and important a city as Florence, but it was conquered during long-ago wars, and now is a small tourist town, with much of its historical buildings preserved. As well, cars are banned from its interior.
Our visit there occurred entirely in bright sunshine. We were divided into three groups. Jean and I decided to join the smallest, which was French/Spanish. Each group had a local guide. She took us around sights in the town, explaining some of the history and traditions, such as this big horse competition that occurs each year, and how the city is divided into cantons that compete with each other.
The highlight of the tour was the church. Originally intended to be the biggest church in Italy, full construction was rendered impossible by the Plague, which wiped out so much of the population it was impossible to complete the full original plan. Instead, some years later, they decided to redesign the whole thing to follow the latest fashions in both style (Gothic) and doctrine (less emphasis on Mary).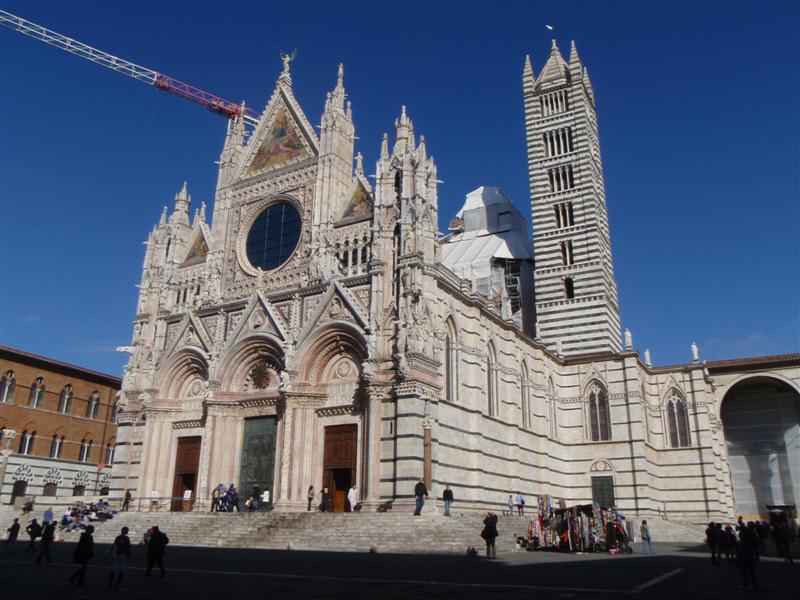 Inside, we were certainly struck by the columns, which looked (and apparently were) inspired by the mosques of the time.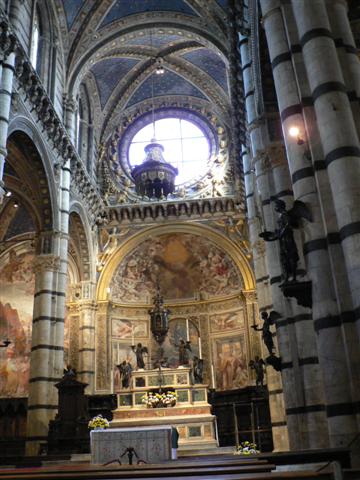 Also featured were the elaborately etched designs in the floor. Some were covered up to protect them, but enough were available to get the impression. We also saw people working on restoring them.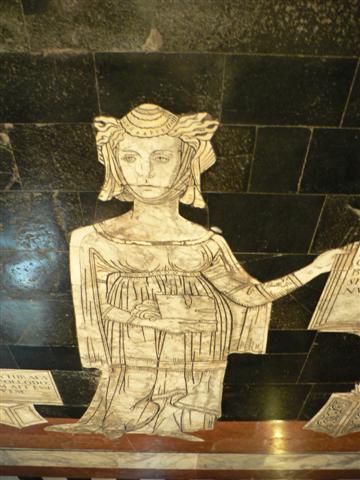 A Library on the side featured amazing frescoes.
And some of the statues by the altar were done by a young Michelangelo.
The next stop was the church museum, where items featured in the church before its redesign were displayed. This part of the visit got a little long for those less interested in the pilgrim's progress stories.
Finally, we were led to the beautiful town square, Il Campo. All Italian cities have these cool squares, but this was certainly one of the nicest.
We did take a break from admiring it to have lunch in a cool little nearby restaurant. And we got back to our group in time.
Next was a bus trip to San Gimignano, a town I did and do have a heck of a time pronouncing, but which is a "typical" Tuscany town, except that it's perhaps more overrun with tourists than most! After the amazingly sunny morning, it unfortunately started to rain shortly after we arrived here, but we could still appreciate the "old world" atmosphere of the place.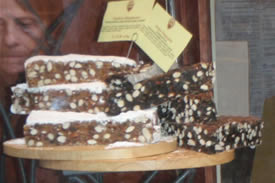 We took shelter in a couple of food joints: had coffee and an almond/raisin cake typical of the region in one cafe (pictured at left), then had what was supposed to be Italy's very best gelato in another. Could be, you know. Certainly I haven't had much gelato better than that bittersweet chocolate/hazelnut combo.
Then it was back to the bus (a little close to the deadline, in our case) and back to Florence.
For our last meal there, we decided to return to the Osteria Congrega, and it was quite fine again. We both started with different types of ravioli, then Jean had osso bucco, while I (still a bit off red meat) just went with chicken.
While I'm on the food subject (yet again), a word about breakfast. The Florence hotel also had the typical, just fine breakfast buffet, with the fruit salad, cheese, good bread (everywhere in Italy, there was nothing but good bread), croissant (almost as good as the French ones), prosciutto, etc. But we had a coffee problem. The first day we apparently ate in the wrong (not upgraded) breakfast room, which had only a pathetic coffee machine that made just terrible cafe lattes. The second day we were directed to our upgraded breakfast room, in which people served us coffee. But still, a request for cafe latte resulted in the bad machine coffee, only that it was delivered to us. I saw other people getting good coffee in a pot, though. So the next day, I made sure. We want café, I said. Just café. No latte. And that's what we got. Just a pot of coffee. No milk, no sugar.
Now, this was actually OK for me, but Jean is not a "coffee with no milk or sugar" guy. On day four, we finally achieved success. Cafe. Plus steamed milk. Each in their own carafe, making a delicious blend. And then it was time to check out.
A stop in Pisa
We had earlier bought a couple of train tickets for this day: one getting us to Pisa, the other to Vernazza in Cinque Terra, from Pisa. Neither of these offered reserved seats, so we had to validate them before getting on the train. We found the validation machine just fine. I pulled out tickets, saw "Pisa" on there, handed that over, and Jean inserted them in the validation machine. And then… We realized they were the wrong ones. We had validated Pisa to Vernazza instead of Florence to Pisa.
So we spent most of the rest of our waiting time getting help from train customer support with that error. And they were very helpful, signing off the wrongly validated ticket, and doing so in time for us to make our train. (Though it wouldn't be the end of validation difficulties on this trip.) While waiting, we also heard rumbles of a pending train strike…
Anyway, once the train got us to Pisa, we checked our luggage, then found the Tourist Information to get a map and the walking path to the famous tower. That was pretty straightforward, and wound through a bunch of street vendors.
Then we got to the tower. It really does lean quite a bit. Five degrees doesn't sound like that much, but it's quite noticeable. When you're taking pictures, though, it's hard not to "straighten" it, thereby making the ground look crooked. What we hadn't quite realized was how attractive in itself the tower is, all in white, with all the ornate workings on it. Also perhaps not that well-known is that it's surrounded by other attractive buildings, such as the church and the baptistery. These were closed for lunch, so we couldn't go in to visit them, but there was enough to see on the outside.
The photos also reveal that the sky was changing rapidly at this time. We'd started with yet another sunny morning, but the clouds were moving in, and when it started to sprinkle, we decided that was a good time for lunch. And indeed it was, as it poured then! But happily, it was pretty much spent by the time we were done, so we were able to walk back without getting soaked. And to re-validate our ticket and make our way to Vernazza, Cinque Terra.
Hiking the Cinque Terra
The Cinque Terra (this means "five villages") is a remote chunk of the Italian Riviera, on the way to France. Previously an ignored region, it's become increasingly popular with tourists over the last few years. But this is not an area of museums, large churches, and grand piazzas. It's just little towns, mostly car-free in their interior, connected by hiking trails, trains, and (in summer only) shuttle buses.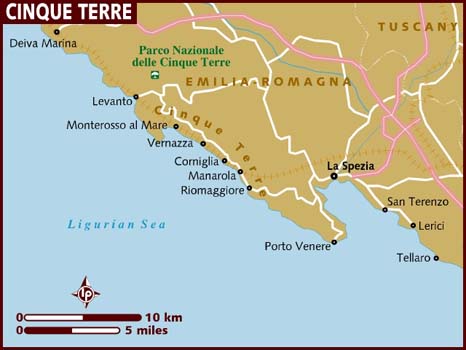 We had booked a room in Vernazza, which is the fourth of the five villages. We were surprised at how many people were at the tiny train station when we arrived. This was November; not peek season, not swimming weather. Anyway.
From the train station, it was a short walk to our "hotel" (really, just an apartment building), but once inside, it seemed a much longer walk up the many stairs to our attic with its shared bathroom. The final set of stairs were particularly narrow and twisting—a definite challenge with suitcases. But everything was bright clean, there were fresh towels, and we had a nice view of the water from our window.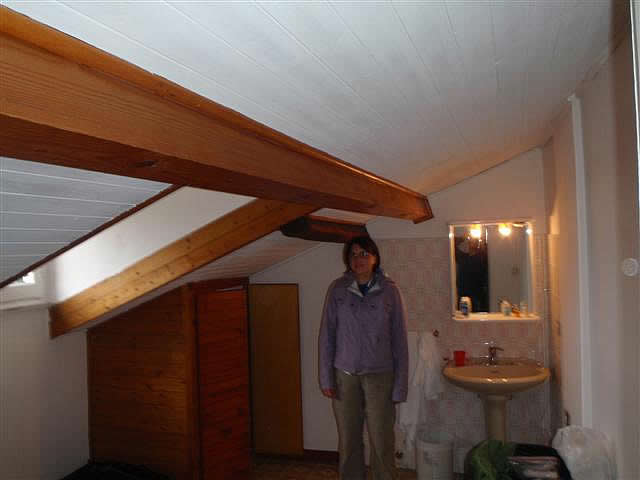 We didn't do too much else that day other than get our Cinque Terra passes (it's a park, so you do need to pay to use it), find out it wasn't possible to buy tickets to Rome from the local train station, and walk around Vernazza, which isn't big at all, but is full of character. And cats—lots of cats.
At our restaurant, we were seated beside another couple who immediately struck up a conversation. They were Americans who had travelled quite a bit, and were now on their second trip to Italy, but their first to these parts. Like us, they had just arrived and were staying three nights. And they were thrilled with Obama's victory earlier in the week!
In terms of food, Cinque Terra is a real seafood town (later in the week, we'd notice that the fish for sale at the market was literally still flopping around! Now that's fresh!), which was great with us. We shared an amazing seafood risotto to start (we knew it would be good, as our new American friends let us taste theirs first!), then we each had anchovies—nothing like the sad little salty fish we get here—each done different ways. We enjoyed a bottle of Cinque Terra white wine with the meal. (The area has many vineyards.) And for a change, we actually had room for dessert. Jean's was especially interesting: an almond cake with a side of the local sweet white wine. And then we had a grappa. So we ended up a little drunk, but happy.
Our little "hotel" didn't offer breakfast, so the next morning we went to the restaurant across the street for the one breakfast menu item on offer: croissant and coffee. Both good, though. Then, having observed the penchant for sunny days (which this was) turning cloudy and rainy later on, we decided to start hiking toward town #5, Monterrosso al Mare, that morning. I hadn't read much about the hikes in advance, which was probably just as well, as this one turned out to be the most difficult of them all. Though only about 3 km, there was a lot of climbing, and the trail itself was very rugged, with several narrow parts, and having to walk on the edges of precipices. I'm surprised I didn't freak out about the heights more than I did. Maybe I was too busy catching my breath from the climbs.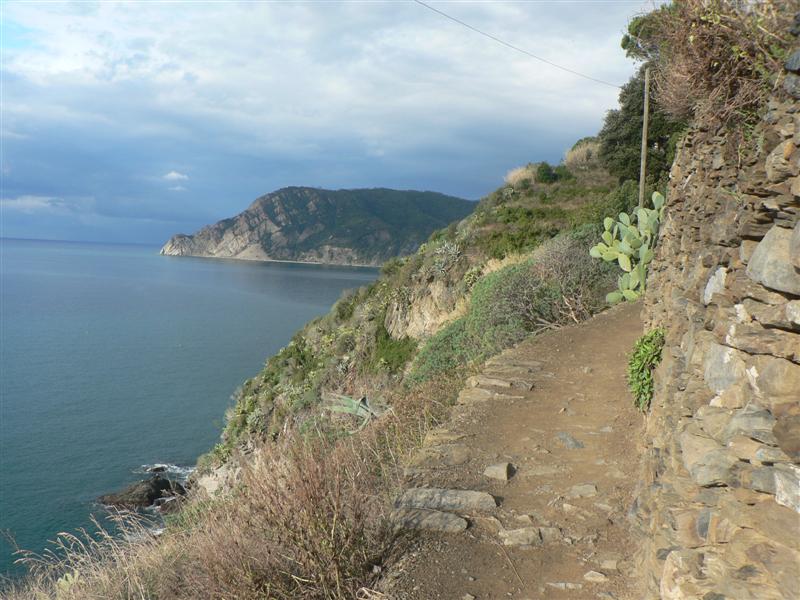 I had mentioned cats earlier. On one part of this trail, we came across two cats, one of which was very chatty. Most area cats were fairly aloof, so this was notable. It took a little while to figure out why all the cat talk, though; the cat was rubbing against a plastic container. Beside it was a sign: "Please use the food in this container to feed these unloved and homeless cats." Aaw! So, of course, we did, much to their appreciation. We also noticed the cats had little shelters there.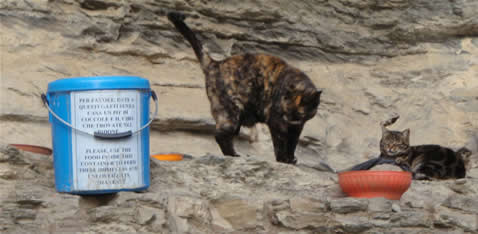 We also met a few people on the trail. Fortunately, given how narrow it was in parts, not that many. And, notably, many French (from France) people. I guess, for them, it's just a short drive—a nice weekend getaway.
Anyway, the trail was worth it. It was a beautiful. You could look back and see beautiful views of Vernazza, then later on, look ahead to Monterrosso. There was also interesting vegetation along the way, like olive trees and what I think were big aloe vera plants. It took us about 90 minutes to complete.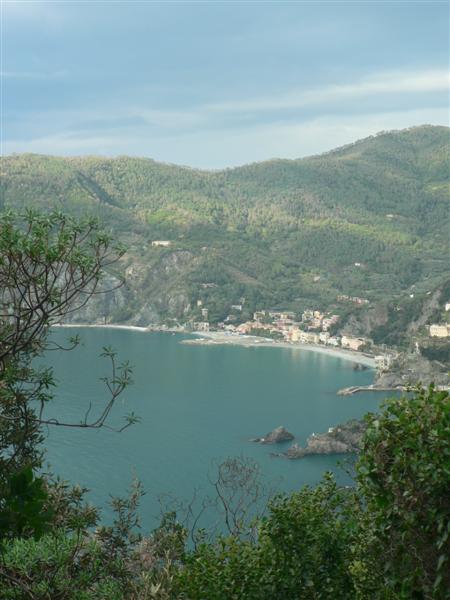 Monterrosso was the most "resort-y" of all the Cinque Terra towns, looking much like a beach town anywhere, really. It had more cars, and bigger hotels, and more touristy shops. So not as charming in itself. But while here, we were able to purchase train tickets from Vernazza to Rome, and find out that there would indeed be a train strike the following day (really, from 9:00 that night to 9:00 the next night).
Over lunch, we discussed what to do next. We had previously figured, if Cinque Terra towns got too rainy for hiking, we could take the train to Genoa, a bigger nearby city that sounded worth a visit. Now, of course, that option wasn't available for tomorrow, so wondered about doing that today (though it wasn't raining). We finally decided to go for it, and went back to the train station, where we were informed the Genoa train would be arriving in two minutes! We were handed our tickets as the train pulled up, but had to validate them. I struggled with the machine, but it made a punching sound, and we both jumped on the train. All seemed fine until I looked at my ticket, which didn't appear to be stamped at all. Didn't look validated.
So at the next stop, we decided we should probably get out and do that. (On earlier trains we had taken, they had definitely been checking for validation stamps.) But by the time we found the machine and used it, the train had left again.
Checking the posted train schedule, we then realized that:
The next train to Genoa wouldn't be for another 45 minutes.
It took a fair amount of time to get there.
Genoa had about six different stops, and we weren't sure which one we wanted.
All in all, it started to seem less sensible to head to Genoa now and try to get back before the strike started.
So… We used our ticket to instead go to Riomaggiore, Town #1 of Cinque Terra. This town was also a bit more developed than Vernazza, but not quite to Monterrosso extent. It featured a lot of murals.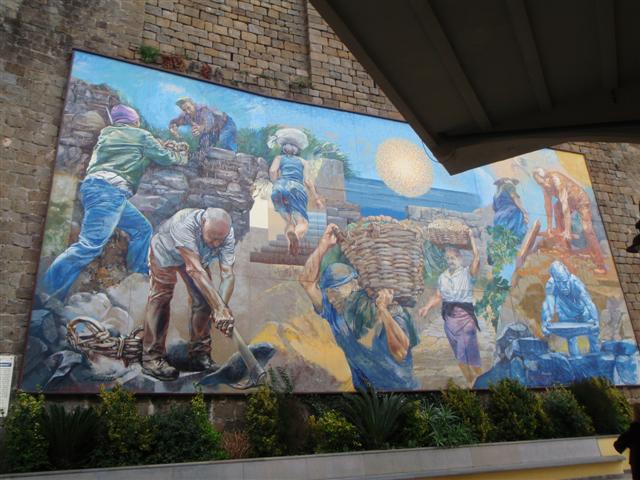 While there, we tried to do an in-town hike there up to a WWII bunker, but that trail was closed.
So instead, we hiked to town #2, Manarola. This hike was completely different from the morning one, being literally a wide paved sidewalk with very little incline to deal with. So it only took about 15 minutes, I think.
Manarola was quite small. Jean enjoyed checking out its neat boat-launching system at the marina.
We also did an in-town hike there, up to a vineyard. Now we were back to narrow paths and climbing, though not as rugged as the first trail. But the views at the top were pretty neat.
Apart from the vineyards, there were a lot of citrus trees and roses, and up on one hillside, little wooden stands of people and animals!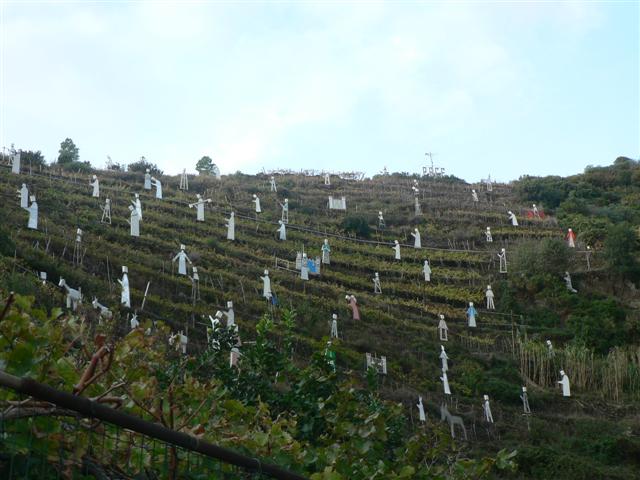 Jean then wanted to hike to town #3, but I was feeling it was a little late in the day for that, given the darkness starting at 5:00. So we instead trained back to Vernazza, enjoying the sunset view while we waited.
My concerns about visiting Cinque Terra in rainy-ish November were these: If it rained, what were we going to do with ourselves all day? Sit inside and read?
So it wasn't comforting when we woke up to rain. Plus a train strike that meant we couldn't go anywhere without walking.
Trying not to panic, we started with some errands. The rain was actually pretty light. We got some groceries for our Rome train day, paid for our room now as we were checking out early the next morning, and had breakfast at the Blue Marlin, the main pub in town (with some cool art on the walls). We also ran into the American couple from our first day and shared experiences; they had also walked to Monterrossa, but hadn't visited any other towns.
And wouldn't you know, the day cleared up and rain didn't trouble us again in Cinque Terra.
So, we were off to hike to town #3, Corniglia. This was the second most challenging trail we did—out of Vernazza, there is nothing but tough trails! Again, there was a heck of a lot of climbing to start with. The trail wasn't as rough as the first, but it was definitely wild—no paving stones here, though some steps had been fashioned from rocks. But it also offered beautiful views and many opportunities for picture taking. This also took about 90 minutes.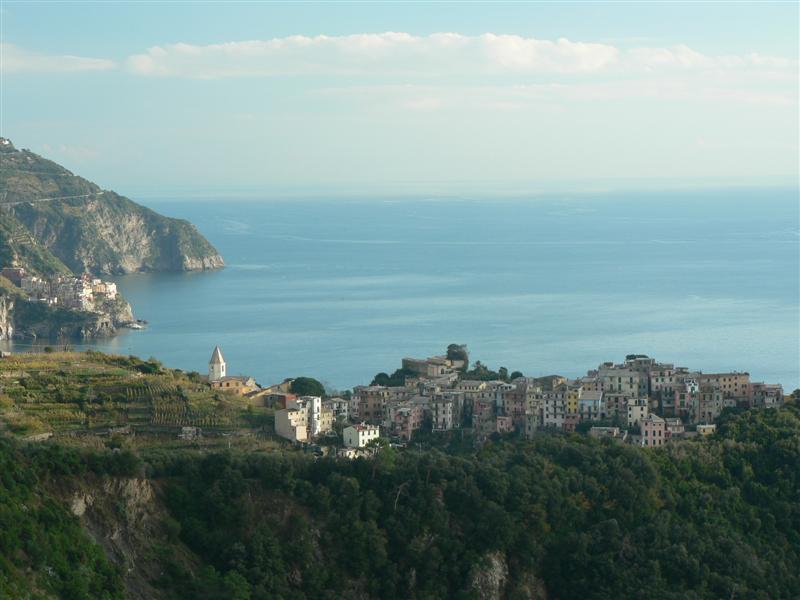 Corniglia was tiny; 240 residents. But it did have some restaurants, and we ate at one of those. We considered going to the marina, but stopped when we realized how many steps were involved. Around 2:30 pm, we decided to hike back to Vernazza. (The trail from Corniglia to Manorola was closed, so we couldn't hike any further in that direction.) It's amazing how much easier the trail was going in that direction, as it was much more downhill than up.
For our final meal in Vernazza, we went back to the first day's restaurant, and had another fine meal. As my main dish, I had white fish, which turned out to be the entire fish, grilled. Yet somehow I ate it all. Maybe it was all that hiking.
Dodging cars to see the wonders of Rome
Our train ride to Rome was fairly uneventful. Jean handled all ticket validation duties, so we avoided any problems there. We had one change, in La Spezia, but no issues with that. The train for Rome was slightly delayed leaving, then got more delayed waiting for another train in one of the towns, so in the end we arrived about an hour later than we should have.
We took a cab to our hotel. We were a little confused when he pulled into a church. Did we have to walk from there or something? But it turned out, the hotel was in the church. Or beside a church. It was a converted monastery. In fact, half the building was still a monastery; the hotel half, I supposed, was fund-raising.
It was kind of cool, really.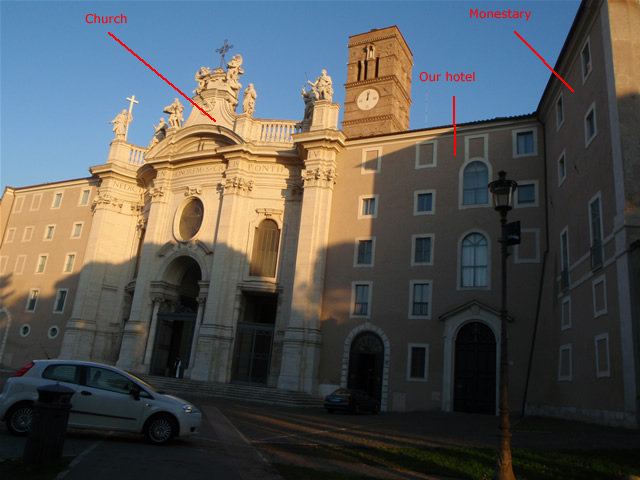 The hotel wasn't too far from the Colosseum, and I wondered if we'd have time to visit it that day. We got a map from the hotel and started walking in that direction, but it soon become clear we wouldn't have time to go in. The Colosseum closes at sundown; we'd already missed the last entry time. What we did have time to do, though it proved a little frustrating figuring it out, was purchase a "Roma Pass". This pass gave us free admission to the first two museums we visited there, then discounts to any others (other than at the Vatican). It also gave us a metro and bus pass for three days. Very handy!
But basically the first day was mostly about orienting ourselves—which was actually very useful for getting ourselves around the next couple days. We did see, and go to and were very impressed by, the San Vittorio—a sight we later learned Romans themselves don't much care for, as they find it too white for the surrounding, older marble.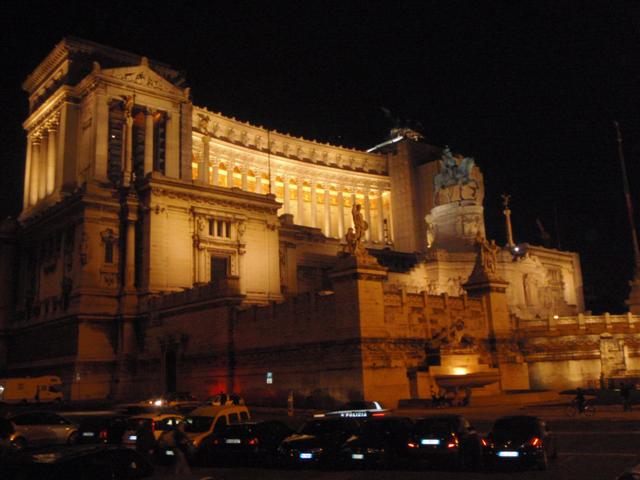 We also saw some semi-famous Piazzas and some archeological digs and such, and tried to get used the sound and speed of the city, which was quite a contrast to Cinque Terra.
We picked our own restaurant instead of trying to locate a guide-recommended one, and food-wise, it didn't turn out that well. Wasn't terrible, but wasn't that great, either. But we did get to talking to yet another American couple (the Italians often seat people really close together) and got a few tips from them.
And by the end of the day, Jean—who had been a bit leery—was already saying he was really glad I had dragged him to Rome.
Traveling in November, we quickly realized that we really didn't need to worry about the crowds, line-ups, and reservations that were a major concern for tourists in the peak months (and that the guide books were full of warnings about). But there was one museum in Rome that mandated reservations: the Borghese. No reservations, no getting in. So we had called ahead and made them for this day at 11:00.
But these reservations were now giving me a headache, because having to go out to the Borghese for 11:00, then try to squeeze in lunch, then back to the Colosseum and Forum to try to see them before they closed at 5:00—it just wasn't fitting.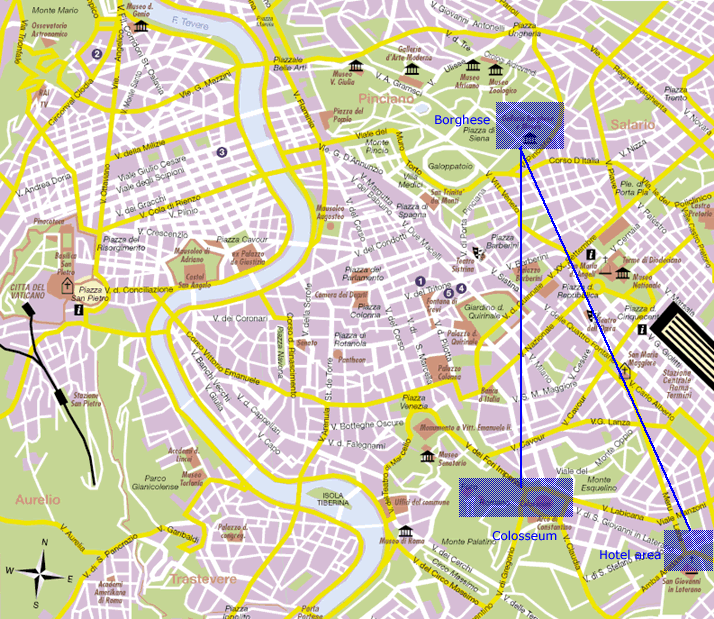 Until I finally got the bright idea to call and change our Borghese reservation. In low season, no problem to change your reservation the same day! So we made that for 5:00 pm, leaving us lots of time to visit the Colosseum first.
There were actually some lineups here, but with the Roma Pass, we were able to bypass the worst of that. We did get the audioguide. Although not the world's greatest audioguide, it was definitely helpful in pointing out and explaining things we otherwise would have missed or just not understood.
The Colosseum is the remains of the big ampitheatre where gladiators fought and Christians were fed to lions and fun stuff like that. It's huge. It's open air, so it's fortunate it wasn't raining this morning. And it's really something to see.
Next, once we finally figured out how to get in, we visited the Forum. And while the Colosseum still basically looks like a Colosseum (only with parts missing), much of the Forum is really hard to decipher without guidance. Fortunately, our guidebooks included pretty useful maps and descriptions.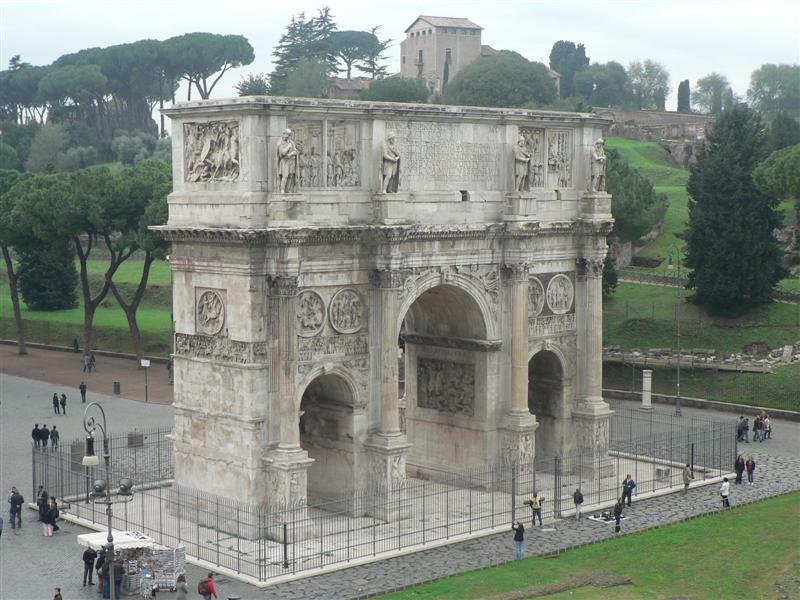 The Forum is the remains of many huge temples, speaker's corners, Julius Ceasar's grave, the housing for the Vestal Virgins, arches, and statues. Often, enough tall, huge things remain that you get get a sense of how impressive it all must have been in its time. It's hard to describe, but it was a really worthwhile visit.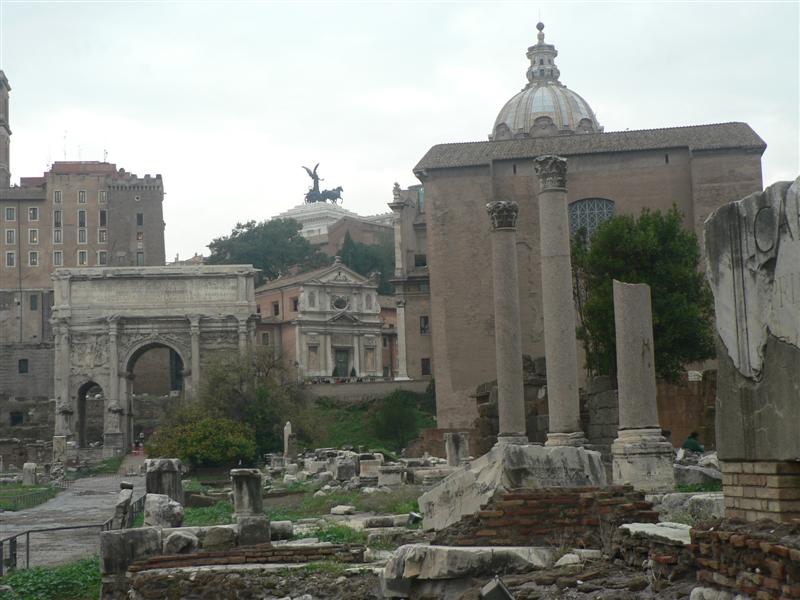 Our lunch was somewhat notable because we found it via the Rick Steeves guide (definitely the guide of choice amongst the tourists we'd met) and the host noticed it and—whether this was why, I don't know—but we got rather good treatment throughout the visit. The food was quite good—prosciutto and melon, pasta and porcini, pasta trio. And we were given bonus limoncella to drink at the end. It's delicious.
Though we could have gone (with our Colosseum ticket) to visit the Palatine Palace, we decided to instead take the metro to the Borghese area, which is in a large park. We walked around that for a while. Trying to visit the animal park there, we somehow got into a dog park, which was really unpleasant. Anyway. Also becoming increasingly unpleasant was the rain, so we went into the museum itself early. But we weren't allowed into the exhibits until 5:00. Here, numbers are always limited, and each visitor gets only two hours to visit.
But it was enough. And it was a wonderful gallery. We did use the audioguide, and it was an excellent one. Of the exhibits, it was definitely the Bernini sculptures that wowed us most. Just so much detail; so realistic and light. More like sculpted in wax than marble. (Of course, we weren't allowed to take pictures. I tried to find a web photo that did the live statues justice, but could not.)
The museum itself was also impressive, with some incredibly ornate rooms. And a lot of famous paintings as well, some by Da Vinci, and Caravaggio, and Rubens.
Our dinner pick for the evening was FISH restaurant — Fine International Seafood House. In a break from the Italian food we'd been eating the whole time, it offered sushi and other Asian flavors. But the prices were incredibly high! I was a little stunned. So we skipped the appetizers and selected a couple of the more moderately priced entrees. These were very well done, if not that much food for the price. But then we decided to go for dessert. And these were really amazing—a cardamom creme caramel for Jean, and molten chocolate cake with cherry sauce for me. Worth 12 Euros each? I don't know, but I was in a happy chocolate place afterward.
Day 3 in Rome
This was to be our Vatican day. We took the bus there—very crowded and slow, but it did the job.
As we arrived, we did see a really big line-up. We got in it for a bit, then realized it was actually for St. Peter's Cathedral, not the Museum. It was close to 11:00 at this point, and I figured it would be worth heading right to the Museum. We did that, expecting a lineup here too, but there was none. We went right in.
We decided not to do the audioguide for this one—there were a lot of warnings about the size of this museum, and how it could be exhausting. So we focused on certain exhibits.
We started with the "Pinocotecca", which is where the paintings are. It was a good collection, with some big names—Da Vinci, Titian, Rubens, Caravaggio. And unlike most museums, we were allowed to take photographs, as long as we didn't use a flash.
Next was the Egyptian room, which contain the usual artifacts and sarcophoguses, but also actual mummies, which was a little weird.
We passed through an ornate room full of sculptures fairly quickly. (The Roman and Greek exhibits were closed.) We went a little more slowly through the Gallery of Maps, which showed large, ancient maps of many parts of Italy.
I should mention that, at this point, it had clearly started to rain really hard, accompanied by thunder and lightning. We were inside, of course, but it was enough of a storm to hear from inside there. (Jean kept joking that this was God's comment on him visiting the Vatican.) So, we had some motivation to start looking at things more closely now, to defer going outside any too soon.
The tapestry room had some pretty impressive examples, though tapestries are definitely subject to colour fade.
The Raphael rooms, painted by Raphael and his apprentices, are one of the more famous sites at the Vatican museum. They were good, but I think in some ways we were just as impressed by the less-visited modern art museum that appeared in that area as well. It featured some modern takes on religious themes, which was very interesting to see, and some paintings that didn't have a religious theme at all, by artists such Dali, Chagall, Rodin, and so on.
The final site was the Sistine Chapel, and here you are not allowed to take photographs (and although plenty of people were ignoring that rule, we didn't). The chapel ceiling was recently restored and does look absolutely fantastic, with really vibrant colours. Of course, there is such a build-up to it, it's hard for it live up to the hype! But there's no doubt about the genius of Michelangelo in creating this huge work.
Rain had not abated at all, so we went out a side passage for a short run to St. Peter's Cathedral. It has been pronounced the greatest chapel in the world—I don't know about that. We've seen some pretty fantastic ones. But this was certainly the largest. And it did feature Bennini's work at the altar, and a chapel by Michelangelo. Jean's theory was that it was so ornate throughout, you became overwhelmed and somehow less impressed than with other churches that had fantastic centerpieces and were otherwise relatively plain. Maybe…
It was still raining really hard (I couldn't believe how much rain we got that day, really), but we were pretty darn hungry by this time, so we decided to make the run to a restaurant anyway. We arrived near the end of the lunch period, so we had some decent food, and they had no problem with us taking our time and lingering over coffee afterward. (At peak times in Italian restaurants, you're most definitely rushed through your meal.)
When we left, it actually had stopped raining, so we decided to walk a bit, potentially to get to the Campo di Fiorini (a market square), which we hadn't seen yet. As we neared the area, though, dark clouds started moving in again, and given how the day had been, we didn't want to get caught out in it too long. So instead we found a bus stop and took another crowded, slow bus ride back to our hotel.
Our final Roman hurrah was a dinner. But first we took the elevator up to the third floor Terrace of our hotel. We hadn't realized it was completely outside! Given the weather (still rainy, though much lighter at this point), not somewhere we wanted to stay long. But did give a nice view of the city and the nearby archeological dig.
For dinner, we took a bus (not crowded) to the Travestere neighbourhood. It's kind of a charming, medieval sort of area, very popular in the evenings. Rain happily stopped as we walked around it, and eventually found our way to our target restaurant. Dinner was good—smoked tuna, porcini ravioli, beef in barolo wine, and a really good berry dessert—and partway through, another Canadian couple was seated beside us, so we compared notes. They were off for a week, and were spending it all in Rome, except for a one-day trip to Pompeii, which sounded really interesting.
Then it was back on bus #3 to pack up for our final night.
The travel part of travel
Before leaving, we signed up for Citizen's Bank account. This was originally motivated by the cruise, in which we would stop in many different cities using different currency. Citizen's Bank offers a no-fee bank account that includes withdrawals from foreign ATM's. That is, you can take money out over there and only pay whatever the currency exchange; no additional fees. Though less critical when only visiting one country with one currency, it was still nice to take out money as needed without worrying about a special fee every single time.
Our flights were direct from Toronto to Rome, which was great. They were on Alitalia, which is encountering some difficulties at the moment, but we didn't have any problems with them. Our initial flight was perfectly on time, the transfer from Rome to Venice only slightly delayed. They handled our luggage through, though we did have to pass through security again in Rome, which we found surprising. We were hoping the food might be superior to general airline fare (as Air France's is), but it wasn't, really. We were able to sleep some on the flight up, though the seats did seem particularly uncomfortable. On the way back, we were sort of dreading the length (about 9 hours), but it wasn't so bad. The flight was delayed only half an hour, and they did play Mamma Mia, which is a fun movie neither of us had seen. (Yes, Jean liked it also.)
Though flirting with the idea of leaving the car at Michelle's, we went with Skyway Parking again, and again found them to be quite good and reasonably priced. Probably one of the worst parts was the drive home from Toronto on Friday afternoon, as I believe we were heading into the rush hour period, and kept hitting traffic snags.