Touring Languedoc by Car
We had some trouble deciding where to go on our spring vacation, that wouldn't be too expensive, that wasn't somewhere we'd been before, etc. We resisted this one somewhat because it was France again, but the region is pretty attractively priced, and the fact is, we love France. So to heck with it; that's what we went with.
We booked a package with the Great Canadian Travel company that included a week's accommodations, a car rental, and a two-hour wine course. We were given some flight options as well, but in the end, we booked that ourselves, as all the options offered us seemed to involve early morning flights, which would have required leaving at 2:00 in the morning, or so, to allow time for drive, car return, and international check-in. Ugh.
Booking it ourselves proved a little complicated, though. (Be so much simpler if we had no budget limits.) At one point I was about ready to despair and give up. But Jean persisted and came up with a reasonably priced option: Air Transat flight to Paris, then switch to EasyJet for a flight to Toulouse. As both were at the same airport and there was a good gap between flights, it seemed safe. The only problem was on the return. Air Transat doesn't fly every day, so we'd either have to leave early, or add a day in Paris. After some discussion (since this is also meant having to go back to work the very next day after arriving), we went with that.
We booked our Paris accommodations ourselves, using Expedia.
Saturday, May 15—Leaving
Of course, all of this was booked before the volcano eruption became such news. So that added a layer of worry to the whole thing. (Jean was more worried we wouldn't get there; I was more concerned about not being able to get back.) And although there was some volcanic activity on our travel (the very first bit of news we heard in our rental car was about that), it didn't affect us. And to save the suspense, we weren't affected on the way back, either.
So happily, there isn't much to report about the trip there, as it all went well. We got to the airport on time, the flight left on time. We had some concerns about the luggage weight (especially after witnessing another passenger having to divest of stuff to meet the requirements), but both bags passed muster, in the end.
The seats are narrow on Air Transat, but we managed to sleep some anyway. And before that, the meal they served was actually OK.
Sunday, May 16—Arriving
Our transfer to the other airline was equally fine. We did have to switch terminals, but you can actually walk between terminals there. We were in plenty of time—too early to actually check in our luggage right away. We had a little lunch, checked the bags then (after switching around some items to balance the weight between the two better), and went on the Easy Jet flight. It didn't have assigned seats, but we were able to sit together. And we just slept the whole way.
At Toulouse airport, we picked up our car, and programmed our GPS. It took some adjusting—setting it to the French voice to not get weird English pronunciation of French names, using the fastest route option (which caused some problems later, but was OK at this point), but ultimately, it got us to our B&B with minimal detours.
We were quite happy with the accommodations. It was in a lovely little town (Espéraza), we had a very large room (for Europe) with a balcony and a good view. (No TV in the room, but that was fine. French TV isn't so hot anyway.) The place was owned by a British couple who were very friendly and gave good travel tips. This day, they greeted us with a choice of three local wines. Both the rosé I had and Jean's "award-winning" Syrah were very good.
The first piece of advice we wanted were suggestions on where to eat in town. He listed four places that should be open on a Sunday: A pizzeria, a creperie, a family-run French restaurant, and another restaurant associated with the Dinosaur museum in town. (Bones had been discovered here.)
We had decided on the French restaurant, only to find it wasn't actually open Sundays. So, we went to the T-Rex restaurant instead, which literally had a big tree in the middle of it. While not a stellar meal, it was pretty decent. For the first of what would be many times on this trip, we had duck as the main course.
We managed to stay awake until about 10:00, then drifted off to sleep. As I predicted, we both awoke around 2:00 AM for a while, but managed to fall back asleep and get up in time for our 8:30 breakfast. (At this B&B, we were able to have whatever breakfast time we requested.)
Monday, May 17—Mirepoix, Aix-les-Thermes, Andorra, and more
At breakfast we met a couple from Spain and a man from Yorkshire who were also staying at the B&B. We got some advice on the drive we were considering—that it might be a little over-ambitious. But also that this morning was market day in Mirepoix.
Mirepoix was about an hour's drive away, so we decided to start with that. The GPS made it pretty simple to get there, and it was a pretty cool market. Naturally, there were all kinds of delicious-looking fresh food, but there were also booksellers, clothing vendors, leather goods, jewelry, and so on.
We first made the rounds of the stalls, then came back for the items that had particularly struck us. Having lost a couple necklaces on our Indiana trip, I had in mind to look for replacements. I did buy a pretty crystal heart-shaped pendant and matching earrings. Then I also tried on—in the back of a truck!—this Bohemian-looking dress. It seemed to fit well enough, and for 10 Euros, why not?
We also tasted and bought a couple types of local cheese. And it's good we did get to taste before buying, because although delicious, we basically forgot to eat any after buying, and ended up having to throw it out! A shame.
It was around noon when we finished "marketing," so we decided to have lunch. (We had been warned about the fact that mealtimes in this region were strictly noon–2:00 for lunch and 7:00–9:00 for dinner.) We went for the moules et frites, which is always a solid choice when you're in the vicinity of salt water.
We then went to Aix-les-Thermes, a city known for its hot springs. We didn't actually sit and soak our weary bones, though, because we didn't really want to pay the hourly fee required to do so. (Plus, at this point, we didn't really have weary bones yet.) Jean was particularly taken with the rapids running through this town, bringing to mind his newly purchased blue canoe. So we walked around the village getting different views of that. (The river, not his canoe.)
The gentleman from Yorkshire we met at breakfast had told us that the drive to Andorra was spectacular, so we decided to go for that next. The road there was incredibly twisty, but indeed spectacular. (I thought, for the first time of many on this trip, that it's very good neither of us is prone to motion sickness.)
We had our passports with us, but the "border" crossing was really just a wave-through. And Andorra itself was kind of a cross between a ski resort and an Indian reserve, in that there was all these ski facilities there, but also many big stores where you could buy booze and cigarettes. (We checked on other items also, but they didn't seem to be the good deal that booze and cigarettes were.)
Having had our fill of that, we left Andorra, and the reverse border crossing was nearly as simple. (Though we did spot another couple whose car was being searched—apparently there is some limit to just how much booze and cigarettes you can get.)
Our next stop was Liivia, a former Spanish town that had always resisted becoming French. Indeed, it still had all its signage in Spanish, which is apparently tolerated by the French government. We parked on the main street there, and walked into the town to see an old church there.
After that, we drove to the walled city of Mont Louis (a Unesco world heritage site), thinking we might have supper there. It was a cool-looking place, worthy of some photos.
But when we started looking at restaurants, we noticed a common pattern: They all seemed to be closed. Not permanently; just as a Monday thing.
There was one on the main road that was open, but when we entered, so did a large bus tour of people. That, coupled with the fact that it kind of smelled like cigarettes, made us decide to heads for the hills instead.
Did I say hills? Maybe more like cliffs. While targeting our B&B as the destination, our GPS had us on these twisty, narrow roads, sometimes close to an edge. There was no driving quickly on them, of course. The GPS's at first optimistic estimates of when we'd reach a city with restaurants gradually increased to more realistic timelines. We were inching ever closer to past 9:00. The supper window was closing! And I was hungry!
This made for a fairly silent, somewhat tense drive. But we did get into the reasonably sized town of Quillan just as the 9:00 hour was approaching. If nothing else, we figured we'd be able to get a pizza, but we decided to try for the Pierre Lys, a restaurant that had been recommended in this town. Although we did arrive slightly after 9:00, they agreed to seat us. Oof!
Though this wouldn't prove to be the best supper of the trip, it was the one we were most grateful to have at all. And it wasn't bad. Just a bit more of the traditional saturated fat than we really needed.
So that was a big first day. We got back and pretty much went to bed.
Tuesday, May 18—Carcassonne and Lagrasse
I hadn't mentioned the breakfast food, but it was very good: Always a big fruit salad, various cereals and granolas, fresh pastries, various breads, and good bodum coffee. It seemed to leave me full, yet totally ready for lunch during the "critical lunch window." And the second day, we spoke to the Spanish couple again (we'd speak in French), and found out they were planning a trip to Canada later in the summer!
Today we decided to go to Carcassonne, which is the second-most visited city in France, after Paris. That was a surprising fact to me. The drive there was quite straightforward, the trickiest bit probably being getting through to the parking lot area at the end.
Carcassonne is a restored castle, mostly faithfully restored to its look at the time, except, of course, for all the little shops and restaurants that now dot the interior. We looked into a few of those after entering the walls, then tried to climb the ramparts, only to find we needed a ticket for that. So we got tickets, which also gave us passage into the museum.
We actually started with the museum, rather than the ramparts. There were some interesting artifacts, but my favorite thing was probably the temporary artistic display. The artist would depict medieval themes in a modern sculpture form.
We ended the tour out in a courtyard. The ramparts were closed for lunch, but we visited another art display with some interesting paintings.
Then it was basically lunchtime, so we looked for some of the restaurants recommended in one of the guidebooks, and settled on a brasserie. This turned out to be the slowest, poorest service we got the whole trip. It took forever to take our order, to get our bill, and the waits between courses were somewhat substantial, also. This is one point where you wished the tip wasn't already included in the price, so that we could omit it!
But at least the food was good (though the dessert was very uninspired), and we did end up talking to the French people at the table beside us, who were very nice. One was a WW II vet who expressed his appreciation for what Canada had done in the war. Another mentioned the various friends who'd immigrated to Canada and really liked it. They also had their big, very well-behaved dog with them. All very French!
And then we finally did go up the ramparts to get higher views of the castle and the city. On our descent, we visited some other spots, including a church. A Russian singing group was there, a quartet. They performed a couple of hymns, their harmonies sounding absolutely beautiful in that space.
We then left the walled area and walked into the town. You got nice views of the castle there, but the town wasn't that much fun to walk in, because the streets were very narrow, and the cars got very close! So we didn't stay too long there, but decided to get back in the car.
The B&B owner had recommended that we visit Lagrasse, which had won some sort of "most beautiful city in France" type of award. But as we walked down the main drag, and stopped and had a coffee, we didn't really see what made it so particularly beautiful. It just seemed to have the usual old-stone charm of all the villages we'd seen here. We figured we were missing something.
So we walked around more, finding a hiking trail that seemed too arduous to tackle, then spotting what seemed to be an old castle in behind. It turned out to be a monastery, and indeed, that part of Lagrasse was quite lovely (though "most beautiful"? I don't know). We were too late in the day to actually go in and visit the buildings, but we did walk around the grounds. We saw some actual monks, and their beautiful horses. And did I mention that there were poppies growing all over this part of France?
We then decided to head to Couiza, which is very close to Espéraza, for dinner. The GPS led us onto another set of narrow, twisty, slow roads again, though this time we weren't in as much danger of missing the dinner deadline.
We targeted a particular restaurant that was recommended in both our guide books, and the route through Couiza that the GPS was suggesting seemed insane—crazy little alleyways and tiny bridges. Jean at one point just refused, found a parking lot, and we made our way on foot.
Le Duc de Joyeuse restaurant was in a castle. The menu was a little pricier than some we'd seen, but it sounded good. So we went in. It was a white-linen place, and we weren't really white-linen dressed, but we still got excellent service, albeit from a table near the back corner.
We both decided to have the same 35 Euro menu. We both started with cold foie gras that was just amazing—Jean thought maybe the best he'd had. As the main, I had delicious fish in Pinot Noir while Jean went with cassoulet, which he judged far superior to the once he'd had at the Pierre Lys. Our wine was a very nice red Minervois. For dessert, he had creme caramel while I had this complex thing with a sauce that I can't accurately describe, but it was just delicious.
Another long day, though not quite as long, and another good night's sleep.
Wednesday, May 19—Perpignan and Gorges de la Fou
Our tour package included a two-hour wine course. Somehow I had thought it was for this morning. But our B&B host had called to check for us the night before, and informed us that it was actually on Thursday.
So we had to regroup a bit and figure out what to do this day. This was our last breakfast with the Spanish couple, who gave us some ideas for areas they had visited and enjoyed. We finally decided to start by going to Perpignan, in the mountainous south. The drive there took about an hour, and was mostly on relatively wide, normal highways.
Perpignan was one of the biggest cities we visited, so driving through the city wasn't that much fun. It was a relief to park and make our way on foot. It was quite a nice day—sunny again, and already at 20C by lunchtime. Relying on a map from one of our guidebooks, we walked down the tree-lined streets, and ended up heading toward the Palais des Rois de Majorque.
A little like the Palais des Papes in Avignon, these were very large castle grounds, but they hadn't been restored or refurnished much, so you had to rely on imagination to figure out how it might have been. The size and width that remains was impressive, though.
We then headed back to what seemed to be more of the town center to find a restaurant for lunch. Some were a bit pricey here, but we settled on a bright cafe with an appealing-sounding daily menu and a huge dessert counter. I had the special, which was rabbit, pasta, and ratatouille, while Jean went for a shrimp and scallop dish. Both were nicely done, if not spectacular. And we decided to resist dessert.
Afterward, we left Perpignan for nearby Amélie-les-Bains. It was supposed to have the best-preserved remains of Roman baths in France; however, we weren't able to find them. Nice little town to walk around in, though. We also stopped at a cafe for coffee and rosé.
We then drove to Gorges de la Fou, the narrowest canyon in the world. They have built a bridge through that you can walk on. While Fou can mean crazy, here it's used in the sense of precipice. Indeed, it didn't feel very risky walking through it, though you had to wear a hard hat, there were fallen rocks about, and the walkway was wet and bit slippery in parts. It was a pretty good workout: It's about a mile in and a mile out, and you do have some stairs to climb. It was remarkable how much cooler it was in there.
The road the GPS then took us on for the drive back to Espéraza was probably the hairiest yet, and that's saying something! It was largely along narrow cliff edges. We were really nervous about meeting someone, because you couldn't see ahead around the corner, and it just didn't seem that two cars would actually fit. Thank goodness the road was pretty quiet (most people were probably bright enough to avoid it), but I was tense and getting tired of these twisty roads (even though I was just the passenger).
It was somewhere around here in the trip that we realized that the GPS was getting tripped up with the French custom of giving any connecting road a 90 K speed limit, even those so narrow and twisty there was no going more than, say, 40 on it. So when we'd punch in fastest route, these crazy little roads would come up as the shortest 90 K road between the two points. Anyway….
We had decided to just have dinner in Espéraza. We went back to the French restaurant that we had tried to dine at the first night, but it was closed again. So then we wandered down to the Creperie, only to find that it was also closed. So back to the car after all, but we just drove as far as Couiza. We stopped outside a restaurant that our B&B host had recommended. And—you guessed it!—that was closed, too.
So it was that we ended back at le Duc de Joyeuse for the second night in a row. We got a somewhat better table and a very friendly host. We had a different 35 Euro menu this time, both getting the same items at each course. We started with a shrimp and asparagus amuse bouche, followed with a tuna tartar appetizer, then had a bouillabaisse as our main course. Dessert was a creme caramel with oranges. And we had a different but still delicious Minervois red with the meal.
Thursday, May 20—Wine tasting, Chateau Perpeytuse
Our prebooked wine tasting course really was this morning at 10:00 AM, so after breakfast on our own, that's where we headed first. The GPS did a pretty good job in getting us there, except for taking the winery address too literally. The best (only realistic) access to it was off this big main road, but it tried to take us down this little country lane. We had left early enough to have time to figure that—also, the big sign on the main road was a clue!
We got there expecting to speak French, but were greeted by a British fellow. (Again, this was all booked by a Winnipeg travel company, so I guess they look for English-speaking options.) He told us that five other people would be joining us. They ended up being about 15 minutes late, due to difficulty finding the place. They were also Brits, and seemed very nice. Enjoyable to spend a couple hours with.
The wine tasting did take place at a vineyard, but was actually presented by the Vinécole, The Centre for Wine Education in the Languedoc-Roussillon. That meant that we didn't only try wines from that vineyard, but from various parts of the region. The whole thing took about two hours, and we tried 8 different wines. And in a first for me at a wine tasting, everyone poured their own tasting size. Spit buckets were available, and while I had gone in thinking I wouldn't use those, in the end I did—albeit more by dumping out the extra in my glass than actually spitting.
We were given sheets to take notes about each wine. This is what we tried.
Antech Cuvée Réserve – Blanquette de Limoux. 2008. 7 Euros.
This was a very nice sparkling white wine, fruitier than champagnes tend to be. Yet it was very dry and with good finish. It's made from the mauzac grape.
Cave de Pomerois 'Beauvignac' – AOC Picpoul de Pinet. 2009. 4 Euros.
A great bargain this, another white, very dry, in muscadet style. A good oyster wine, but riper and more citrus-y and creamy than some Sauvignons.
Domaine Gayda Viognier – VdP d'Oc. 2009. 6.50 Euros.
Another white, but this one richer and fuller.
Chateau Rives-Blanques Dédiace – AOC Limoux. 2007. 10 Euros.
This was actually a chenin blanc, showing (I wrote) dry minerality and honey essences. It had a long finish.
Domaine de Bachellery Perles de Rosé – VdP des Coteaux du Libron. 2009. 3.50 Euros.
An uncomplicated, off-dry, fruity rosé. This part included a discussion of whether you can ever take rosé seriously. He concluded that you could. But not this particular rosé.
Premier de Fontalières Minervois – AOC Minervois. 2007. 8 Euros.
Very unusually, this red included 100% mourvèdre grape, so it was not a classic Minervois, which is a blend of mostly Syrah, Granache, and carignan. This one had a plum scent, an oaky taste, and a great concentration of black fruit.
Mas du Soleilla Terre du Vent – VdP des Coteaux de Narbonne. 2007. 17 Euros.
This was a very full-bodied, balanced, and elegant red. Unusually for this region, it was made of Cabernet France. A lesson in how being "Vin du Pays" does not preclude it being excellent wine.
Domain Cazes Muscat VDN – AOC Muscat de Rivesaltes. 2005. 11 Euros.
The one sweet wine in the group. This region doesn't get cold enough for ice wine, so this is produced through fortification. The sweetness was fairly light and reminiscent of honey.
So it was an educational two hours.
Apart from hosting this wine school, the winery also had a restaurant on-site, and that's where we had lunch. We had a beautiful view there. I went for the lunch special of the day, while Jean selected another menu. They were both very good, each featuring duck as the main course, but his started with foie gras and included a cheese course. My advantage, though, was that they kept offering refills on my glass of wine (a delicious Syrah). Every time they poured more, I'd say "I love France!"
Our next destination was the Chateau Perpeytuse. Naturally, this meant driving on more crazy narrow, twisty roads first. But we got there around 1:30 and paid our admission.
This was one of those tourist attractions that you figure would never fly in North America, because it involved walking up and around this rocky terrain, often near the edges of high cliffs, in high winds. Jean and I were both surprised that I wasn't more freaked out by it. But it was really cool. You got excellent views and a real sense of experiencing the castle terrain.
Even though we'd already done our share of driving on crazy streets, we nevertheless took up the advice from the Spanish couple at the B&B and next drove through the Gorges de la Galamus, a 3 KM drive through a narrow gorge of white rock. This road is a tourist destination and therefore had more cars on it, but nothing too hairy happened driving through. It is pretty neat, and there was a lovely viewing point at the end.
We then headed back, aiming for Cuiza and le Carnotzet, one of the restaurants we'd tried to go to the night before. It was open this time, and had a nice upstairs room. This was the first place we'd been to that didn't have a menu; instead, they had a blackboard of daily appetizers, entrees, and desserts, each to be ordered on its own. Jean started with a goat cheese appetizer, while I had a salmon paté with salad. Mains were more salmon for me, duck for Jean, each accompanied by a really nice selection of veg. But we were too full for dessert.
Everything was good, but we noted that the prices were not really any better than at the Duc de Joyeuse. In fact, with dessert, it would have been more. This was notable because when we'd mentioned to our B&B host that we'd been to the Duc, he seemed shocked, as he thought it was so expensive. And yet he'd recommended this place. Anyway.
So we were back at the B&B by 9:30—our earliest arrival yet!
Friday, May 21—Collioure
It was the sunniest, warmest day yet, so we decided to head to the beach town of Collioure. I wore my new dress, purchased at the market, and sandals.
We were finally bright enough to program the GPS with way points, such that we stayed on main roads for the trip there. Unfortunately, we couldn't figure out how to program our way around Perpignan, and driving through that city wasn't that much fun. But overall not a bad drive, and it took about 2 hours.
Collioure is a very beautiful beach town, extremely popular in the summer. As we first got there, we just drove through it, then took a little walk on the outskirts before heading back in for more permanent parking. This was a little bit hairy, but we managed. We were told that later in the year, there would be no way at all to find parking in town at 11:00 in the morning.
We then just walked around the town, admiring the waterfront, the beaches, the old buildings and churches.
As per my usual schedule, I got hungry and therefore somewhat grumpy around 12:30 PM. Of course, there are plenty of restaurants to choose from, and we finally settled on one offering Spanish food, as that seemed like a nice change. We were first seated outside in the sun, but that quickly came too seem to warm to me, so I asked that we be moved just indoors. Jean rolled his eyes, but that turned out to be a good move!
This area was known for Banyul, a sweet, spicy wine fortified with eau de vie and aged 3–15 years, so we started with a glass of that each—white for me, red for Jean. It was quite nice, served cold. A food specialty here was anchovies, and Jean had those as a starter, prepared three ways. They were very good. As mains, we both had sardines. Though smaller than the ones we'd enjoyed in Portugal, they were still bigger than what we get in Canada. And also prepared very nicely. We had a rosé with that.
We then checked out some of the little shops in town, but didn't spot too much of great interest to buy.
So next we visited the Chateau Royal (there are more castles—and wineries—here than in any other part of France). It was not as grand as some of the others we'd seen, but still interesting to walk through. We ran into some people putting up art for an exhibit starting the next day. We got to talking to them, and got an invitation for the grand opening. We accepted, even though it seemed unlikely we'd be driving back to Collioure again the next day.
We left at this point and headed to the nearby Banyul sur Mer. It's another cute beach town, though not quite as nice as Collioure. We walked around there for a bit, then stopped for some gelato.
We then decided to head back. Not too far along, we did stop for a coffee, whereupon I realized I was definitely developing a sunburn on my shoulders and back. Not too bright to wear a sundress to a beach town on a sunny day, with no sunscreen (other than on my face, as I do that daily). I was berating myself for that, but in the end, it didn't turn out to be a terribly serious sunburn. It never got that painful, and the later peeling was minimal. Thank goodness I didn't have lunch in the sun, though!
With our improved GPS programming skills, the rest of the drive back was not too noteworthy. We were back in Esperaza around 8:30 pm, and pretty hungry. Amazingly, the local French restaurant was finally open! So we ate there. We were the only ones. (Maybe being frequently closed is not the best approach to building a clientele.)
However, the food was actually really good. We each started with a glass of that bubbly Limoux wine we'd enjoyed at the wine tasting. I had this nice couscous appetizer, while Jean had escargot. My main was a very tasty tarragon chicken. Jean had excellent roast lamb. And we shared a dessert of apple pie and creme caramel ice cream. And drank a full 2 L of water with dinner (along with some red wine) to try to offset the sunburn effect.
The waitress/owner was a little flustered, but in a kind of charming way. She didn't know quite what to do with our unchipped credit card, so Jean had to show her how to use the machine. (We realized that in France, everyone had chip cards only, so ours was an oddity. And everyone had to hunt down a pen for us to sign, because no French people had to do that anymore.)
Saturday, May 22—Rennes-le-Chateau, Limoux
Our last full day in the Languedoc, so we wanted to start with any priorities we hadn't yet visited. That turned out to Rennes-le-Chateau, which was not too far away.
One of the "biggest mysteries in France" is how abbé Saunière could possibly have afforded the construction costs for the large castle in this city. And were the Knights Templar involved, somehow?
So though it's fairly grand and very old, the most interesting thing about Rennes-le-Chateau is learning more about this abbé and the rumors swirling around him as you visit the various sites and museums. He was a pretty weird guy. One thing I remember is that he was frequently caught digging up old graves; the townspeople had to band together to put a stop to it. And nobody ever found out exactly why he was doing that.
After touring through the castle sites, we visited some of the shops in the town. There are many bookstores here, with some focus on history, conspiracy theories, spirituality. One book that looked especially interesting was on the Gospel of Judas, which I'd never heard of before. It paints Judas in a different light than the other Gospels. But I didn't actually purchase any books.
I did get another necklace, a really pretty silver chain with tiny red roses on it. And I did wear it later in the trip. That's good, because it got damaged on the trip back (a link broke), and so far, I haven't figured out how to repair it.
After that, we drove to the nearby Rennes les Bain, yet another "hot spring" town (though we did no actually bathing in said hot springs on this trip). It was fairly small, but had a few restaurants, and we settled on one to dine at that had a nice patio overlooking the water.
We then discussed what to do next, and determined that we didn't really want to undertake yet another big expedition, to Minervois or whatever. So we actually just went into Limoux, a town we'd driven through a number of times, but hadn't actually visited. It was quite a warm day—over 30 C. But we still felt like getting some kind of a walk in. The guidebooks and some of the signs around town suggest that there were various museums that seemed at least moderately interesting: one on pianos, one on robots (?), a Catharama on Cathar history. But all attempts to find any of these led to dead ends. It became almost comical.
However, it did achieve the aim of getting us some exercise, though Jean got nervous about us getting lost at one point. When we did find ourselves again, and we stopped in for a coffee before heading back to the B&B.
This left us with plenty of time to prepare for our next day's trip to Paris, plus some reading and such. Jean got antsy about his thwarted attempts to get onto the B&B's computer, because another guest kept using it. But he finally managed.
For dinner, we were planning to go to the previous night's French restaurant again, but it was closed! Again! On Saturday. Quite amazing, really.
So instead, we went to the local Creperie. And that was actually very good (and had a cute blonde waiter). We each had a salad to start (for both of us, our consumption of salad was just hugely increased on this trip compared to normal. Compensating for all the fatty duck and desserts, maybe?), then two different types of main course crepes. To drink, we went with sweet cidar, which was very low alcohol and quite nice. Then we shared a dessert crepe of honey and cream.
Sunday, May 23—Toulouse and Paris
Today was market day in Espéraza. Jean had been concerned about where the car was parked, and he was right to be—it was right where they wanted to set up the market. So he got up early to move it.
At breakfast, we were joined by some Americans from Oklahoma—the people who had been on the computer the day before. It was an older couple and their two daughters, one of whom now lived in the area.
We packed up and checked out, and our host said that we were the quietest, most polite guests they'd ever had. That's good—I guess!
But we had some time before we had to get to Toulouse for our flight, so we did visit the market a bit first. It was much like the one in Mirepoix, only smaller. I guess a lot of the vendors just travel around from town to town. We also ran into the American gentleman there, and talked to him some more. His daughter came to be in this part of France by marriage, as her husband was a missionary. He first worked in East Germany (during Communist times), then they ended up here.
Funny you don't think of Europe as a place missionaries go.
We then headed off toward Toulouse. The original plan was to just go straight to the airport, but we made really good time, so we decided to attempt going into Toulouse a bit and maybe have some lunch there.
That worked out pretty well. After we parked (and marked on the GPS where the car was) Jean got the bright idea of heading toward a museum, figuring there would be restaurants around there. We ended up eating at the museum, since they advertised service continue. We did end up having to wait about 20 minutes for the switchover from brunch to lunch, but that was OK. They had a nice outdoor seating area, where we could look on a park and see some unusual birds and such.
Lunch was part buffet, but you could also order a hot entree for them to bring you. Everything was good. We both had the cassoulet entree, and it was quite different from the style we'd had earlier—lighter, and more vegetables.
We then headed to the airport. We were still in lots of time, and had no issues returning the car (despite the lack of attendant), checking in, going through security. The flight was on time and brought us to Paris.
From CDG Airport, we had figured out what train we needed to take to get to our hotel, and we didn't have too much trouble finding it. It did get increasingly crowded, though. We put our big luggage on the upper racks to free up some seats, but as our stop approached, we were kind of worried about getting that down without bumping everyone on the head, and actually managing to get through the crowd and off the train.
But really, everyone was very nice. They helped Jean get the bags down, allowed us through—we had no issues. Then, when I was struggling a bit with carrying the suitcase up the stairs at the metro stop, some guy picked up the bottom half for me to make it easy! I don't know why Parisians have such a reputation for unfriendliness, because that hasn't been our experience.
Once on the street, though, we realized we hadn't been quite as organized in mapping the walking route to our hotel. We knew it wasn't far, but we weren't sure exactly where to go. But obviously, we eventually figured it out, with the help of a street map and the hotel address.
The guy at the hotel was very friendly in checking us in. And the room was nice; probably the nicest we've had in Paris. The only thing that quickly became apparent, though, was that the cooling system wasn't all that effective.
But anyway, we didn't stay in the room too long. After refreshing and changing, we headed out, with general target of the Germain des Pré neighborhood. On the way we walked through part of the Jardin Luxembourg, and found the Bastide Odéon restaurant we'd eaten at five years before. Turns out it wasn't open the two days we were there, but that wasn't a huge disappointment. (It's a bit expensive.) It was just nice to have found it again.
We eventually found what we thought was the Germain des Pré neighbourhood, only to find that not only was Paris much warmer in May than in February, but also much more crowded. It was almost overwhelming at first. But we persisted through, and found a place to eat that had a "fresh herb" theme. The waiters there literally had to run all evening to keep up with everything. But still, good service (quite jovial waiter), and we did enjoy the food.
It was fairly late by this point, so we just walked back to the hotel and called it a day.
Monday, May 24—Paris
First, we slept in, because that's we do in Paris. Then we went to la Coupole for breakfast, because that's another thing we do in Paris.
La Coupole is a fairly famous, quite attractive, and somewhat pricey café. But their breakfast is fairly delightful, with its delicious coffee (or hot chocolate), selection of pastries (croissant, chocolatine, raisin bread), and fresh-squeezed orange juice, all served on an enormous silver tray.
The next destination was the Louvre, which we felt we could visit more of. The line-up to get in wasn't too bad; I think they may have a better "people-processing" system than five years ago. But we headed toward the Italian collection first and boy; so did a lot of other people! It was fairly unpleasant at first. But, after the Mona Lisa room (which we once again skipped), it thinned out quite a bit and the rest was quite tolerable. And quite the amazing collection, really.
Next we went to see the Italian sculptures, hoping for more Carvaggio. Sadly, they didn't have any of his. Though there were some decent pieces.
We visited the very small but very good British collection next. We headed toward one of the "decorative arts" rooms, thinking that was something else, but didn't stay there long to look at furnishings. Instead we headed to the basement where you can see Medieval Louvre—an exhibit of what the place was like when it was a castle rather than an art gallery. That was pretty cool, actually. Very different from the other parts.
We were hungry for lunch at this point (very nice not to have to worry so much about "lunch windows", though) so we headed out and away a bit, then selected a Japanese place for lunch for a change. It was nice sushi and brochettes, and unusually delicious Miso soup to start.
We were then pondering a boat trip on the Seine, as our B&B host had mentioned it and we'd never done one, but walking along and seeing the various options, we couldn't really settle on one we wanted. It was a nice place to walk, regardless. (And a beautiful sunny day, though quite warm!)
So we went to a bar for a drink. Jean had a kir royale, and I had another of those 2% alcohol cidars (I actually thought I was ordering a harder cidar, but that's OK). We were somewhat sweaty at this point, and decided to metro back to our hotel to change to something lighter and decide on our next destination.
That turned out to be the Marais neighborhood, which we hadn't really visited before. It was really cool to walk around in—we partly followed a walk itinerary from a Fodor's book. The Centre Pompidou is there—very neat-looking building—along with historic buildings, some cool shops, and a generally fun and funky atmosphere.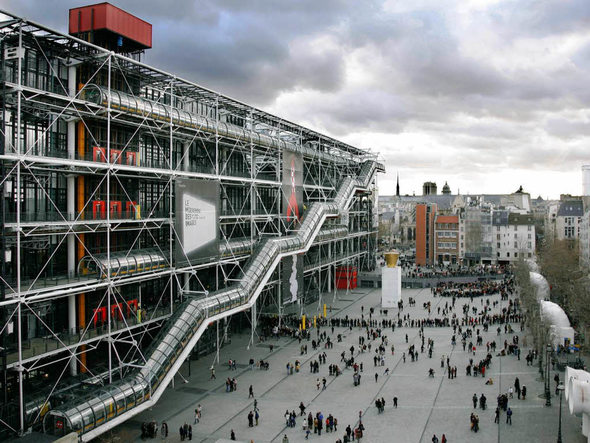 For dinner, we headed again toward the Germain des Prés area, finding another part that wasn't quite as hectic. We ended up eating at a French restaurant, sitting beside a woman from Quebec, whom we talked to a bit. Jean went for the whole escargot and duck meal again, and it was really delicious, but we were upstairs, and it was warm, so I just felt more like light food. I had salad and salmon, both quite fine, though nothing spectacular. But my dessert of violet ice cream was quite delicious and unusual.
Tuesday, May 25—Return trip
Our flight back was at noon, so there wasn't time to do much more in Paris but one final café breakfast—not at la Coupole, but still quite fine, though it was just a bit slower service than we would have liked. And then we got on the wrong train, not once, but twice. Fortunately, we at least managed to always be going in the right direction. It's just that the first two trains weren't actually going all the way to the airport.
With all that, though, we still made it in time. (And by the way, yet another Parisian helped me carry my suitcase in the metro! Canadians are never this nice.) The flight was on time, all routine. Flight seemed longer, of course, because I wasn't sleeping, but I did get a lot of reading done. We arrived kind of in rush hour, which wasn't ideal, but made it in. And no food poisoning!