Live Aid DVD
Producers: Bob Geldof, John Kennedy, Jill Sinclair. Starring: Bob Dylan, David Bowie, Mick Jagger, U2, Queen, Paul McCartney, Madonna, Elton John, The Who, Eric Clapton, Neil Young, Beach Boys, Sting, etc.

Synopsis: Footage from the 1985 concert held for African famine relief, which alternated between Wembley Stadium in London and JFK Stadium in Philadelphia. Features many of the top performers of the time.
Sample quote: "I've just realized that today is the best day of my life." — Bob Geldof
Comment: Of course you should buy this, because This DVD Saves Lives. Fortunately, there are reasons beyond the altruistic to own it.
Most deserving of their full-set inclusion: Queen, the best band of the day. OK, I'm biased, but everyone says they were the best band of the day, not just me. Watch their full set on this set, and tell me you don't agree.
Greatest foreshadowing of future greatness: U2. Their relatively early placement in the lineup shows that they were not then known as the great stadium act they are today. But they demonstrated on this day what they were capable of. Runner-up: Madonna, showing great charm, charisma, and dance talent in this very early stage of her career. I wonder why her "Holiday" and famous "I ain't taking shit off today" were excluded?
Best duet: Mick Jagger and Tina Turner get all the notice, but I particularly enjoyed Hall and Oates' collaboration with Eddie Kendricks and Davin Ruffin. It was just too cute to see them doing the dance steps and all during "My Girl". And it was so much better to hear these Motown classics than more Hall and Oates numbers like "Maneater".
Most suprising inclusion: Bob Dylan's famous train wreck of a performance. Just one song, but it's amazing that he agreed to anything being included. But mesmerizing—it's just such a shambles, you can't look away.
Most welcome exclusion: Duran Duran's "View to a Kill", the song in which Simon LeBon somewhat famously hit a bum note. With that out of the way, you realize that the rest of their performance was really quite strong.
Most touching: Anytime the attention turned to the actual reason for this concert—the starving in Africa—was gut-wrenching. But it's hard to beat the devastating CBC video of the The Cars' "Drive" over footage from Ethiopia.
Most welcome digital correction: On the original broadcast, Freddie Mercury and Brian May's rendition of the touching "Is This the World We Created?" was interrupted by the wrong satellite feed. Now you just hear the song, as did everyone in the stadium.
Most questionable digital correction: On the original broadcast, Paul McCartney's finale performance of "Let It Be" was inaudible until about halfway through, due to microphone problems. That's now been "corrected", making the huge cheer that comes up midway through the song (when the sound was original restored) incomprehensible. While I understand the impulse, I'm not sure I approve of the tampering.
Sexiest: Sting, looking unbearably gorgeous in his wise choice of a flowing white outfit amidst all the sweaty black leather of the other performers.
Also hot: Adam Ant, then an astoundingly beautiful man; Roger Daltrey, also in white, showing the power of the sit-up over the force of time; Ben Orr, of the Cars, an underrated babe; and to not be sexist, Sade also looked amazing in her bare-backed white top and slicked-backed hair.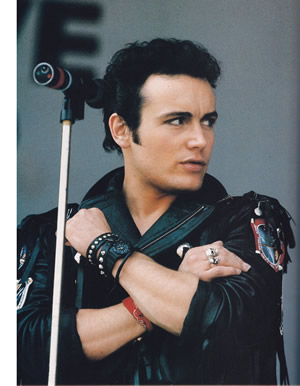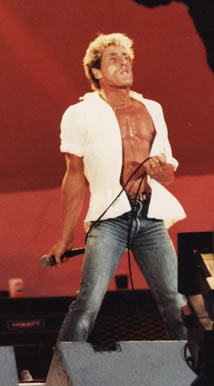 ——————–
Looking less hot than you'd expect: Michael Hutchens, of INXS, who was apparently still going through his slightly awkward, geeky phase.
Rating: **** (out of four)
The Extras: The nice set of extras includes various performances that were "piped in" from various location, such as INXS in Australia, BB King in Belgium, and Cliff Richards from a club in London. Also put here, because they couldn't remove the MTV logo from the only footage they could find, is Teddy Pendergrass' first performance after his car accident. Biggest surprise to me was the performance of Run DMC, who were a warm-up band on the day. (And maybe they deserve the "Greatest foreshadowing of future greatness" award.)
Usability: Straightforward menus allow you to select to Play All, play one concert or the other (London or Philly), choose a particular performer, or select audio options (don't forget to select DTS if you can). One other addition I would have appreciated was a "Play All" for the Extras. As is, they have to be selected one by one.
Also very interesting is the Prequel material on the making of the Band Aid video, and the "Food and Trucks and Rock'n'Roll" BBC documentary, covering the whole journey up to a year after the Live Aid concert.
The one other thing I would have loved to have had here? The commentaries and interviews from the BBC's 10th Anniversary Live Aid special. Guess I'll have to figure out how to transfer the highlights of that from VHS to DVD myself…
Also see: Book review: Is that It? by Bob Geldof