Me and Bob
Join us on our odyssey to the wilds of Toronto, where we saw Sir Bob Geldof give one of the best live performances ever, at the Palais Royale in Toronto, on 20 September 2002. Warning: Many expletives within. (Or, just one, really, repeated many times.) And also, live sex.
In the beginning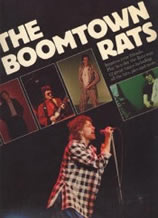 I've been a fan of Bob Geldof's since the early 80s (a fandom launched by the "I Don't Like Mondays" video) and an admirer since 1985, when his work for Africa clearly made him more than just another pop singer.
So when I saw his name in the Globe and Mail's list of upcoming events, doing a concert in Toronto at the Music Hall, there was very little hesitation before I called for tickets. I got fourth row, over to the left. I circled the date on the calendar and started a happy mental count-down to it (as Jean rolled his eyes and asked if there wasn't someone else—anyone—I could bring instead of him).
A few weeks before the show, I came home to grumpy Jean, who reported that Ticketmaster had called with news: the show had been moved to the Palais Royale, and I no longer had reserved seats. "This is not what I signed up for," Jean groused.
I did more research on the venue, and found out that:
a) It didn't have any seats, let alone reserved ones.
b) It didn't have air conditioning!
So my happy anticipation turned to sickening worry, as I envisioned sweating on my tired feet for hours beside a scowling husband. Why the venue change? Didn't they know that Bob Geldof fans were a little old for that type of show?
I'd been hoping for cool, crisp, sunny Fall day. So naturally, September 20 dawned hot and sticky and threatening rain. Oh goodie. First we'd get soaked waiting in line, and then we'd sweat to death inside.
Nevertheless, I ignored Jean's repeated, "We don't have to go!" and off we went to Toronto.
Our hotel was within walking distance of the Palais Royale, so we ambled over to it along a nice boardwalk on Lake Ontario. Though still a bit humid at this point, it was neither that hot nor rainy at all.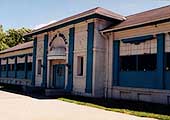 We got to the venue around 6:00. Palais Royale is an old dance hall that was probably grand in its day, but now looks pretty run down, with peeling paint and cobwebs. And 6:00 turned out to be too early to line up—no one else was there except for the band (inside), the crew, and a reporter. Nevertheless, we were (or, at least, I was) compensated by being able to hear some of the band's sound check ("One for Me," "Mudslide," "Inside Your Head," a bit of "Mondays"), but when that ended, we wandered off, weather still holding.
We got back around 7:20, and a small crowd had gathered. The crowd grew as 8:00 approached. People shared tales of previously attended Rats concerts (especially at Maple Leaf Gardens and Centennial College) and previous Bob meetings. I had no such tales to share—I'd never seen the man live before. But I was repeatedly assured that he was "amazing."
We were instructed to line up, then the doors opened around 8:00. On our turn, I handed over my tickets, entered the room, and saw—chairs! Plastic chairs all set up in front of the stage.
Doing exactly what Jean predicted I would, I left him behind in my rush to get good ones—4th row center, perfect view of the singer's mic. Even better than I would have had at the Music Hall.
Then I shooed people away from the seat beside me until Jean caught up.
We had an hour to wait for the opening act, so we talked to a guy in front of us. He was a long-time fan. His two buddies, on the other hand, only knew "I Don't Like Mondays."
I suspect there was a lot of that going around on this North American tour—Geldof diehards dragging whoever they can to the show with them.
And it begins…
Opening act PJ Olsson came on around 9:00. He's a one-man show: a man, a guitar, and an iMac. Kind of interesting, and a very nice voice.
Everything seemed to start building then. The hall filled up more and more (though never got anywhere near sold out). It grew hotter and hotter. And outside (visible through the open doors) a thunder storm was brewing. And you could feel the crowd's eagerness (or maybe that was mine?).
Little wonder that when Bob and band took the stage, everyone immediately stood up and cheered. The band launched into "The Great Song of Indifference"—a really upbeat, Irish jig kind of tune. The crowd clapped and sang along; they were definitely upbeat and participative. (At one point, I noticed the two buddies in front of us who only knew "Mondays" turn to each other and say, "This is really great!")
Immediately after "The Great Song", the band launched into "Too Late God" (the song Bob played at the Freddie Mercury Tribute—another Irish-sounding tune) and then into another song that I didn't actually know (but later found out is called "A Sex Thing"), that was more rhythmic, sounding rather like "Beat of the Night".
Throughout the evening, as various song sequences like this were presented, I was impressed at how tight the band was. Despite Bob's joking that it was great we came to their "warm-up gig before we go tour the States" (a reference to the Rolling Stones), the band was a well-oiled machine.
Bob addressed the crowd at this point, following up his "warm-up gig" comment with a "No really, it's nice of you all to come out and see us for the first time in a hundred years. I know it's kind of poncy with the seats, but this is going to be a long show! We have 27 years of material to cover!"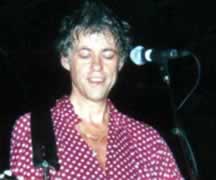 He introduced the band, commenting on Bob Loveday's "pimp wear" (a black mesh shirt) and Jamie Moses' pathetic attempts to get a girl he'd met earlier to come to the show. (And since we're getting physical here, I'll mention that Bob himself looked pretty good. He wore pin-stripped suit with red polk-dotted shirt. His face hasn't changed that much since the 80s, and he's still very slim. His hair has more gray, though.)
He also said: "And I'm going to be talking a lot, so it's best that you be sitting down. Yeah, we'll be doing some stuff from when you were six, and some from last time we were here, and some from two weeks ago. And if there is something in particular you want to hear, and we feel like it, and we can remember the words…"
The crowd of course starting shouting out requests at this point. I couldn't make out too much in the din, but I did hear "Eva Braun" and "Rat Trap."
"No really, is anyone here under 60?" Bob asked, before launching into—I don't remember what, actually, but it definitely wasn't "Eva Braun" or "Rat Trap."
And was followed up with: "I know I'll be playing songs that a lot of you don't know—but that's not my fucking fault, is it? It's a lot easier to buy an album than to make an album…"
Sex, age, and death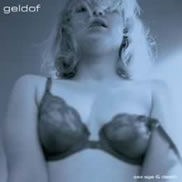 At this point, Bob prepared us for the "difficult" set of three songs from the new album. ["It's a wonderful album, Bob," someone shouted from the crowd, and he thanked them.] He said: "Any song I write is somewhat personal, somewhat autobiographical, because it comes from me. But after a time, you gain some objectivity from it. These new songs are difficult for me to perform, because they're still too close. They're still subjective, and probably always will be.
The backstory:
In case you aren't familiar with the events that inspired Sex, Age, and Death:
After 19 years and three children, Bob's wife Paula Yates left him for Michael Hutchens of INXS. Nasty custody battles followed. In the midst of that, Michael was found hanged in his hotel room, shortly after the birth of his daughter with Paula, and just a few weeks shy of when they were to marry. About 9 months after that, Paula died of an accidental drug overdose.

Summary by me
"Fortunately, over here, my family life hasn't been covered in the tabloids the same way as in the UK, where it's been a fucking soap opera. My personal life has been shit for the past five or six years. So, to do these songs, I'm going to disappear—I don't mean literally disappear in a fucking puff of smoke—I mean I'm going to go inside myself. I think that's why I wanted the seats; it gives me a bit of separation from you.
"So here we go. It's not exactly Top 40 material…"
Then he launched into "One for Me" (the opener of his album, and obviously about Paula; very powerful), "Mudslide" (possibly my favourite song on his amazing new album—great wordplay and just a gamut of emotions), and "My Birthday Suit" (a hearbreaker! The regret of things left unsaid. Beautiful).
Tell me why
The mood was broken with "I Don't Like Mondays," which everyone joined in on, in what Bob termed a "fucking Tuesday-night karaoke. 'Thank God he finally played one we know!'" (joking tone; not angry tone).
He really is quite the raconteur, so I'm now going to go mad with the quoting from memory.
He talked about his childhood in Dunlaoghaire ("don't clap for it—it's a horrible place; we all wanted to escape it"), and played "Walking Back to Happiness."

He also went over the process of making the Vegetarians of Love album. "The Boomtown Rats broke up in 1986—was it? Ah yes, right after Live Aid." [Applause.] "Yes, thank you, but the problem was, after that, everyone wanted me to save the fucking universe. And I just wanted to write some tunes, you know.
"So I made an album called Deep in the Heart of Nowhere." [Applause.] "Yes, it had some nice tunes on it, but the problem was that the Boomtown Rats could have played about half of them. I needed to find a way to do my own thing."
He said he'd heard about this approach of just putting musicians together and making music in the studio. "So I decided to try that. I told Columbia to get together some musicians I'd never worked with before, and give me two weeks in the studio. Two weeks. If it was shit, then it just be two weeks, it wouldn't be expensive. And it if worked, then I'd have an album in just two weeks.
"But it did work. I still think Vegetarians of Love is one of my favourite albums."
He talked about how the Boomtown Rats would play just about anywhere—much like the current band—and how they ended up in Eastern Europe around the time of the fall of communism. In Russia, they got a tour in which they found out about "The Brain Room".
Did you know?
Bob Geldof owns the worldwide rights to "Survivor."
Bob's four daughters are named Fifi Trixibelle, Peaches Honeyblossom, Pixie, and Tiger Lilly. (But they love him anyway.)
By age 35, Bob had had nine consecutive top 15 UK hits, been knighted, and been nominated for the Nobel Peace Prize (for the first of three times), and written a best-selling autobiography (understandably entitled, Is That It?).

Summary by me
In Room 19 were the brains of Russian geniuses ("all three of them"): Stalin, Lenin, etc., and scientists were charged with slicing up these brains and trying to figure out what made them geniuses. [A drunk Irishman in the crowd interrupted this tale to shout out the name of someone whom Bob explained to the confused Canadians was "an Irish footballer." This became an anecdote later on the tour. But back to Russia…] "And I thought," Bob said, "what if I died while I was here? (Because I have thoughts like that.) And what if I accidentally ended up in Room 19? So you'd be stuck in this dialectic for eternity. It'd be like hell. So I wrote in the style of that particular hellish form of music, country western."
Of course, then we heard a rousing version of "Room 19," which I'd never liked so much as at that moment. It was followed up with "Inside Your Head," an angry, intense song from Sex, Age, and Death (chorus: "What the fuck's going on inside your head?").
Having been on the subject of Eastern Europe, Bob then talked about the siege in Russia, where Gorbachev was in prison and the military was trying to stage a counter-coup, and two or three students died under Russian tanks. Bob said these people were heroes to him; he didn't want them forgotten. Boris Yeltsin "fat. Old. Drunk. Red nose… Said something beautiful. And it was all the more beautiful coming from someone so unlikely. He said 'May the soil they rest in be soft'."
And the band played "Soft Soil."
Live by request
Time to kick it up again. Bob commented that it was "difficult to play songs from 1976, 77. Because I remember that guy who wrote those songs, but fuck it. I'm 50 years old.
"But I was at radio station, and they asked me to play this song, and I said, 'I don't remember the chords.' Then John here starts playing the chords. So the DJ says, 'You do remember the chords!' And I said, 'Well, I don't remember the words.' So he goes to get them off the fucking Internet!
"Anyway, but then Jamie starts playing them in a Johnny Lee Hooker style, and I thought, yeah, I could get into that.
"So this song… When I went to school in Ireland, boys went to one school with the priests, girls to another with the nuns. So you had no chance of getting fucked. Ever. [Audience response.] Well yeah, except by the priests! But that never worked out. Those guys had no commitment."

Then he talked about meeting girls outside of school, waiting while they spent an incredibly long time in the washrooms. But when one girl in particular—Mary—would emerge, he could tell right away, because her legs were so long, you'd see them far in advance of any other part of her.
"After a couple of years, Mary finally figured out that I was into her. Probably from all the drooling. So she asked me to a dance. I had her repeat it louder so my mates could hear.
"So we're at this dance, and I'm giving it everything I've got. But as you can see from here on stage, I'm not fucking brilliant at this. She's looking at me like, what the fuck. So nothing is happening. And finally I'm reduced to begging and pleading: 'I'll just put it in a little. You won't even notice.' Yet somehow knowing this is totally the wrong approach.
"Finally, she takes 50 pence out of her pocket and puts it on the table. Which is so… You know, I'm not going to have sex with you, but here's 50p. (Which I did take, of course).
"I saw Mary at a gig recently, and she's still a babe. She's the assistant to the Irish Prime Minister, which explains how things are going for him."
And of course, they then played "Mary of the Fourth Form."
Request time followed at this point. First up was, that "raga" tune, "House on Fire." This is a wonderful song from a rather obscure Boomtown Rats album, V Deep. But it's just great live, even though Bob had to hum the words in a few spots, and the band just slowly got the groove of it. (Bob commented that it wasn't bad, considering they had never played it before!)
He was then asked for "$6,000,000 Loser," from Sex, Age, and Death, and said that they didn't have the equipment (probably a voice box?) needed for it. But he did play the basic song, at one point substituting the lyric as "take my heart and fuck with it." [I have to say I've never typed "fuck" so often in my life as in this report…]
Then we got "Beat of the Night," from Deep in the Heart of Nowhere, which is so rhythmic it also sounded just great, despite some humming and fillers. That nearly made up for their not playing "Rain" (or "Dave" as it's called in Europe), despite Jean's yelling it out on my behalf.
And then, "Rat Trap." At this point more and more of the crowd started to mass in front of the stage, dancing. I was itching to join in. "Go," Jean said. "I'll go outside." So I did, and he did. [And we both got a show. I saw Bob up really close. Jean saw two people having sex outside.]
Please, Sir Bob, I want some more
Bob and band said good-bye at this point, but we did manage to lure them out for another two-song set. It started with the elegiac "Pale White Girls," one of the more "positive" songs from Sex, Age, and Death. Next was one I didn't know, called "Hole to Fill."
Of course, that wasn't enough, and we got the band to return again with a reprise of "The Great Song of Indifference," which was such a hoot with everyone dancing in front of the stage! We were doing our very best Irish jig impression as the band played the song became faster and faster… (And I have to say, again, that the crowd was so great—tall guys making sure I could see around them, everyone politely avoiding pushing or bumping into one another…)
Of course, we had to get them out again, and were treated to "Diamond Smiles" (which, it now strikes me, almost has a Paula resonance, doesn't it?). But despite sincere efforts to get a fourth encore, the show was done at this point. 2.5 hours. Three encores.
Everyone was right. He was amazing. This was, without a doubt, one of the best live shows I've ever seen. So if the Geldof fan in your life tries to drag you to a show? Just go…
[Feel a Postscript is needed to add that Jean went to see Bob Geldof live two more times with me. One show was in Québec City, and afterward, Jean declared that was the best rock concert he'd ever seen. The other was in Ottawa and he had a great time at that. Bob's only been touring Europe lately and Jean has seriously suggested that we should try to catch one of his shows.
So seriously. If a Geldof fan in your life tried to drag you to a show? Just go…]
More Bob Geldof material on this site: