Music
Concert reviews and other music-related content. See also: Cultureguru Blog Music Category.
There's nothing like live…
September 20, 2002, Palais Royale, Toronto, Ontario, Canada
Join us on our odyssey to the wilds of Toronto, where we saw Sir Bob Geldof give one of the best live performances ever. Warning: Many expletives within. (Or, just one, really, repeated many times.) And also, live sex.
July 18, 2016, Air Canada Centre, Toronto, Ontario, Canada
Queen + Adam Lambert in concert on Toronto 18 July 2017 (which happened to be our 25th wedding anniversary). Part of our "Royal tour" that summer.
November 5, 2011. Casinorama, Orillia, Ontario, Canada.
Originally written on 8 November 2009, when I was in the middle of serious Daltrey-mania. About his concert at Casinorama. All photographs and most videos by Jean.
Musicals, playlists, music DVDs, essays…
1 August 2007, Toronto
We Will Rock You performance featuring Brian May and Roger Taylor + the kids from Canadian Idol. (Note that this would be before they started performing full-time with Adam Lambert, whom they met on… American Idol.)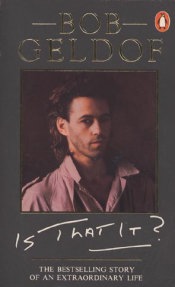 Book published in 1987, review written in 2003.
The autobiography of the rock star turned activist, from his miserable Irish childhood to his journalism career in Canada, rock stardom, and Live Aid.
April 2002
The perspective then on topics such as fan fiction, gay and lesbian print culture (Alison Bechdel, Archie comics, outed teen idols), The Kinks (including an actual original member of), and popular magazine culture.