Portugal (Algarve) trip diary
Photos and description of our trip to the Algarve region of Portugal in 2005 (I think in February; definitely off-season, any rate).
Day 1
Our trip to the airport gave us an icy send-off—freezing rain, with drivers sliding all over the place. Fortunately, we arrived at the airport in one piece (via limousine service).
At the airport, we were a little surprised that the security wasn't tighter. Not that a Canada to Portugal flight ought to be a terrorist target, but then, neither is a trip from Toronto to Timmins, and we regularly have to put up with bag searches and hand over the nail clippers on those… Portuguese-based SATA airlines, by contrast, seemed content to assume that we'd read their posted notice about packing our own bags, and didn't even quiz us on it.
We seemed to be the youngest people on the plane, which made us wonder what it meant that we're apparently already choosing "grey hair" vacations. Oh well. The flight was uneventful. The plane was pretty full, and the seats were close to each other, but we're short, so it wasn't that uncomfortable. We even managed to get in some sleep.
Upon arrival, we went through a "customs check" that was so non-rigorous we only realized afterward that's what it was. Then we picked up our little car, a blue Citroën. Jean can give you all the specifics; I can say that it was a neat blue color, a standard, and didn't have much horsepower. Nice that the speed limit on the highway was 120, but the car was happier going no more than 100.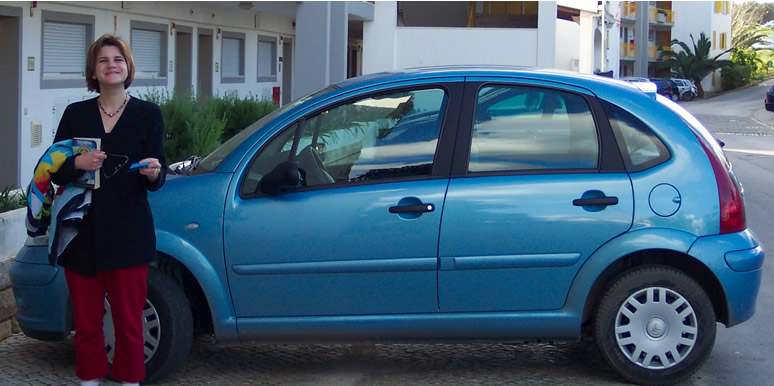 Though we had been regaled with tales of the dangers of Portuguese roads, the ride from Faro to Portimão was pretty smooth. The road in Portimão was a whole other story. We couldn't figure out the street address system, and quickly got lost in the town's maze of tiny, one-way streets. We later found out that our ordeal was quite common among tourists. The reason that the streets were so tiny and sharply angled is that they were designed for donkey carts, not cars.
We referred to such roads as donkey carts for the rest of the trip.
With the help of a map and asking questions, we finally located our hotel on the beach. To our relief, it was quite a nice place: sparkling clean, very well-furnished kitchen, and TV with one French and three English channels (CNN, BBC, and Sky). And it even had an ocean view, albeit a slightly obstructed one. The one dismaying aspect were the two single beds. The first order of business was to push those together, creating one big bed with a crack down the middle.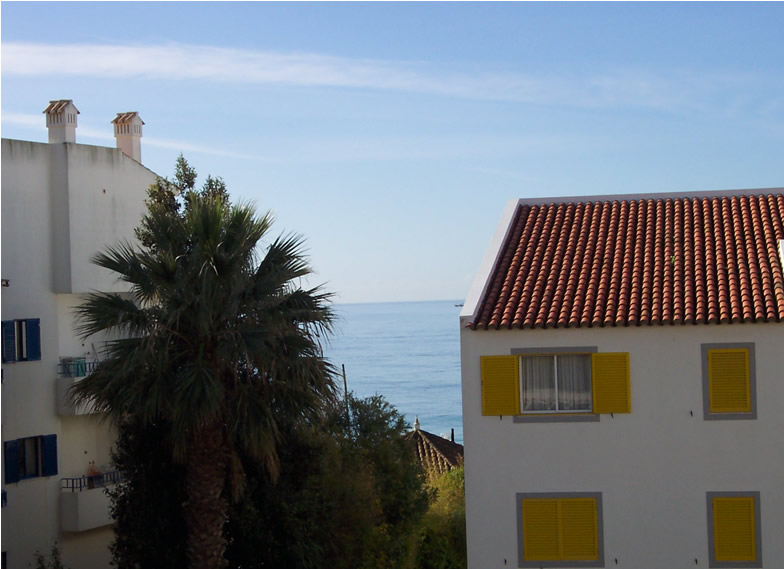 We thought of napping at that point, but were apparently a little wired from the drive. The day had cleared up, so we decided to go explore the beach area. It was quite lovely.
Then we did manage to nap a bit (I to the sounds of CNN, which I don't recommend—leads to weird sorts of half-dreams about Bush, Mel Gibson, and Haitian riots). We then drove to the neighbouring town of Praia de Rocha. It was livelier than our Praia de Vau (praia = beach), with many restaurants and pubs (like Babylon. Hee). We stopped at a pizzeria for thin-crust pizza and cappuccino. Then back to the hotel and off to sleep.
Day 2
The day began inauspiciously, with pouring rain. Nonetheless, we decided to head to the village of Silves, slightly to the north, which offers some interesting historical sites. Our first stop was an archeological museum. In what would become a repeated theme, all the exhibit plaques were in Portuguese only. Nevertheless, it was a small but interesting collection. The literal centerpiece of it was a huge ancient well; in fact, the whole museum was built around that well after it had been excavated. Also kind of cool was the ancient skeleton laid out as he was found, face planted down with the trajectory of the spear that killed him easily identifiable.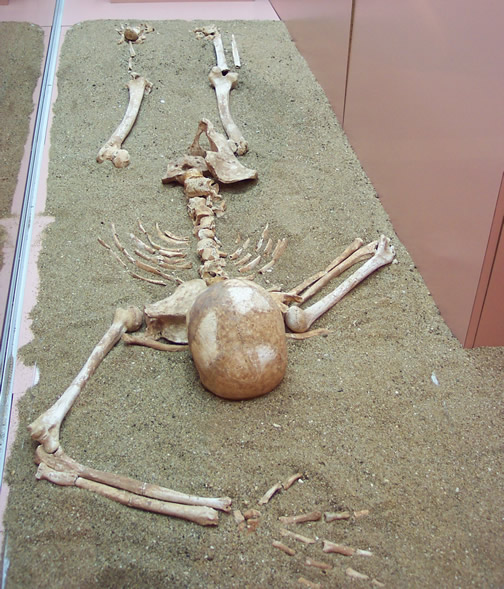 At the museum, we happened to run into a couple who were also on our flight. The told us about how their car got stuck on the wet, steep, cobblestone streets of Silves. But they were optimistic that the weather could only get better.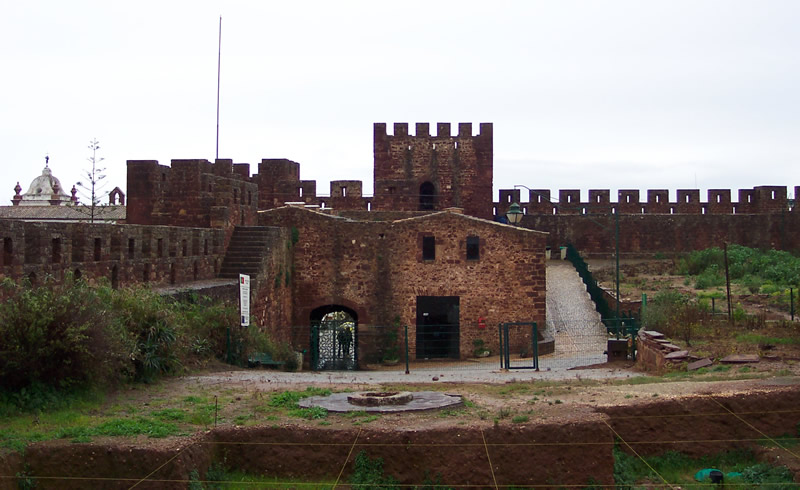 And in fact, the rain did start to let up, so we bid the other Canadians adieu and went to visit the Silves castle. Remnants of forts and castles appear all over the Algarve, but the Silves one, which dates from 12th century AD, was one of the most complete available. Many others were partly or mostly destroyed by earthquakes (which occur with some regularity in this region). So it was quite interesting to walk around this and see the archeological work going on in its center. This area also featured a lot of orange and lemon trees—a nice sight for a Canadian in winter.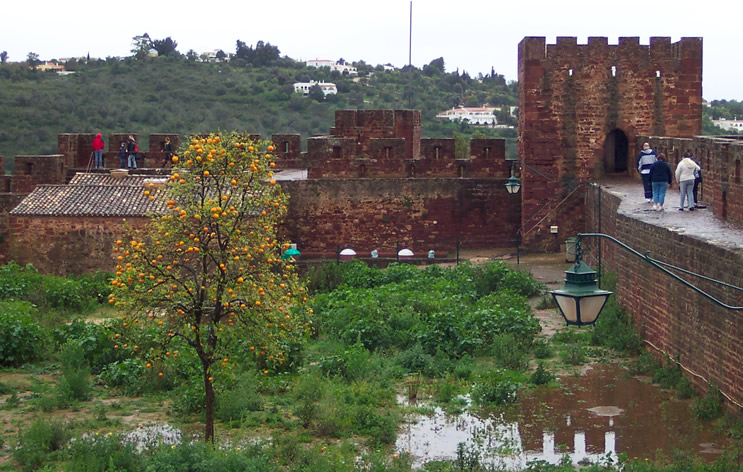 After a small lunch at the Cafe Ingles, we drove to Carveiro, another seafront town. It had a nice beach area, including a dramatic rocky point called the Algor Seco. Stairs had been put in to allow you to walk down to the beach from this rocky height. We decided against doing that, but we did snap a photo of others who were climbing.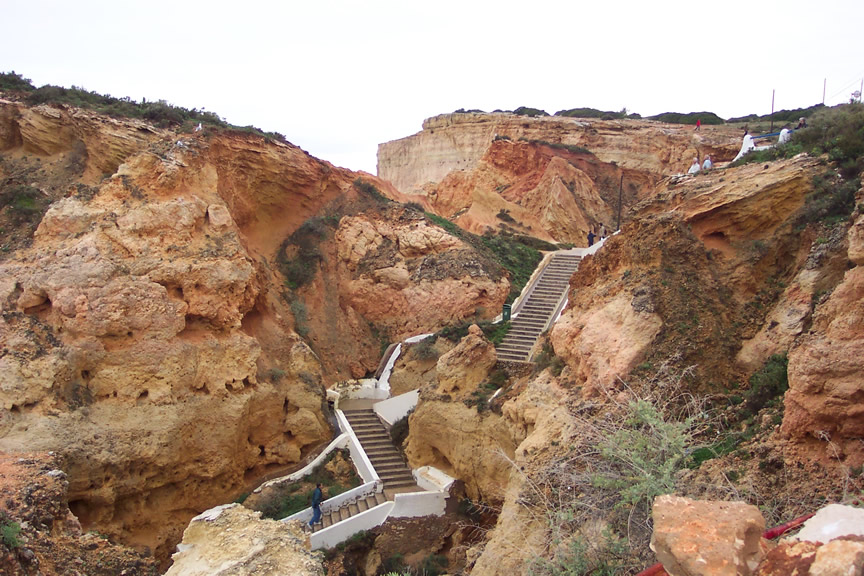 We then drove through Ferragudo and back to our hotel. That night we had sushi for dinner. The tuna was especially good—very fresh. We also enjoyed the addition of the pineapple to the California rolls. We'd started to notice that the Portuguese seem to add fruit to a number of their foods.
Day 3
The day started out cloudy, but not rainy, at least. Jean decided that he'd like to check out the hotel's indoor pool and hot tub before we went anywhere. (We had been disappointed to find out that it closed at 7 pm, which seemed rather early.) We did, and were a little surprised at how busy it was at 10:00 in the morning. (But then, it's not as though a swim in the Atlantic was all that appealing.) Still, we weren't that impressed with it. The hot tub, in particular, just wasn't all that hot. So we didn't end up using those facilities again.
After drying off, we took a drive up to Monchique, which is more north and slightly more to the east than Silves. It's the "mountainous" part of the Algarve, although more like a big hill than an actual mountain. Still, it's quite a neat town to visit. As we'd learned, we parked the car on arrival and wandered around on foot. The town wasn't very touristy, but did have a number of signs pointing to a "convent," so we figured it must be worth visiting. We eventually found our way up the right path, which was somewhat steep and lined with many cork trees. Stripped of their cork bark at the lower levels, the trees looked a little spooky, like something out of Sleepy Hollow.
When we reached the top of the hill, where this convent was, we discovered that a family was living beside and partly in it. Kind of a strange situation, but they ushered us through the place. It was another building that had survived the earthquakes reasonably well—you could see where the altar had been, the confessionals, and so on. But we did have work our way around the farm animals (geese, chickens) and oranges trees. The proprietors didn't speak English (pretty well the only time that happened on this vacation), so we kind of mimed our way through the purchase of some oranges and cork from them.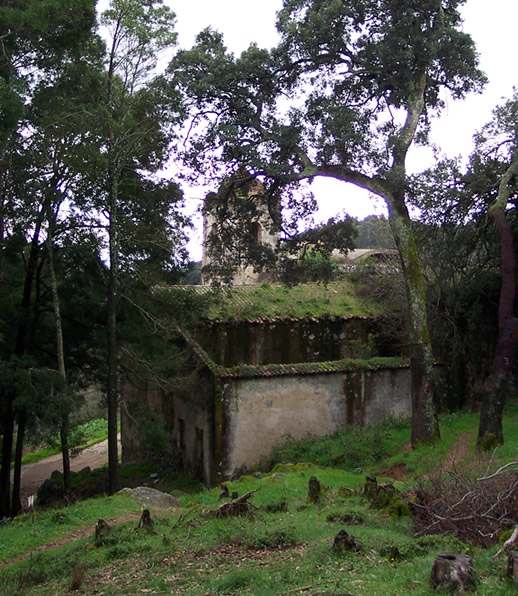 We then explored the cool-looking cork tree grove out back a bit more before heading back into town and having lunch at the best restaurant there, A Charrette.
Then we drove to the Calvas de Monchiques (which we eventually figured out means Valley of Monchique). Actually, we first drove past the Calvas, then back and down into it. The road in was another one of those steep, narrow Portuguese streets that we could hardly believe we were expected to drive on. Nevertheless, it was worth it. This was a really interesting looking valley, with natural spring water (much of the bottled water we drank this week came from here) and interesting foliage. It all looked very tropical. Unfortunately, it was difficult to take pictures of, and we couldn't find any postcards.
The weather had finally turned sunny and warm, so we decided to drive back to our beach. We sat out there, watched the water, and did some reading.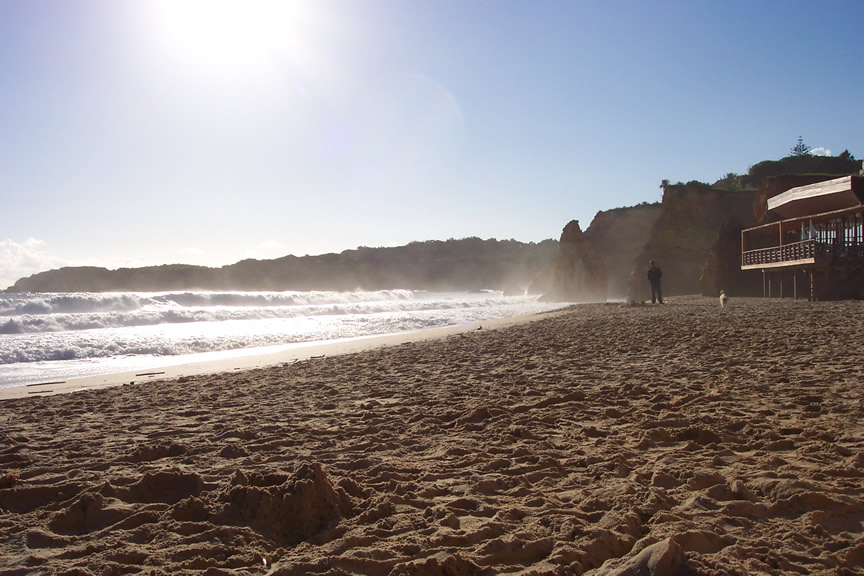 For our evening meal, we headed to a nearby Italian restaurant. I decided that I had to try the pizza with tuna, banana, and pineapple. Yep, kind of weird, but good. Jean tried the fish special, the sea bream. I decided to taste it as well. It was delicious, but I noticed a weird numbness in my lips after eating it. Jean just looked at me funny when I asked him how his lips were. As a test, I tried a bit more of his fish, and the numbness spread to my tongue.
So that was it for sea bream for me—apparently I have some sort of allergy to it. Still, this was one of our favourite meals so far.
Day 4
On this day we drove all the way west, to Cape St. Vincente. This was where boats used to leave from for their long explorations of the New World. It's an incredibly windy place, but it was a lovely morning, and the lighthouse and rocky shore looked very dramatic.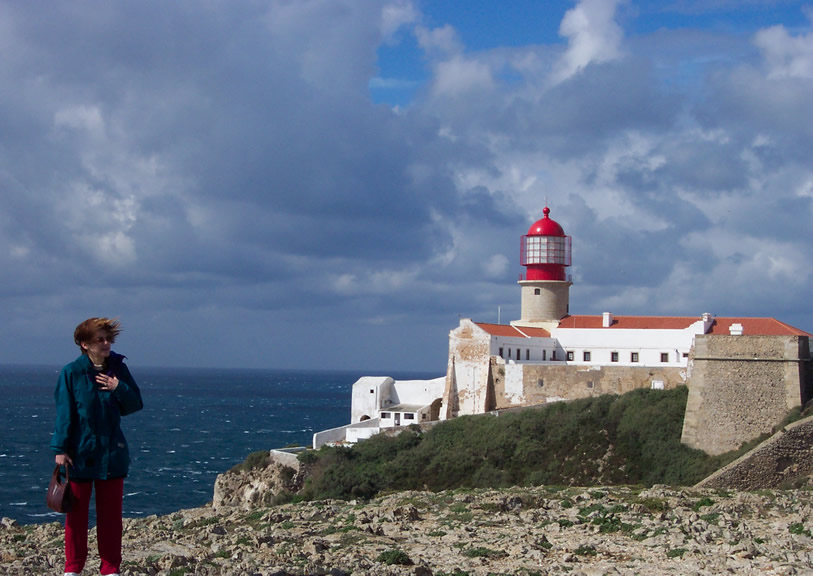 We then visited neighbouring Sagres. We didn't see anything of particular note there, having decided to skip its fort, but we did have lunch while looking out over their harbor, which was nice.
We then drove east somewhat, to Lagos. After some disorientation, we managed to find their local museum which, once again, was all labelled in Portuguese. It was kind of weird mix of items—pickled animal specimens, samples of cork art, historic ceramics…. Attached to the museum was a church called the Golden Church. It was the most ornate things you can imagine, largely done in gold. We weren't allowed to take photos of it (to boost postcard sales, perhaps?), but we did take a video. Which I won't post here.
Although it had started to sprinkle again at this point, we walked through some of the more interesting pedestrian streets. I was struck by the lack of "neat" shops to attract tourists. Although every city there had an incredible number of restaurants, shops were pretty prosaic—clothes, shoes, groceries… Ceramics were about the only "gift" item regularly on offer, and we didn't find too much of that appealing.
We were pretty hungry at this point, so we decided to go to Alvor for dinner. This would be yet another beach town, quite close to Portimão, but featuring numerous grilled fish restaurants on the beach. After a bit of sticker shock (Jean tended to just double the price, though the actual exchange rate was more like 1.75), we chose one that had been recommended. We shared a paella-like shellfish stew that was, in fact, very delicious.
Day 5
With the sun beckoning, we decided this would be a good time to go to Albufeira, the major beach resort town of the area. This is where we finally found the shops I'd been expecting but hadn't seen anywhere else: the postcards, the sunglasses, the tacky T-shirts, ice cream… your usual beach town store frontage. Since it was all new on this trip, it was quite fun to walk through it. We even bought a leather, cat-shaped Carnaval mask. (Carnaval celebrations had occurred on Tuesday, but we figured we wouldn't enjoy the crowds, and avoided them.)
And of course, we visited the Albufeira beach. We had lunch on at a restaurant overlooking the beach, and were surprised at how good it was. I finally tried to chicken piri-piri, which is spicy grilled chicken, basically. Very good. We also liked the sangria.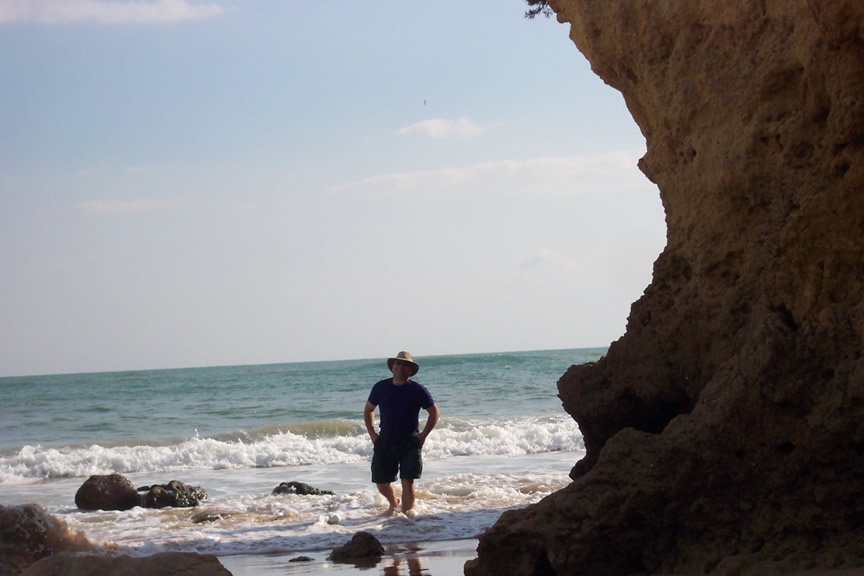 We then headed to the neighbouring Praia D'ours, also known as The Strip. That featured even more shops and such, but we mostly sat on the beach there. Jean decided that he just had to try to water. It was freezing. Still, I dipped my toes in as well.
We tried a Thai restaurant for dinner that night. The food wasn't totally successful, but the cocktails were nice.
Day 6
Having avoided the little town of Loulé on Carnaval day, we decided to visit it today, the day before its big market day. (All of this to avoid parking nightmares.) Once again, we visited their small museum, and the castle remnants. Neither were quite as good as the ones we'd seen previously. But the restaurants had a good reputation, so we ate at a bustling family place that was a good value.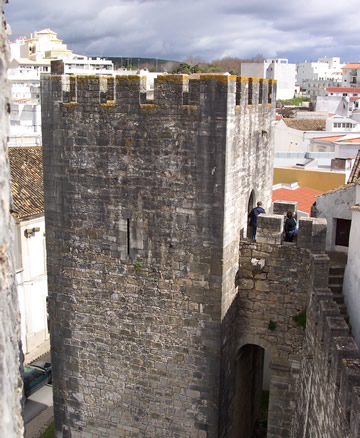 Then we decided to check out the nearby town of Villamoura. Being dominated by a large marina, it had a very different feel than any other place we'd been. It was quite serene and resort-like—perhaps more modern, yet sedate. At any rate, a very good place to walk around and check out boats of all price ranges.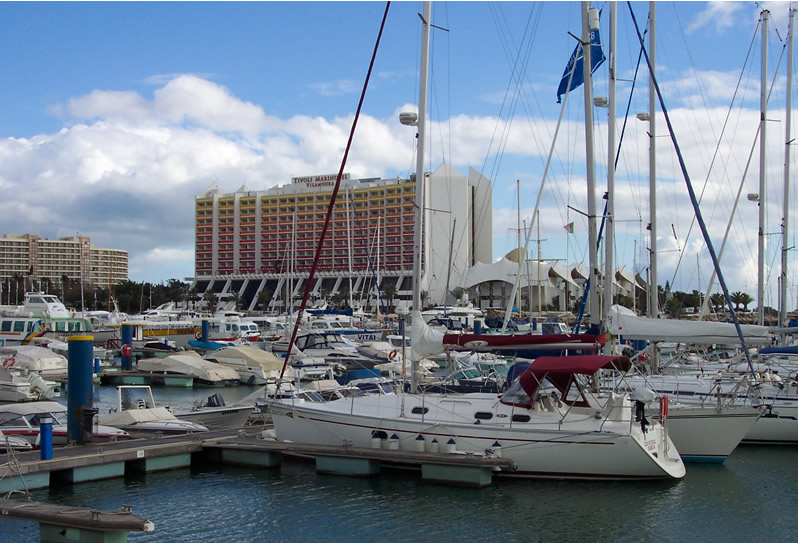 Next stop was a brief one, at the beach of Quartermeira. It wasn't distinguished in any particular way.
For supper, we went to the Italian restaurant again. This time I had the fish special of sea bass, with no numbness resulting.
Day 7
Our last day before flying out, and we thought it was time to visit Portimão, which had a reputation for good shopping. Carefully avoiding the donkey carts, we drove to a parking lot near the river, parked, and walked around. There certainly were many shoe, clothing, brass, leather, and pottery shops. Nothing much struck our fancy, though, except for a store that wasn't particularly Portuguese, but did have a neat collection of candles, jewelry, wine holders, and so on. We did buy a few things there.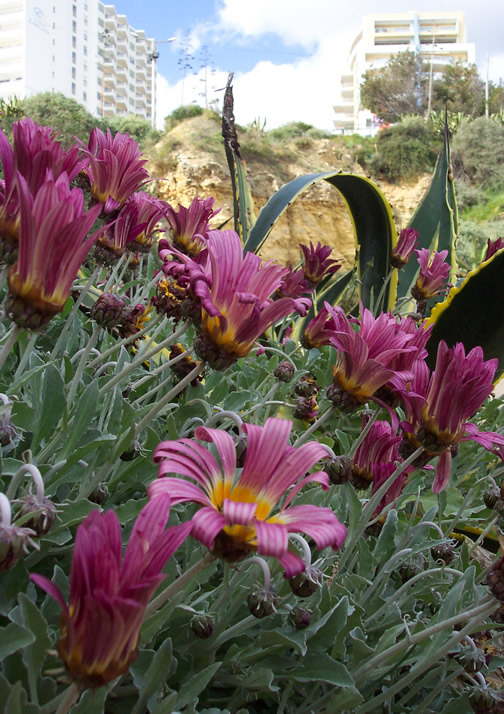 After lunch we headed to our neighbouring Praia de Rocha, to see it in the daytime, for a change. Quite pretty! And also, we discovered, very much within walking distance of our hotel. We really hadn't needed the car those other times. Oh well. We checked out the menus of what sounded like the three best restaurants in town, and decided on one called Squash for dinner. Then we went for sangria on the beach.
Our dinner at Squash was very nice. It was possibly the poshest looking place we ate at, yet wasn't all that expensive. And it was blessedly lacking in smokers, although that was just luck (since Portugal has no such thing as a non-smoking section, let alone a non-smoking restaurant).
And with that, we returned to pack for our departure.