Queen Greatest Video Hits 1
Directed by: Various. Starring: John Deacon, Brian May, Freddie Mercury, and Roger Taylor.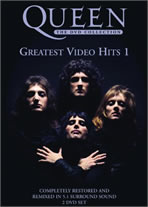 Synopsis: Disk 1 contains 16 early Queen videos, with audio commentary by Brian May and Roger Taylor. Disk 2 contains 6 additional videos, a documentary on the making of "Bohemian Rhapsody", and other features.
Sample quote: "This video is… uh… very much of its time."—Brian May on "The Game" video
Comment: Features most of Queen's most famous songs, including "Bohemian Rhapsody", "Another One Bites the Dust", "Crazy Little Thing Called Love", "We Are the Champions", and "We Will Rock You". The sound on each of these is fantastic—you haven't heard these tunes until you've heard them in DTS surround. Incredible, especially considering that most were recorded in the 1970s.
As for the visuals, most are not terribly memorable, being mock-performance videos set in not very interesting surroundings. The few exceptions to this fairly bland rule are:
"Bohemian Rhapsody," often credited as the first rock video. Still basically a performance, the effects used on it nevertheless add interest and stand up reasonably well today.
"Bicycle Race," featuring hundreds of naked models on bikes.
"Crazy Little Thing Called Love," primarily for the interesting way in which Freddie dances with women, then with men, then with women, then with….
The most amusingly bad video is the one for "The Game," with its utterly laughable use of fake fire background and hokey reverse effects.
Rating: ***½
The Extras: The commentary is fun. The extra tracks are nice to have, especially the fast live version of "We Will Rock You," but they were not remixed in DTS, and sound disappointingly weak compared to the fabulous main disk. The "Inside the Rhapsody" feature is fascinating. Brian dissects the pieces of "Bohemian Rhapsody" musical montage, yet the song loses none of its magic in the process.
Usability: The menus look cool but are tricky to navigate, featuring this wrap-around sort of effect that requires guesswork to determine how to select the song you want. The Easter egg (a bonus version of "Bohemian Rhapsody") is almost impossible to reach, other than by using the computer. Tsk, tsk.
Also see: