Queen Greatest Video Hits 2
Directed by: Various. Starring: John Deacon, Brian May, Freddie Mercury, and Roger Taylor.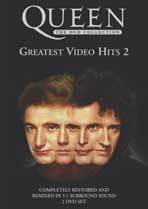 Synopsis: Disk 1 contains 17 videos Queen made during the 1980s, with commentary by Brian May and Roger Taylor. Disk 2 contains three hours of additional footage, including three previously unreleased videos, a live performance, interviews, footage of Queen in studio, and "making of" features.
Sample quote: "God, we look ridiculous."—Roger Taylor
Comment: Compared with Volume 1, not as many of these songs will be familiar to North American audiences—"Radio Gaga," "Under Pressure," and "Princes of the Universe" (the Highlander theme song) are the only ones that qualified as hits here. But that might make some of these other songs a pleasant surprise. "I Want It All" is possibly my favourite of Queen's rockers, right up there with "We Will Rock You." "It's a Hard Life" and "Who Wants to Live Forever" are both gorgeous, heartfelt songs. And "Invisible Man" may be the funkiest number Queen's ever done—uncharacteristic, but a lot of fun.
As is typical with Queen, a lot of attention has been been paid to sound quality. Even Disk 2 material is available in DTS. I have to say that I do question a few of the sound mixing choices, though. Sometimes the vocals seem more buried than I'd like.
As for the visuals, the videos certainly have more sophistication than most on the Volume 1 set. Among the best are:
"I Want to Break Free," with its drag homage to Coronation Street. Roger is an alarmingly pretty "girl."
"Radio Ga Ga," with inclusion of clips from the movie Metropolis.
"The Miracle," in which children very effectively play-act the parts of Queen through the years.
"The Invisible Man," with a video game theme that is just as fun and funky as the song itself.
"Princes of the Universe," directed by the Highlander director.
A number are performance videos, neither good nor bad, though "Friends Will Be Friends" is notable for including the sound of the live audience in the video. I kind of like the overblown "It's a Hard Life" (sort of an opera parody) and "Body Language" (gay sex for straight people), but they wouldn't be to everyone's taste. And the "Who Wants to Live Forever" video doesn't do much for the song.
Rating: ***½
The Extras: I watched them all, from the commentary on every video to the making of The Miracle cover. The commentary really highlights the differences in Roger's and Brian's personalities, with Roger being openly critical of both songs and (particularly) video setups, while Brian is more diplomatic. (It seems they might not have actually sat together and done the commentary.) Funniest moment there is when Brian dismisses charges of "Radio Ga Ga" having Nazi-ish overtones, only to be followed by Roger commenting that they're hard to miss…
The Montreux festival stuff was weird—it's the band obviously lip syncing in front of a live audience. Yet they do have mikes, because Freddie speaks to the crowd between songs. Except for the novelty factor, and wondering why anyone wants to go watch someone lip sync live, it's not that interesting. The extra videos, features, interviews, and footage, though, all definitely have fan appeal.
Usability: Better than the first. The menus feature morphing band faces, which is kind of cool, and it isn't difficult to move from one to the next and select options. The booklet lists all contents, which also makes it easier to find items you want to see.
Also see: