Queen Live at Wembley Stadium DVD
Directed by: Gavin Taylor. Starring: Freddie Mercury, Brian May, John Deacon, and Roger Taylor.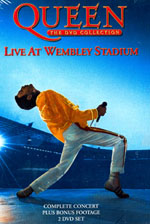 Synopsis: A DVD of Queen's entire performance at Wembley Stadium in 1986. This was their second-last live concert ever. Includes a second DVD of bonus features.
Comment: I have several DVDs and VHS tapes of Queen in concert, and I enjoy them all, but this performance is really incredible. They had just evolved their stage show perfectly—great pacing, great effects, wonderful connection to the crowd… And the sound on this thing is just amazing. Of course, it can't match the precision and layering they achieve in the studio. But for stadium concert taped in the 1980s? Fabulous sound (including DTS remix). Rating: ****
Sample quote: "We're going to stay together until we fucking well die."—Freddie with a very accurate prediction
The Extras: Rare rehearsal footage was found and is included on the DVD. That seems like a great thing, but in fact, the footage is very rough and of poor sound quality, so I can't see watching it much. Also available are performances from the Friday night show, which occurred in copious rain (unlike the Saturday show). Since the song set is similar both nights, I don't think I'll watch that one very often either. Still, it's nice to have it included. You can also view various Saturday night shows from different angles—all featuring Roger, or all featuring Freddie, for example. Interesting idea, again, but not really something I see viewing very often.
What I enjoyed more were the backstage documentaries and the updated interviews with Brian and Roger. This also gives you another perspective on things, but in a much more interesting way.
Usability: Unlike some past Queen DVDs, thankfully easy to navigate through. Pretty straightforward menus, though of course they include some animation (to the sound of "We Will Rock You").
Also see: Queen: We Will Rock You DVD