Queen: We Will Rock You DVD
Directed by: Saul Swimmer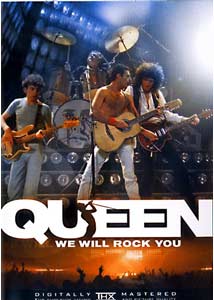 Synopsis: Pretty simple, really—it's an entire Queen concert, circa 1981, filmed at the Montreal Forum. Songs performed include "Crazy Little Thing Called Love," "Bohemian Rhapsody," "Another One Bites the Dust," "We Are the Champions," and, of course, "We Will Rock You" (twice, even).
Comment: Of course, I love Queen anyway, but they were a really good live band. And although watching this on a regular-size TV in your living room is no substitute for being at a show, let's face it, it's the only option available now, at least as far as Queen is concerned.
Filmed for MobileVision, a large-screen IMAX precursor, the sound and picture quality of this disc are fantastic. It really does make me wish I had a bigger TV and full surround sound in Dolby/DTS stereo.
[Update: This concert has been re-released on BluRay, which I now own, along with a flat-screen TV. It looks and sounds fabulous. It does not have the director's commentary described below, but does have some other good extras, like their Live Aid performance.]
The band is entertaining to watch: Freddie is very charismatic, of course, but Roger is also fun to watch (cause he's so good looking, and he really gets into the drumming), and Brian and even John aren't exactly inanimate on-stage, either. The concert is well paced—actually exciting at times, and includes a rare cover version of "Jailhouse Rock."
The crowd is good-natured, but obviously not hard-core Queen fans. They don't even know "Love of My Life," for heaven's sake. (Just a tip: If you like Queen enough to go to their concerts, you like them enough to buy their best album, A Night at the Opera.) Rating: ***½
The Extras: This actually has a director's commentary! And kudos to the director for actually finding stuff to say for 90 minutes. While he gets some of Queen facts wrong, he spends most of his time on what he does know: the process of working with the band and his crew on making this film. I had no idea how difficult a job this was. Just to give you an idea: It took a full year to edit this thing.
Also included is a video tour of relevant Queen locations in London, which is kind of cool. The rest of the extras are static—a trivia quiz (with poor feedback), band biographies (where one can only wonder why Freddie and Brian got only two pages each, while John and Roger got four and five), a discography, and so on.
Usability: A dream to navigate through, particularly when compared to other Queen DVDs I own…
Also see: Queen Live at Wembley Stadium DVD