Queer as Folk Season 2 DVD review
Starring: Michelle Clunie, Thea Gill, Sharon Gless, Gale Harold, Randy Harrison, Scott Lowell, Peter Paige, Hal Sparks, Jack Wetherhall, and Robert Gant
Synopsis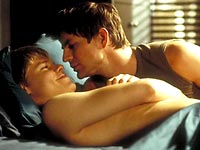 Season 2 of Queer as Folk highlighted these storylines:
Justin's slow, partial recovery from last season's bashing.
Justin and Brian's growing closeness, then distance, including a hot young violin player who catches Justin's eye.
Brian's work problems, which are of little interest to Justin.
Ted losing his job due to watching porn at work. Then starting a porn Internet site, but realizing that complicates starting a relationship. Then falling for Emmett.
Emmett becoming a star on Ted's site, having a relationship with wealthy older man George Bickle, and inheriting then disinheriting George's money.
Michael's quitting his job at the Big Q and buying a comic store.
Michael starting a relationship with Ben Bruckner, a gorgeous college professor who happens to be HIV positive. Debbie is not thrilled.
Michael and Justin write a comic book together, using Brian as inspiration.
Debbie starts a relationship with a police detective investigating the death of a young gay man.
Melanie and Lindsay get married.
Melanie and Lindsay renovate their house with the help of Mel's attractive ex-girlfriend.
Comment
Much of my reaction to rewatching Season 2 was exactly what I expected:
I still hated, hated the whole "Ted runs a porn site" plot.
I was neutral on Mel and Lindsay's plots.
I found Michael's journey this season satisfying.
But the Brian and Justin story—my reaction to that surprised me. And it's perhaps because I have seen Seasons 3 and 4 at this point. At any rate, I was just stunned at how close these two became at the start of the season. Living together; Brian no longer flinching at being called Justin's "partner"; Brian paying for Justin's school; Justin truly believing Brian loved him, despite Brian's inability to actually say the words…
So I became extremely irritated by Justin's actions at the end of the season—to the point where I could hardly bring myself to keep watching. This was not at all my reaction the first time around.
Thing is, it's not unreasonable to expect a 19-year-old to wonder if this prickly 30-year-old man, his first and only real boyfriend, is really the right guy for him. But how badly was this exploration executed? Let me count the ways.
It started really late in the season, after the afore-mentioned amazing closeness that Season 4 Justin would truly have been flabbergasted by. It just didn't follow.
The big breakup trigger, apart from Brian's weird ideas about what great birthday gifts are? Brian not going on a planned vacation with Justin—because Brian's whole career was collapsing, and he had only a weekend to save it. I had somehow remembered that Brian didn't really tell Justin what was going on—but no. In what universe would Justin not understand this and take off anyway (spending Brian's money)?
Following from point 2: the whole "break-up" sequence involved a complete assassination of Justin's character. Where he was the most mature person Brian knew, now he acted like a petulant child. Where he had amazing insight into others, he suddenly can't see the turmoil in the man he loves. Where he had been steadfast in what he wanted, now he is uncertain.
So boo hiss to the big break-up that ended the season. Up to that point, though, the season was mostly an enjoyable, if overly trashy one. Watching eps 1-16, fast-forwarding through anything involving the porn site, is the way to get the most out of Season 2 of Queer as Folk.
Rating: **½
The extras
I missed the Special Editions offered on Disk 1, but there is a whole disk of extra features, starting with three behind the scenes documentaries: A Day in the Life of Queer as Folk ("Our favorite Sets & Costumes," 10 minutes, and "The Challenges," 12 minutes), "What is it About Babylon?" (14 minutes), and "The Making of Rage Crusader". This will give you more information than you ever thought possible about how this show is put together.
Kind of fun to watch is "Folks on the Road: Backstage Pass", a 14-minute tour with the QAF cast as they cross the country on the Season One DVD/Season Two promo tour, and "Wrap Party Reel", which is actually nearly 7 minutes of outtakes. But my favourite is probably "Meet The Folk", which are rather cheeky and amusing profiles of the cast and crew. These are quite extensive, and doing Season One one better, the main cast pages also feature 30-second interview segments for each member.
And more features as well—about two hours worth.
Usability
Once again, attractive and very easy-to-use menus with synopsis of every episodes, so you can be sure that it's the one you want before you start it. (Perhaps if they titled their episodes, that wouldn't be necessary, but there you go.) Each episode also offers a Video Jukebox, giving you the title and artist of each song in the show. Not something I've used much, but a nice feature if you do find yourself really liking a particular tune.
Also see: