Report from the 32nd Popular Culture Conference: Music and writing
Popular Culture Conferences have been going on almost as long as I've been alive, but I've only become aware of them in the past four years or so, through Internet contacts. And this is the first year I've ever attended. Being held in Toronto, it was so close by, I couldn't resist.
What does one do at a Popular Culture Conference? There are social gatherings, planning meetings, and book sales. But mainly, you're there to give and to listen to short presentations that deal with various popular culture subjects from an academic perspective.
Certainly not everyone's cup of tea. But for me, it was like brain candy. Through four days, 17 sessions, and about 40 presentations, I wasn't bored once. Well, OK, maybe once, but that's all.
Herein is a summary of some of the ideas and theories presented.
Gay and Lesbian Print Culture
(And no, I'm not sure why I was drawn to so many gay topics, 'cause I'm pretty sure I'm still straight.)
1 Alison Bechdal's Dykes to Watch Out for and the Risk of Constructing of Essential Types by Catherine M. Scott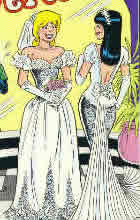 2 Veronica and Betty Are Going Steady: Queer Adolescence and the Archie Comics Empire by Jeffrey Dennis, Sociology
Welcome to the weird world of Archie, where everyone comes from middle-class, two-parent families; most everyone is white; and everyone is flagrantly heterosexual. Well, except Jughead, whose lack of interest in girls has so troubled the publishers over the years that they've made efforts to change that aspect of his character. Queer readings also slip through at other times, such as when Betty discovers that Archie's little black book is full of men's names, and finds that merely unusual, but not in the least shocking.
3 From the Cover of Tiger Beat to the Cover of The Advocate: When Teen Idols Are Outed by Gary Drum, Communication and Theatre
Could the world accept a gay teen idol? Unfortunately, there aren't really a lot of examples of a major US teen idol who has been outed. Cases from Britain and smaller-scale American celebrities show that outing does seem to be followed by some marginalization of the actor or singer's career.
Fan Fiction

1 Slash Fiction and the (Re)Use of Popular Texts on the Internet by Anne Kustritz
Why do many heterosexual women like to spend their time writing stories in which male TV characters move from buddies to lovers?
2 Complexity of Desire: Janeway/Chakotay Fan Fiction by Victoria Somogyi
Fans didn't see age or rank as a real inhibitor here, and were dismayed by the shows Chakotay/Seven pairing.
3 The Shape of Desire: Odo/Kira Fan-Fiction and the Ideal Romance by Christine M. Bichler, American Culture Studies
4 Technology and the Rise of Feminine Fiction: The Gendered Nature of Fanfic by Gail Derecho
Women are vastly over-represented in fan fiction communities. This may have always been true, but Derecho argues that the Internet's interactivity—the ability to find many others who share your interests and will read and critique your work—has encouraged many women to write who otherwise would not.
Gender, Material Culture, and Magazines
1 Knitting Magazines: The Yarn Tying Together Fiber Communities by Krista Park, American Studies
The "magazines" segment of a larger ethnographic study of knitting communities. Many different types of knitting magazines are available (who knew?), and the type you choose to read speaks to your identity.
2 A Teen's Guide to STDs and HIV/AIDS in Teen Magazines by Claudia Mitchell, Education (McGill University)
Where do teens get information on this subject? Little is available in schools, so magazines are a source, though the information is often "masked" there, possibly for fear of censorship. It's easier to find in online versions of teen magazines.
3 The rise of and Fall of Mr. Playboy; or How Mr. Hefner Became a Cartoon by Dan Stiffler, American Culture
History of a mascot I never knew that Playboy magazine had: an actual rabbit character (not the logo) that used to appear regularly on covers to represent the playboy lifestyle. Over the years he's been gradually phased out in favour of Mr. Hefner himself.
Music: The Kinks
1 Kinky Starters: the Art of the Opening Line in Kinks Songs by Michael J. Kraus, English
The first lines of Kinks songs are often particularly striking. This paper categorizes all the opening lines under headings such as humour, philosophy, pathos, anger, and so on.

2 The Concept Album in Kinks Biography: With Fans Like These… by David Montgomery (Toronto)
Why is it that every Kinks biographer—who is obviously also a fan, or why spend the time to write an entire book about the band—always trashes the "concept" albums, particularly Preservation Parts 1 and 2. In fact, there seems to be a general disdain for all concept albums among rock writers, as though they forgot it was a very dominant and artistically viable form of rock expression in the 1970s.
3 The Kinks and Punk Rock by Dennis McDaniel, English
Compares and contrasts the very British Kinks with the very British punk rock movement, particularly drawing on the Sex Pistols' Never Mind the Bullocks as compared with the Kinks' Arthur.
4 Ray Davies and the Love Song by Thomas M. Kitts
Examines the relatively small canon of actual love songs written by Ray. These often present a rather negative portrayal of love and marriage, from the madly obsessive ("Girl I want to be with you all of the time, all day and all of the night") to the painfully sad ("Property"). One of the happiest descriptions of a relationships occurs in a song not typically thought of as a love song at all—though it is—in "Lola."
Evening with Peter Quaife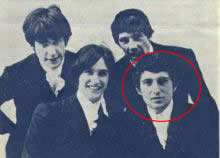 Peter Quaife was the original Kinks bassist, in the band from its inception until about 1969. At the conference, he gave a bit of history, starting with his school days, where shake-ups in the education system were loosening and causing unprecedented changes, such as playing musical instruments in class. He talked about proudly bringing his guitar in and performing for the class, only to then be eclipsed by his classmate and soccer rival Ray, who played better. Nevertheless, they did start playing together, with Dave, somewhere around that time.
Peter sees the British Invasion as an inevitability, what with so many young people in the UK playing music at that time, and Britain evolving sounds and looks that Americans had just never seen before. He feels it's just the shock of the new that caused it to be such a sensation.
Peter also read from his novel in progress, Veritas. It presents the rise and fall of a four-man British band that is not the Kinks. He read of the experiences of the four band members the day after their record went to number 1. It was quite humorous.
Peter also took numerous questions from the audience, on topics such as his least favourite Kinks song ("Plastic Man"), his favourite Kinks album (Village Green), why he left the Kinks (Ray is a control freak), why he moved to Canada (his wife), and a possible Kinks reunion (unlikely).
Fortunate Falls? The Spectacle of Disaster in American Popular Culture
1 'Some Inhuman Force': King Kong, Media Mania, and the 1977 Chicago L-Train Crash by Andrew Hazucha, English
"Language on (the) Line: The Politics of Communication and Community in Cyberspace" by Rhiannon Bury, Communication Studies (Wilfrid Laurier University)
2 Democratic Legitimacy, Political Theatre, and the Space Shuttle Challenger Disaster by John Wells, History & Political Science
3 The Walls Came Tumbling Down: Shaping Memories of September 11, 2001 by Dean Mendell, English (New York)
The difficulty of creating a suitable memorial, especially when people who lived through it are trying to create for those who didn't, who weren't even alive then. Sometimes it's best not to build one right away.
How to Publish and Promote a Book: A Workshop
Emily Toth and Susan Koppelman discuss how to get a book published, and how to promote it, based on their experience in publishing over 20 books between them.
Papers bought
"The Idea of a Cyberversity: Erudition, Agonism, and Discipline in the Music Forum at Table Talk" by Jimmy Dean Smith, English and Communication
"Just Say Yes! The Rhetoric of Charitable-Contribution Reply Forms" by Deborah Schaffer, English
"Intentionally Childless Men and the Procreative Imperative: Lessons from Lives in Times of Changes" by Paula K. Clarke
See also: Report from the 32nd Popular Culture Conference: TV and Movies