Scotland trip diary
Since we'd had luck with our Paris trip in February, for our summer vacation we decided to see what kind of last-minute deals would pop up on Expedia.ca—with a trip to Eastern Canada (including the Charlevoix region) as a back-up.
What was coming up lucky for us this time was Glasgow, Scotland. However, despite my ancestry (1/4 of it, anyway), we didn't know much about Scotland or why we'd want to visit there. So before finalizing a booking, we went to Chapters for research. Didn't take too much research to conclude that we would find enough interesting there for a week's visit.
So back home to book a flight and hotel package. With all the caveats that many regions were best accessed by car, we also decided to add a car rental, despite the "driving on the wrong side of the road" issue.
A comedy of errors: Toronto to Scotland
Playing it safe, we left home in ample time to make our flight. And good thing too, because virtually all our extra time was used up waiting for the Park'n'Fly bus to take us from their parking lot to the airport. It literally took us longer to get from the parking lot to Terminal 3 than it did to drive from home to the airport parking lot. After waiting in the rather long lineup to check in—and passing time chatting with a young woman who was flying to England for the weekend to adopt a rare breed of dog (?)—we had some momentary panic at being told that we needed actual paper tickets, not just our eTicket info. But it turned out the tickets were waiting for us at a nearby counter, and we were then allowed to butt in line and check in.
And, we still had just enough time to grab some food before having to board. Fortunate, because Air Transaat is really not Air France. More cramped, no free wine with dinner, no personal TV with choice of movies, and the food quality… well, was it really necessary to douse the cheese pasta in extra, extra salt? Blech! Oh well. Though stuck in the middle aisle, we were fortunate not to have anyone sitting beside or behind us, so we could take advantage of some extra room. And the flight was smooth, on time, and the food items other than the cheese pasta were at least edible.
We arrived at Glasgow Airport ridiculously early in the morning—like 6:30 AM (though it felt more like midnight). There we met our first and definitely crankiest Scotsperson—the car rental lady who informed us that the counter didn't open until 7:00 AM and she couldn't help us until then. So we puttered around gathering maps and such until we were able to sign out our car.
Then we went off on our first of many, many rounds of getting slightly lost on the way to our hotel. Also amusing on this day was Jean's repeatedly whacking the right window as he reached for the gear shift actually located on his left. That behavior, unlike the getting lost, he pretty quickly got over. And while there were no incidents of driving on the wrong side of the road, there were quite a few moments of mild panic at seeing cars or trucks coming at us from the left! … until we remembered they were supposed to do that here.
Anyway, once at the hotel, they were able to shuffle rooms so that we could check in immediately. After checking out the room, which was rather large by European standards, and full of useful amenities—except a hair dryer, so I was doomed to a week of bad hair—we decided that a nap was in order.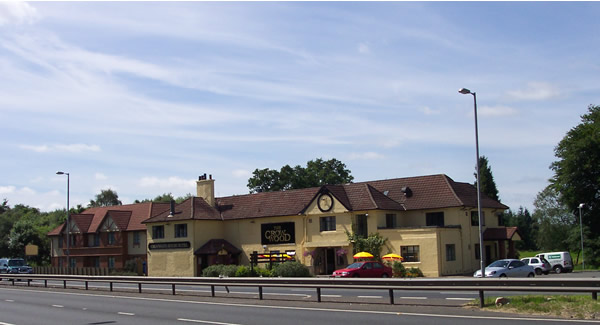 Next, the very bad decision to drive into Glasgow. Maybe it was the ongoing jet lag, the lack of road signs, the adjusting to the left side driving—whatever. All we accomplished was frustration at getting lost and a complete inability to find anywhere to leave the car. So, we went back to the hotel. Where we found out we could get to Glasgow by crossing the street and taking one of the buses that passed every 15 minutes.
The double-decker bus driver had no problems at all getting us into downtown Glasgow, and the first order of business was getting coffee at the bus station. Unfortunately, second order of business was spilling said coffee all down my front due to an ill-fitting lid. (Truly, this was one of our best traveling days ever. 🙂 ) Which then led to a little shopping expedition, as I suddenly had an urge to get a new shirt, but really really didn't want to return to our hotel again.
Wearing my kicky new Glaswegian shirt (a bit tight, as it turns our their size 8 isn't quite the same as ours, but what the heck), we went on a bus tour of the city, and were finally able to appreciate that Glasgow had some interesting architecture and very beautiful neighbourhoods, particularly around the university. Jean also tried out his new digital camera, and actual got some decent shots from the bus.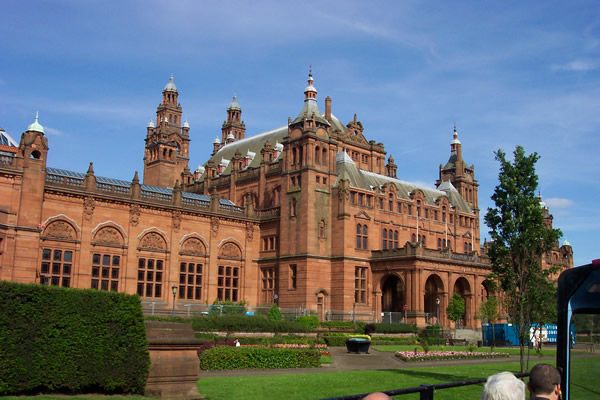 The Glasgow Jazz Festival was just winding up, and we saw the Glenn Miller Band perform.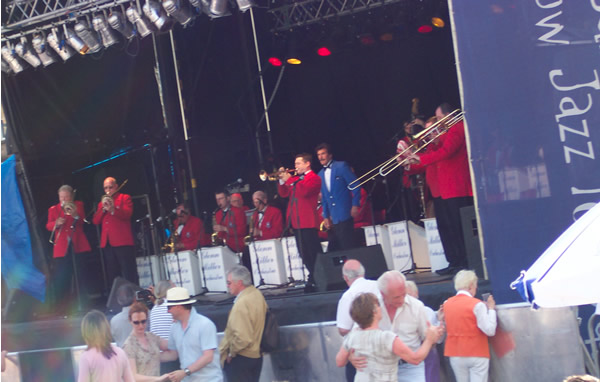 Then we went for dinner at an Italian restaurant that was really quite good.
Food highlight du jour: The mussel appetizer was great—so fresh! But the pasta in Jean's lasagna was nearly as good.
A day in Glasgow
Parking the car for the day, we took the bus into Glasgow. We visited a few of the Museums, all of which are free: the Museum of Modern Art, the McLennan Gallery, and a few art galleries. We also noted the friendliness of the Scottish people, as pretty much every time we pulled out a map to figure out where to go next, someone stopped and offered to show us the way.
After lunch, we walked to the Cathedral and Necropolis, which was probably the highlight of the city's sights.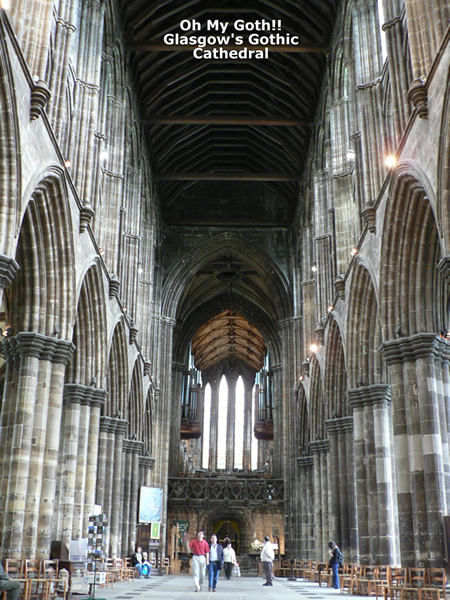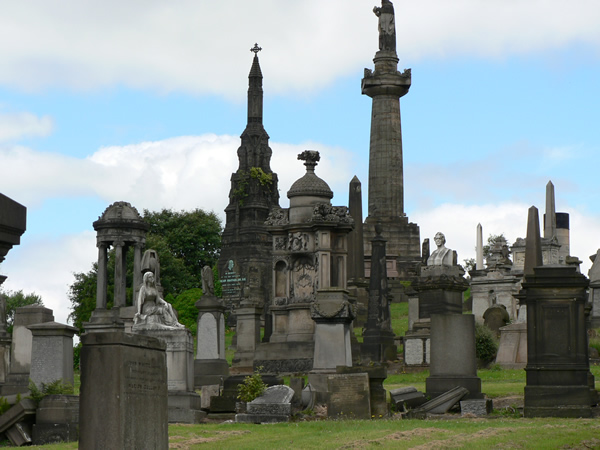 We then repeated part of our bus tour (ticket was good for two days, and we thought it would be good to see again while less sleepy) and headed off to a Pub. Because we thought we should. There we discovered that we really don't care for malt whiskey, but cider is very nice. Although a whole pint of it leads to tipsiness (at least if you're me).
Book shopping at Borders was next on the agenda (I bought What to You Wear Can Change Your Life and A Year in the Merde), then we had dinner at the Mussel Inn.
Food highlights du jour: The seafood continued to impress, and we had it in many forms (none fried, though): chowder, grilled (scallops and oysters), and steamed (mussels and oysters).
Day 3: It's a long way to Inverary
Destination 1 was the nearby town of Stirling, best known for its castle. We had relatively little difficulty getting to the town by car, but parked out of view of the castle itself. We asked the parking lot security guard for directions, whereupon he immediately got out from behind the secure glass doors, walked us right outside, and pointed exactly in the direction we needed to go.
Having been spoiled by the free museums, we hemmed and hawed about the price of admission to the castle, but then decided to buy an "Explorer Pass" which, given the sites were planning to get to, would save us money. So we walked the castle grounds sans guide. It was pretty neat—a lot of restorative work had been done on it.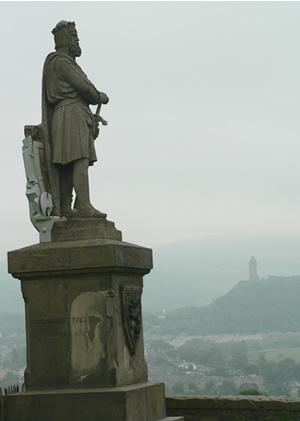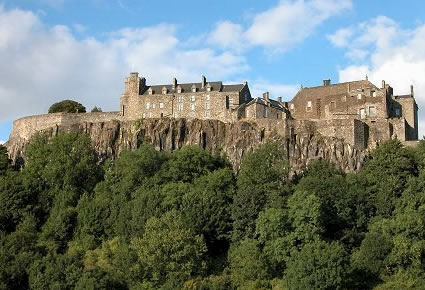 After our usual disorientation, we ended up on the road up to the Highlands. The roads were very narrow and completely lacking in shoulder, which made for some interesting passing situations. (Trucks and campers basically had to stop and inch by each other.)
The day, which had been a little foggy (as seen at Stirling) totally cleared up, which really highlighted the beauty of the Highlands area. It also made it evident that our car air conditioning was somewhat useless, but hot in Scotland fortunately isn't that hot—the high was about 22C.
An unintended detour took us down a lovely little road where we stopped for tea and scones. We also took a few photos.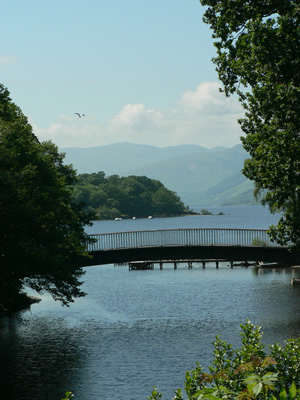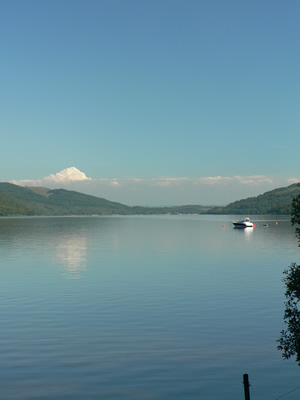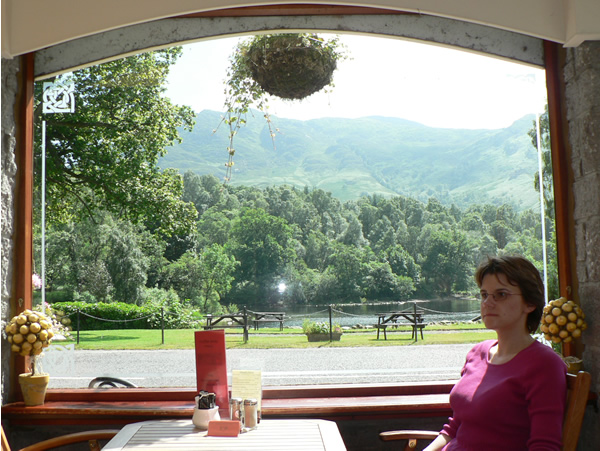 We continued through the Highland Roads, noting that there were indeed a large number of sheep.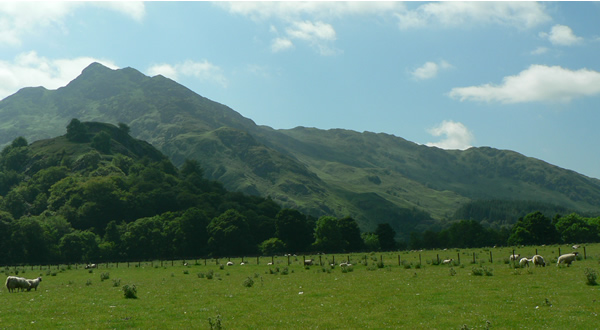 We went to beautiful Loch Lomond, where we stopped for a bit, then decided to go to the town of Inverary. This is a really picturesque little town, with white-faced buildings facing the water. They also have a castle, still in use by the Duke, the truly looks like a castle in those fairy tale pictures. Though closed when we got there, we were able to walk all around the grounds and get a good view of its outside.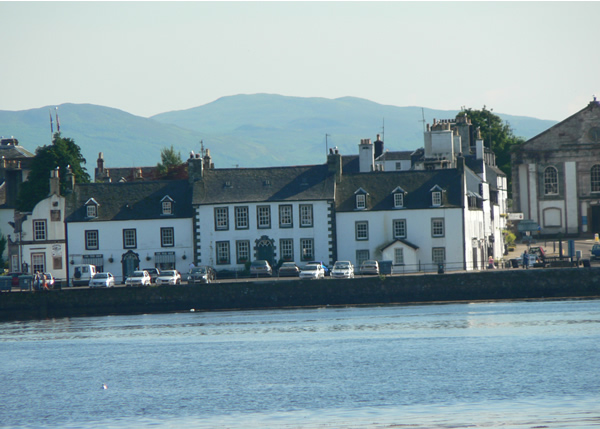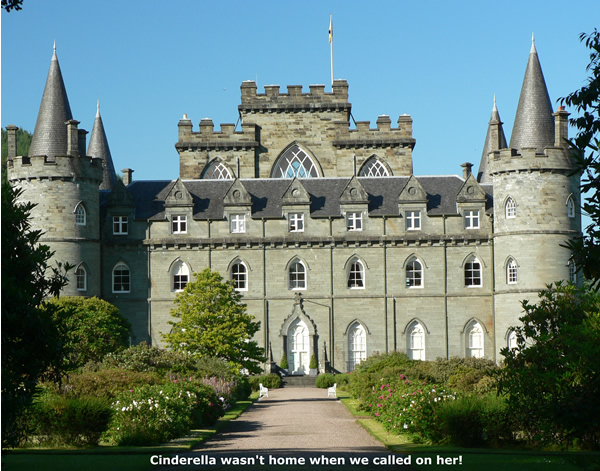 In keeping with the Scottish friendliness already observed, the manager of the George Hotel did not put up a "no vacancy" sign in order to be able to help us find accommodations, which she did, at a bed and breakfast. We then just managed to get into dinner at the semi-famous Loch Fyne Oyster Bar—fantastic! (though by no means fancy.)
Food highlight du jour: Did we mention the seafood? Yes, the oysters were a real highlight of the Loch Fyne Oyster Bar, but one can't discount their smoked mackerel in gooseberry sauce, grilled salmon in ginger, or smoked salmon in whisky. The accompanying wine (French and South African) was lovely as well.
Day 4: More Highland fun
After a pleasant breakfast, we decided to head toward Oban (though we later learned we should probably have visited the Old Inverary Jail first). On the way we stopped at an old Ironworks preserve, which turned out to be pretty interesting. Then we visited the ruins of a castle near Oban.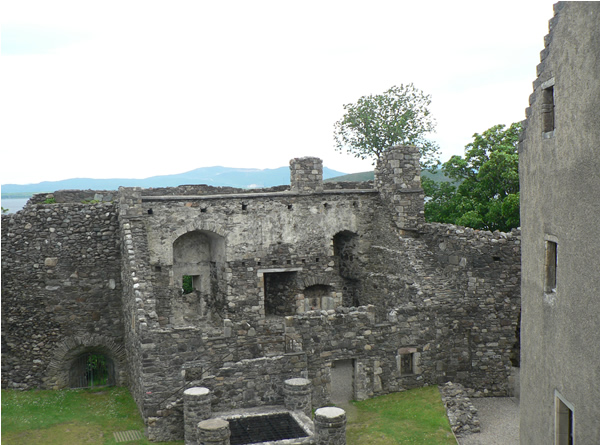 For a change of pace, we then stopped at a Seal Preservation park. It actually featured many different types of sea creatures, not just seals (although they were very cute). There were sharks, schools of herring, flash fish, star fish, sea horses, and a couple of very cute and friendly Canadian otters.
We then had lunch at a little cafe that offered a view of a castle on an island. (I swear, all those people did was build castles. 🙂 The day was starting to cloud over at this point.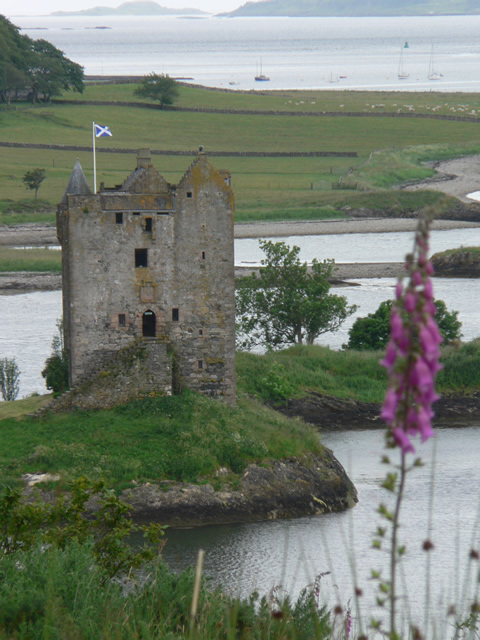 We stopped at an Art Gallery on the way and did end up purchasing an original water color (which featured a scene of Italy rather than Scotland). Then more picturesque driving back to the Crow Wood.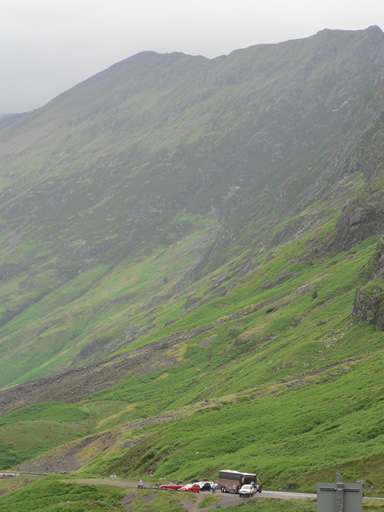 We had dinner at the nearby town of Cumbernauld, which we figured incorrectly would be easy to get around in. Good thing the Scottish people are so good about giving directions…
Food highlight du jour: None really, as it turned out to be a mistake not to order seafood. Not that the duck and steak was actually bad; it just wasn't as good.
Day 5: Art in galleries and in castles
We hadn't yet seen the Burrell Collection gathered in a park in the outskirts of Glasgow, so we headed there first. After our usual getting slightly lost, we arrived just in time for a guided tour. Burrell was a rich guy who enjoyed art. Though completely self-taught in art appreciation, he managed to accumulate a nice collection of Roman, Egyptian, Chinese, Arab, and Impressionist works. Among them were one of Rodin's "Thinker" sculptures (Rodin made more than one version), some lovely pieces by Dégas, and many fine tapestries.
After a spot of lunch, we drove down to the Argyle region, where we saw the most impressive castle of the trip, Culzean. While others were shorn of furnishing, this one was lavishly decorated inside. And again, we arrived just in time for the only tour of the day (so getting slightly lost first, of course, was beneficial), which was quite interesting. We weren't allowed to take photos inside, but we got a couple shots before we realized that.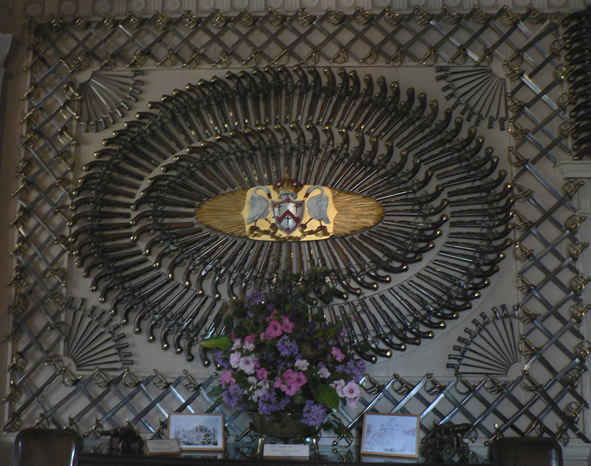 The day had been rainy, but it cleared up at this point, so we walked around the beautiful Culzean Park—much bigger than we had expected. We saw beautiful gardens, swans, ducks, the shoreline, and various views of the castle.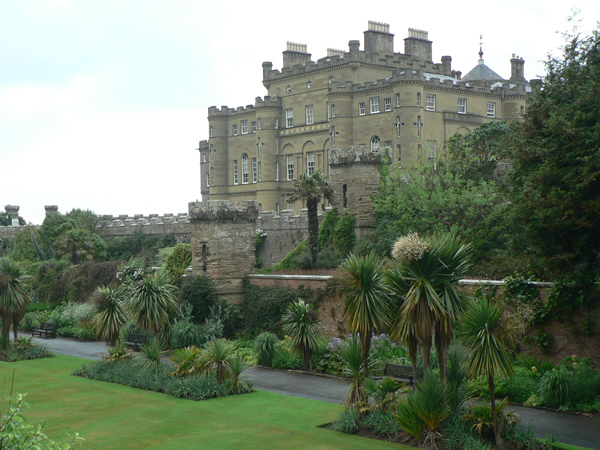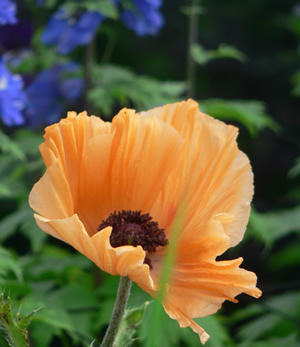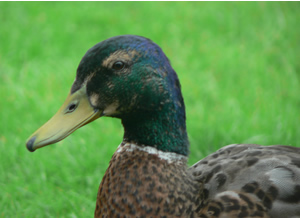 We decided to drive to Troon for dinner, looking for an Oyster Bar on the harbour that I had read about. Amazingly, we didn't get very lost looking for Troon, and we didn't have trouble parking our car. We did have a few challenges locating the restaurant, since the only thing we had to go on was that it was on the harbour. It sort of seemed like a long walk past an industrial area. But just as we were starting to despair of the restaurant's existence, it came into view. And was really great.
Food highlights du jour: In case you're tired of hearing about the wonderful seafood (oysters, tuna belly, and halibut with truffles in this case), I'll mention that the sticky pudding was really yummy also.
Day 6: Edinburgh under siege!
After accidentally sleeping in and missing our breakfast window, we scrambled to get ourselves on the road and off the Edinburgh. Driving into Edinburgh wasn't exactly fun but, unlike Glasgow, we did actually succeed in parking the car. Food was first item of business, then we took in the town, which had a very different look from Glasgow—more grand, with cobblestone streets, and a castle overlooking it.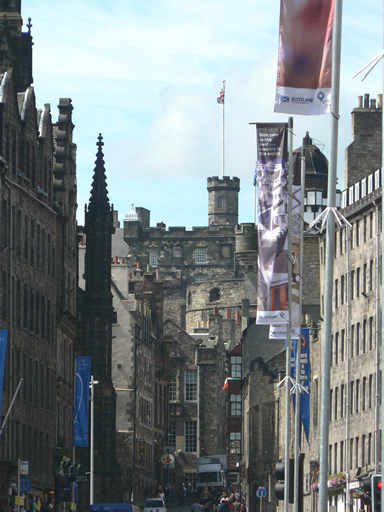 We headed to the castle first, only to meet by the longest line of the whole vacation. The reason, we found out from the disarmingly gorgeous castle worker we talked to, was that they were searching everyone's bags in response to the upcoming G8 summit. But eventually, we did get in. And it is quite an interesting castle, with a lot of excellent exhibits on various periods Scottish history. It's like a little city inside there.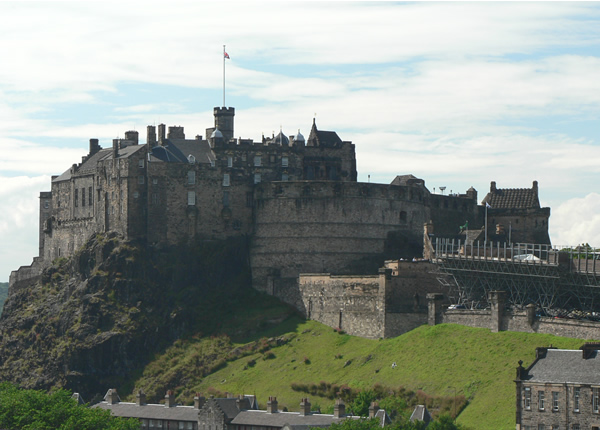 Next stop was the Royal Museum / Museum of Scotland, which is half history of Scotland, half nature and science. Quite well-done, and an interesting building as well. You can go right up to the roof for a view of the city.
Thirsty at this point, we decided to walk to a pub. We saw a lot of signs of the imminent summit and accompanying rallies—"Make Poverty History" posters, stores boarding up their windows, and a lot of police about. At one point we saw a caravan of protestors drive through town. Would have been a good picture, but we weren't fast enough.
At the pub, we decided that cider was still good, and still inebriating.
Walking it off afterward, we did a little shopping, but no real purchasing. I did get a wristband and special "Make Poverty History" magazine from a man selling them on the street.
We had dinner at an incredibly lively little Wine Cellar—the sort of place we normally would have found far too noisy, but which suited our mood this day. Our waitress was very friendly.
Food highlights du jour: Sorry, but, it was the seafood platter, this time featuring clams, mussels, smoked salmon, smoked mackerel, scallops, and shrimp.
Day 7: Scotland to Toronto
Having a very early flight out, we are able to confirm that the sun does come up around 4:30 in the morning at that time of year, though it doesn't set until about 11:30 pm. We were on the road at 5:30 am, and had a pretty uneventful trip back. Got back home in time to spend much of the day lounging about and watching the Live 8 concerts.
See also: Some more Scotland photos