The Doors Collection
Directed by: Ray Manzarek. Starring: Jim Morrison, Ray Manzarek, Robbie Krieger, and John Densmore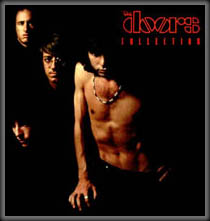 Synopsis: This is a collection of two items previously available on video, plus a new documentary. First up is Dance on Fire, a collection of Doors song videos. Next is Live at the Hollywood Bowl, which is footage of that entire concert. The newer documentary is called The Soft Parade, and it features various TV interviews, video cameos, and live performances.
Comment: This is an amazing collection for Doors fans. They do have a surprising number of decent videos for a 60s band. The concert kind of drags at points, but overall is a good document of that time. And the documentary achieves Manzarek's objectives of showing other sides of Jim Morrison—he wasn't always that wild and crazy seen in The Doors (the Olive Stone movie). The extras are great fun as well, especially Densmore's show, which I wish I had seen live. Rating: ***½
The Extras: On top of those three items, which total nearly nearly three hours in themselves, are a number of extras, including audio commentary by the remaining members of The Doors on all three films; Ray Manzarek's UCLA student films (one featuring a brief cameo by Jim Morrison); excerpts from John Densmore's one-man play about being in The Doors; Robbie Krieger's one-man version of "The End," and archival footage and artifacts.
Usability: Quite good. One of those disks that simply starts to play: it begins with the a welcome message by the three remaining Doors, then goes right into Dance on Fire. To select specific content, you have to go to Menu, where the options are very clearly laid out in two screens.
Related: