A week in Paris
February 13–19, 2005. Flash from the past! Back in 2005, we followed booking a trip online—then new and novel!—with going to an actual bookstore and buying physical guideboooks! Also then new and interesting: Personal little TVs on planes.
Preparation
We knew we wanted to take a one-week winter vacation again this year, but as usual, we were having trouble deciding where to go. A cultural tour through Cuba sounded interesting, but we hadn't had luck finding an ideal package for doing that. We did come across an interesting eco-tour of Costa Rica, but it was pretty expensive. Then I noticed that the Globe was listing good deals for Paris and London. So we started looking into that on Expedia.ca, and were delighted to find several options at a reasonable price.
So almost before we knew it, our exploratory investigation turned into a credit card transaction. The package we chose included flight on Air France and hotel. We then made an expedition to Chapters for travel guides, coming home with Let's Go and Fodor's. We also then decided to switch to another hotel, farther from the seedy area of town. The Expedia folks also made that easy to do.
Day 1: Toronto to Paris
We left our car at a nearby hotel for the week (much cheaper than Airport parking or any transit options) and checked in way ahead of time. (I immediately knew there would be no "my luggage hasn't arrived because we were late, I'll have to buy clothes in Paris" shopping for me.) We were pretty impressed with Air France—it had this cool little TV where everyone could select their own movies (including really recent ones), rather good airline food, and very friendly flight attendants. Everything was on time and we managed to get a bit of sleep before being awakened for breakfast and landing.
After only moderate confusion at the airport, we took the RER (train) to our hotel. The room was small but perfectly fine, and has an interesting view of a old cemetery with crypts. Turns out that Jean-Paul Sartre, Simone de Beauvoir, André Citroën, and Charles Beaudelaire are buried there (the Montparnasse Cemetery).
We didn't have ambitious plans for the first day. We did walk to and around the rather cool St-Germain des Prés neighbourhood. On the way back, we encountered heavy rain, then hail—thank goodness I had packed an umbrella. Later on we noticed snow falling. Fortunately, the weather did improve from there…
Food highlight du jour: Real hot chocolate—that is, made with melted dark chocolate and cream, not cocoa and water. Mmm.
Day 2: Exploring the Louvre
Given the rain, hail, and snow of the previous day, we had quickly concluded that a week-long metro pass would be a good investment, so that was the first order of the day. It proved a bit more complicated than expected, as we needed photo ID to get a metro pass, and we needed change to get our photo taken at one of those booths. And tip: French banks won't give you change. So we bought coffee and croissant, and used the change from that to get our photos, then our metro passes.
Then it was off to the Louvre. People almost discourage you from visiting the Louvre, given how big it is, and how crowded it can be. But I have to say we really enjoyed it. Obviously, it was good to be forwarned that we wouldn't have time to see everything, so we didn't try. But I just hadn't realized to what extent the building itself is really worth seeing. The floors, the ceilings, the light fixtures—it's a feast for the eyes even without all the amazing art.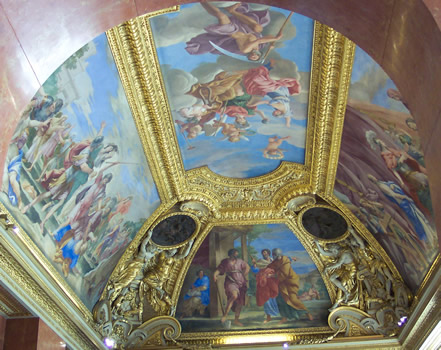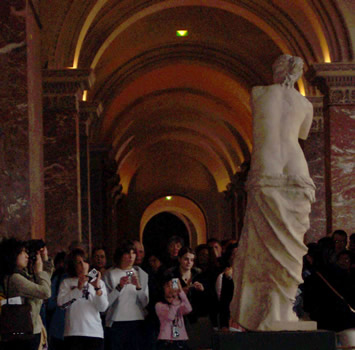 Due to confusion about the closing time on Monday, we didn't get to the Italian collection except briefly. So, we didn't see Mona. Guess we'll have to go back.
Food highlights du jour: Lunch at Papou Lounge, a Let's Go recommendation. Jean's confit de canard and my rondelet de canard were both great, but the real highlight was (this will sound odd) Jean's mint tea. This wasn't no dried herb stuff—it was seriously delicious full mint flavour. But we also can't ignore the restaurant we stumbled upon sur la rue Mouffetard. Our 14.50 Euro menu included one of the best cold foie gras Jean's ever had. My skate and the mousse au chocolat and crème caramel desserts were also nice.
Musee d'Orsay and chocolate shop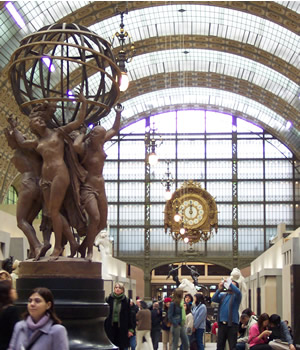 We were a little surprised to see that even on a cool (though not rainy, at this point) February day, there was quite the lineup to get into the Musée d'Orsay, an former train station thhat is now the home of famous Impressionist art (and pre- and post-). This was another impressive building—the restaurant being particularly fantastic—and you can actually get through the whole collection in a day.
In fact, we didn't even need the whole day. Afterward we returned for another walk through St German des Prés, where I made a beeline for one of the oldest and most celebrated chocolate shops of Paris.
Food highlight du jour: Breakfast at La Coupole, a nearby café famous for its longevity and famous patrons (Einstein, Stravinski, Hemingway)… We'd been a little disappointed by Monday's breakfast, so getting a large tray of amazing butter croissant, pain au chocolat, fruit pastries, jam, and buns along with our impeccably good coffee and chocolat chaud made the 8 Euros each seem like a real bargoon.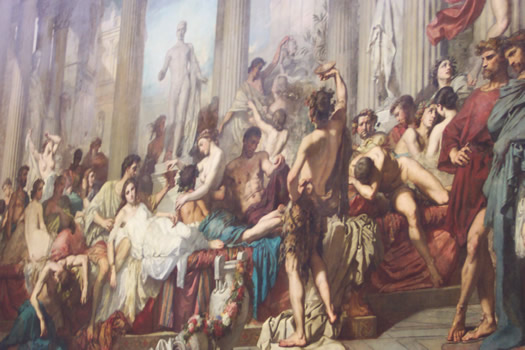 Day 4: The sacred and the secular. And a tower.
By now, Jean was saying that not having seen any of the famous Paris landmarks yet (the tower, the arc), he didn't really feel like he was in Paris—just some nice city with amazing museums. So, we were rather pleased when our metro ride to Montmartre rose from underground and gave us a fantastic view of—the Eiffel Tower. Definitely a worthy ride.
We enjoyed the Montmartre neighbourhood as well. One strip is just all sex shops (though they're not quite a blatant as Amsterdam's). But just in behind are good restaurants, nice shops, and a hike up the mountain further, we reach Sacré Coeur church, the highest point in Paris. Though we'd been before, we couldn't resist climbing there again, especially since the morning was rather nice.
"I've kissed you in France and I've kissed you in Spain. And I've kissed you in places I'd better not name. I've seen the sun go down on Sacré Coeur. But I like it much better going down… "

(Lowest of the Low, "Rosy and Grey").
Then, for something completely different, we went to have a boo at the exhibits at the Musée de l'érotisme. Sorry, no pictures. But, it is an interesting historical collection. And unlike most Paris museums, explanatory labels are available in many languages, including English.
After lunch and snapping a shot of the Moulin Rouge (too expensive to actually go in to), we headed back to the Tower, although the day had clouded over and cooled off some. We did the obligatory walk to and under it (but didn't go up), and out into the Champs de Mars. Then we warmed up with coffee at another semi-famous café, the Select, where Ernest Hemingway liked to hang out.
Food highlight du jour: Dinner at La Bastide Odéon, the best meal of the trip. We felt it was time to step up our dining experience a little, and wound up here—highly recommended! The very best item was my chocolate soup dessert, a silken melted dark chocolate with candied orange and ginger and chocolate sorbet. But the whole meal—the salmon spring rolls, ravioli aux tomates et parmesan, shrimp risotto, cheese platter—was just amazing.
Day 5: Notre Dame de Paris, City Islands, Picasso
Having determined that the Sewer Tours were likely shut down (they close for two weeks in February), we decided to try for the nearby Catacombs Tour. Unfortunately, they were under renovation until May. So, we took the metro to Ile de la Cité, whose most famous landmark is the Cathédrale Notre Dame. Which, it has to be said, really is an impressive building. (We also enjoyed watching the "bird man" outside.)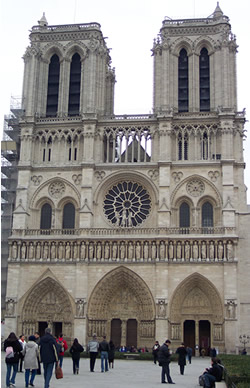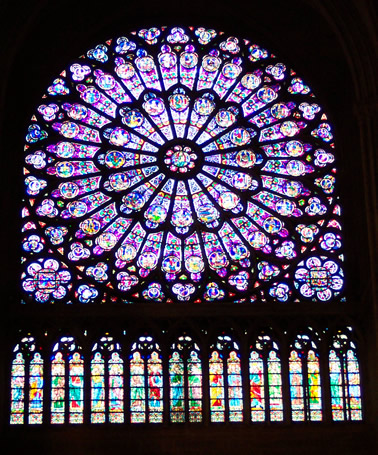 Departing from there, we walked to Ile St-Louis, home of a number of interesting shops and architecture. We stopped in at a candy shop, and the very nice proprietor helped us pick out a few gift items.
Then it was off to the Musée Picasso, where Jean concluded again that modern art isn't really his thing, but he did enjoy some pieces. I was struck by the fact that Picasso's art hadn't progressed as I'd expected it would, from realistic to increasingly abstract, but followed a much more nonlinear (I suppose artistic) set of style changes throughout his life.
Our next stop was rue de la Butte des Cailles, which didn't turn out to be quite as notably charming as advertised. (Perhaps it's different in summer.) But, we did stop in a nice tea shop there. We spent our evening in the Quartier Latin, enjoying walking around at night without feeling uncomfortable or unsafe (even when we got slightly lost).
Food highlights du jour: The pain au chocolat at Gallerie Lafayette—completely without atmosphere, but cheap and delicious. Also the dessert crêpes at some random crêperie in the Quartier Latin, particularly the dramatic-tasting ice cream that accompanied them.
Day 6: Weird science and fine wine
Today's goal museum was the Science Museum, located in the lovely Jardin des Plantes. This museum actually consists of three buildings: the dramatic Gallerie de l'Evolution, a Mineral museum, and a Paleontology museum, mostly featuring old bones. I had pre-determined that I really wanted to go to the Evolution museum, was somewhat interested in the minerals, but could definitely skip the Paleontology (which I had dubbed the "weird bone" museum).
Cathy: You sure this isn't the weird bone museum? I see a bunch of bones in there.
Jean: Well, they're not particularly weird bones.
(Upon paying and walking into the room and seeing nothing but skeletons)
Cathy: This is it! This is the weird bone museum!
Oh well. It turned out to be a somewhat interesting collection of old bones and fossils. Then we did go to the Evolution Gallery, which was more modern and interesting, though not necessarily better than similar museums in other cities. And we skipped the Minerals.
We then did a bit of shopping in the Quartier Latin, including some wine to bring back.
Food highlights du jour: The kir and white wine with dinner at Pré Vert. A Fodor's Choice, it didn't end up being quite as good as la Bastide Odéon, but it was still a nice meal.
Day 7: Toronto to Paris
We went for breakfast at La Coupole for a last hurrah (and chocolate croissant), only to be rained on during the walk there. Ah well. We were pretty much métro veterans at this point, so getting back to Charles de Gaule airport wasn't a problem. Finding our way around Charles de Gaule airport was another story. However, eventually someone helped us locate the Air France flights to Toronto.
The flight back was somewhat longer than there, but seemed very much longer, because we didn't sleep. Jean watched four movies; I saw two (The Bourne Supremacy and Alfie). Pearson was its usual crazed self on arrival; we got through it, checked into our hotel, and met up with Michelle and Hugh after dinner. Then it was back to Waterloo early the next morning.
See also: Some more Paris photos at our Smugmug site