Two weeks in Spain (while turning 40)
Trip to Spain, February to March 2006: Madrid/Tolédo, Andalusia (Seville/Cordoba), Costa del Sol and Gibraltar
Madrid / Tolédo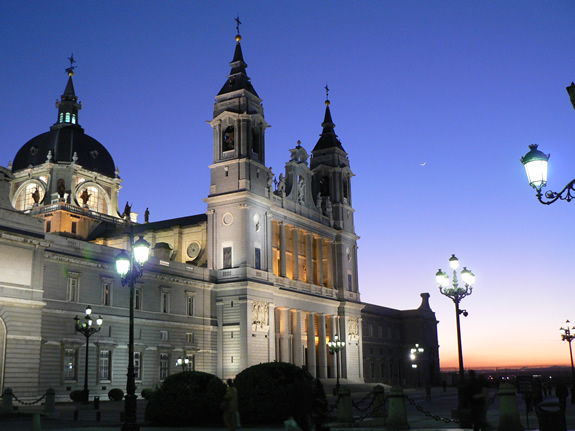 Transportation and hotel notes
Because Sandy was sick, I was unusually anxious about leaving on this vacation. Still, Jean got me out the door, which is good since the traffic got somewhat tied up by an accident. Jean had found a new airport parking service that we ended up being very happy with: it was called Skyway.
We were on British Airways. No real complaints about this airline. The staff was very nice—the pilot for a flight over was quite the entertainer, really—seats were relatively roomy; food was not quite Air France, but was still pretty good; good selection of movies: I got to see Capote, bringing my total of Oscar-nominated films seen to four. And despite short layovers, they didn't lose our luggage.
Heathrow Airport, however, was another story. Connecting through London, we had to get ourselves from Terminal 1 to 4. The only way to do that was to wait for this Airport bus. Which just wasn't coming. More and more people gathered to wait; no buses. People were getting dangerously close to their departure time, and becoming increasingly abusive to the one poor airport staff guy in the vicinity. One woman near the front passed out. It was pretty ugly.
Anyway. Buses did eventually resume, and after a bracing bout of running through the terminal, we made our connecting flight. Ten people did not, however, and we had to wait while their luggage was removed.
Madrid Airport was seriously one of the most beautiful airports I've ever seen. And it was sunny there, which we hadn't yet realized would be the norm for the trip. Getting through Customs was smooth, as seems to be typical with Europe. We took the metro to our hotel for 1 Euro each—wish Canadian airports were anywhere that easy to get to.
Our hotel was right in the middle of downtown, so incredibly convenient. We were on the fourth floor, which made for regular exercise, as we were dubious about the old elevator. Room was a reasonable size for Europe, and all perfectly fine. We didn't spend that much time there.
Sights
The Prado
The Prado is the biggest of Madrid's five art museums. We followed it with an audiotour, which did help us get a lot more out of it, because many of the descriptions were in Spanish. But we found its non-chronological organization kind of strange; you'd see early work by a painter, then later, then earlier again… It was somewhat odd. But definitely some nice pieces—a lot of de Goya, a quite fascinating one called The Garden of Delights by Hieronymous Bosch (1450—1516).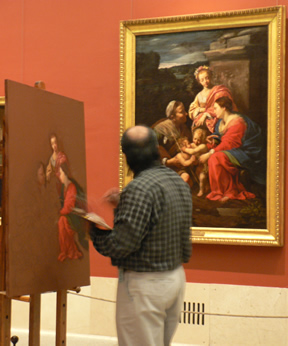 City of Tolédo
Tolédo used to be the capital of Madrid; now the entire city is preserved as a UNESCO site. We spent an enjoyable day there touring. Jean enjoyed the many knives, swords, and antique guns available for sale (for a peaceful man, he's strangely enamored of weapons), but resisted buying any. Most impressive is their huge, incredibly elaborate Cathedral; unfortunately, you aren't allowed to take any pictures of that. You'll just have to go see it yourself.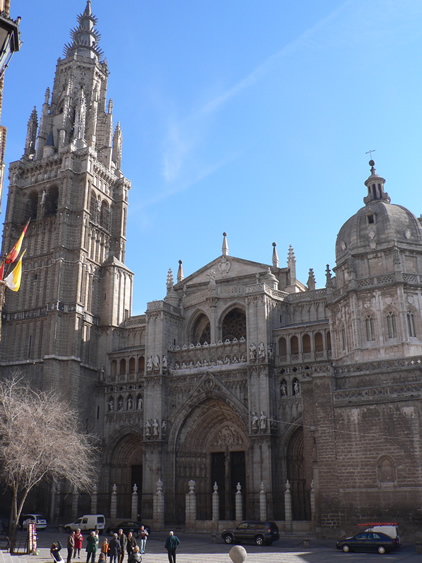 But we did take the tourist tram ride all around the city, which allowed us to get some nice views.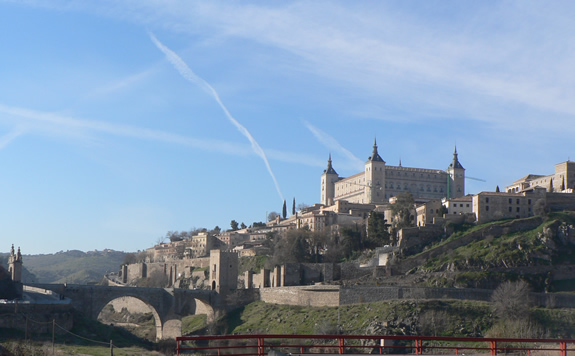 The Royal Palace
Spain still has a royal family, but they no longer live in the Royal Palace. It's just used for functions now, and for tourists to visit. It's worth going to; very elaborate rooms. In one room there was the world's largest single collection of Stradivarius instruments: four pieces. They are quite lovely looking. We got stuck behind a tour group on our visit, which was pretty annoying. But once we managed to get by them, we enjoyed gawking at the riches.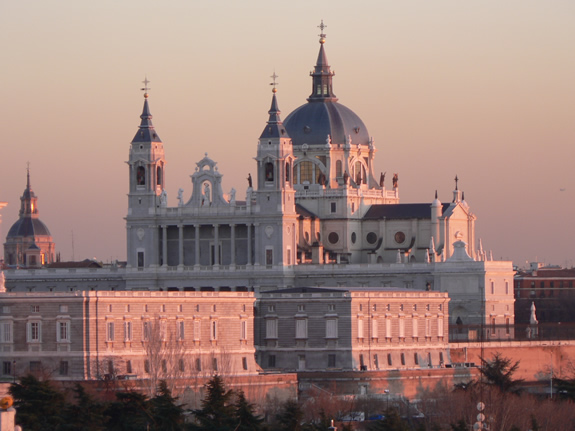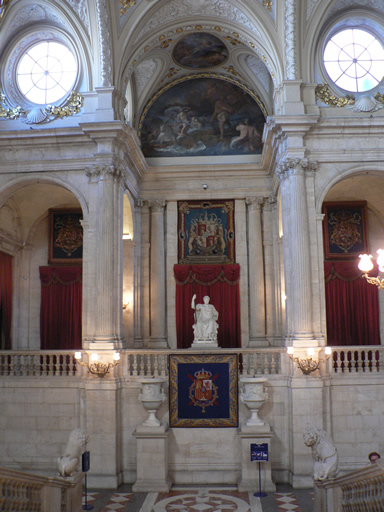 Activities
Just walking around
Madrid had beautiful architecture everywhere and is a very compact, walkable city, so we spent a lot of time just ambling about. (It was also sunny every day.) Grande Via had a lot of shops, so that was one area of interest, though we didn't buy much. We also enjoyed the various "plaza" areas, such as Plaza Mayor.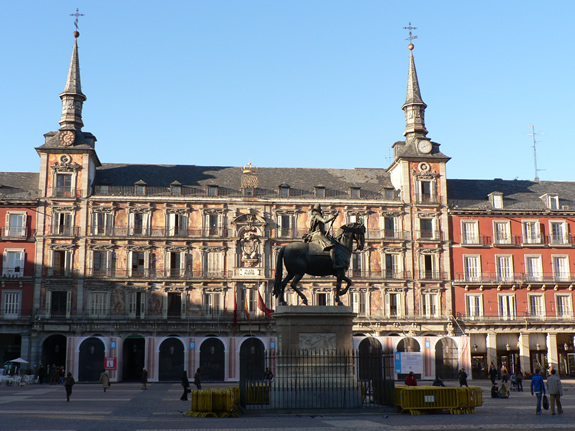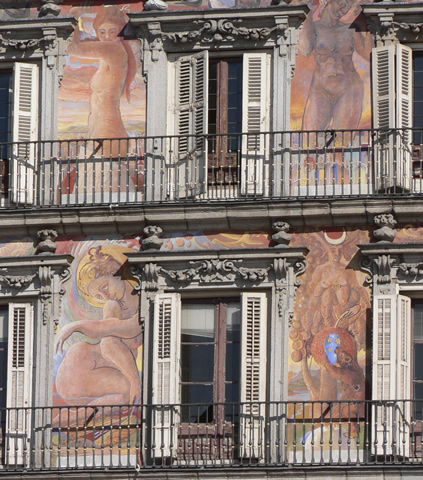 Tapas bar hopping
We are quite proud of ourselves that we did do a little tapas bar tour one night, ordering in Spanish, eating standing up, visiting different establishments, and ending up a little tipsy. Our first stop was a small but boisterous place with a shrimp specialty—very yummy, especially with shrimp sizzling in olive oil and garlic. When we asked for la cuenta, we were given a coupon for another nearby place, so it became the next stop. There we got a sweet wine, and ordered an asparagus dish. Our last stop was the Museo de jamon, or Ham museum. Where we had ham, believe it or not! They do a good job with ham there.
The food report
While we were prepped for having to put up with secondhand smoke, one pleasant surprise was that Spain had passed legislation in December 2005 requiring all restaurants to declare themselves as non-smoking, allowing smoking, or have a non-smoking section. And it wasn't that difficult to find non-smoking restaurants in Madrid; these were often among the most popular places.
A less pleasant surprise was that it wasn't quite as easy to get a good meal as we'd found in the other European countries we'd visited recently (France, Portugal —even Scotland). For example, the paella we had at one place that looked very nice was just too salty, with mediocre mussels. The clams and langostinos were good, but it became tedious having to shell them all as you ate. It scared us off paella for the rest of the trip. A few other meals we had were equally uninspired.
On the other hand, we also had our best meal of the trip here (on my birthday, fortunately; unfortunately, one of the few places where the non-smoking sign was ignored by several patrons). It was a four-course menu:
Cold foie gras with mango—quite nice
Vegetable tempura with papaya—fantastic. Nicely crisp, delicious.
Duck magret (Jean)
Monkfish with pumpkin (me—hey, it came with a vegetable!)
Assortment of small desserts: ice cream with chocolate sauce, brownie, cheesecake, hazelnut mousse (mmm)
We were also quite blown away by the mazapan of Tolédo. Forget about that slightly tough almond paste we get here; this mazapan (no "r") came in many forms, many light and pastry-like, and all incredibly delicious. The little smoke-free Cafe Museum also had good foie gras (Jean) and cod with pine nuts and raisins (Cathy); our lunch in Tolédo was also successful, especially my quail and Jean's rice pudding.
What was weird generally was the lack of vegetables; if you didn't specifically order a salad or a side of asparagus or mushrooms, you often didn't get vegetables. Also notable was the absence of any sort of grain bread—it was always fluffy white—plus the fact that it bread was never served with butter. If you were lucky, you got olive oil.
The wine and coffee were generally good, even in the establishments where the food was disappointing. The hot chocolate was thick like a melted Hershey bar—too much for me, but Jean seemed to like it.
Observations
A lot of fur coats. Way more than you see here. And Jean claims the old women in fur coats are pushy.
Temperatures ranged from 3 to 11 degrees. Not really fur coat weather, but you certainly needed a spring coat and maybe a sweater.
Jean observed that there seemed to be a lot of track pants too (on the younger people).
Couples making out in public places. You also see that quite a bit more.
Street performers whose act is to stay remarkably still. They move when you give them money. Some interesting costumes on these guys (and gals).
Way more men than women wait staff. Who knows why.
Meals are taken later. Lunch might not be available before 1:00. Supper likely won't be available before 8:00, and it might be 9:00. And their breakfasts are small.
Daily we'd see this long lineup of people outside what looked like a hostel. We never figured that one out. But even more mysterious was this incredibly long lineup of people one day outside one of the government ministries. It was crazy. We couldn't even guess what for.
The city streets and sidewalks are cleaned frequently—a fact we appreciated even more later, when visiting less diligent cities.
Policemen everywhere, in cars, walking down the street, on motorcycles… Don't know if that should have made us feel more or less safe.
Andalusia—Seville / Cordoba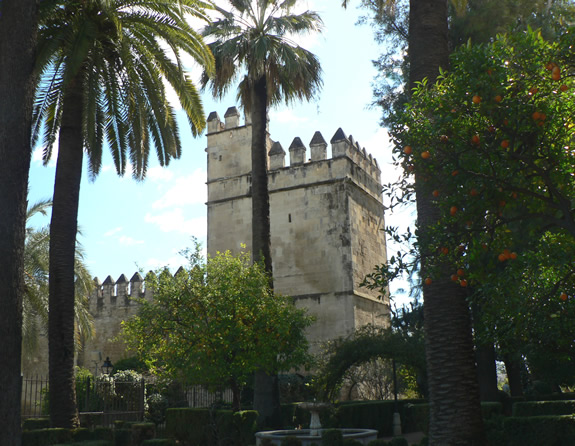 Transportation and hotel notes
Though not exactly a cheap way to go, we loved the high-speed trains. Madrid to Seville in two hours. The trains are new, quiet, and smooth. Movies are available, but we instead listened to copies of the New Yorker and Anthony Bourdain's Kitchen Confidential on the iPod. The latter is a good book for foodies like us, though we could have done without the descriptions of the many injuries kitchen workers sustain.
Our Seville hotel was a four-star, so it was very swank and modern-looking. And they had pushed the two single beds together for us, saving us that bit of labour. (In Madrid, we actually had one double bed! Exciting. I mean, do Europeans not like to sleep together, or something? Weird.) Its location wasn't as nice as the one in Madrid, though. It was pretty close to the train station, but a bit of a hike to downtown.
Sights
Seville Cathedral
As the Scotsmen seemed to have spent all their time building castles, so the Spanish seem to have whiled away many a year building Cathedrals. The Seville one wasn't as impressive as Tolédo's, but was still something to see. In fact, we were very reluctant to leave. Partly, this was because it was so beautiful. But also, it started to absolutely pour rain while we were in there. It was the only rain of the trip, and resulted in us seeing more Seville sights than expected, since we really didn't want to be outside for too long.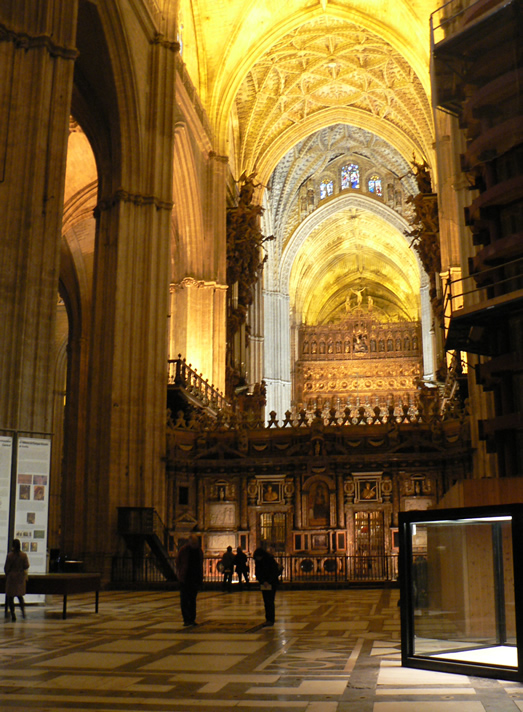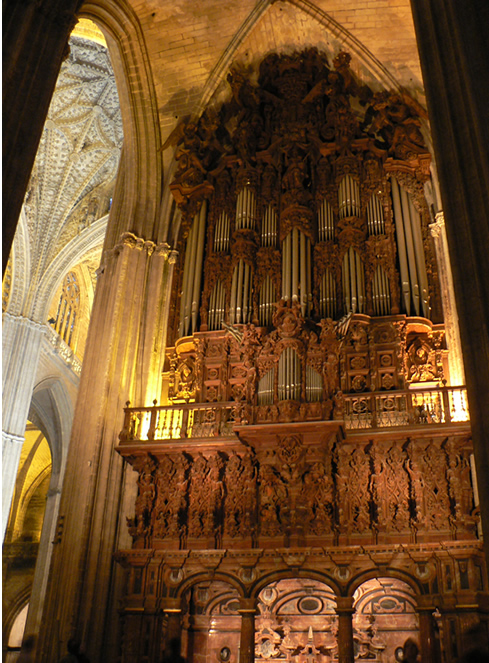 Bullfighting Museum
Another stop on the rainy period in Seville. We got a Spanish/English tour of a bullfighting ring (which continues to be used, but the season restarts in April), along with a small museum inside with bull's heads and bullfighting art and portraits. We also saw where the horses and bulls are kept. Somewhat interesting, but not a must-see.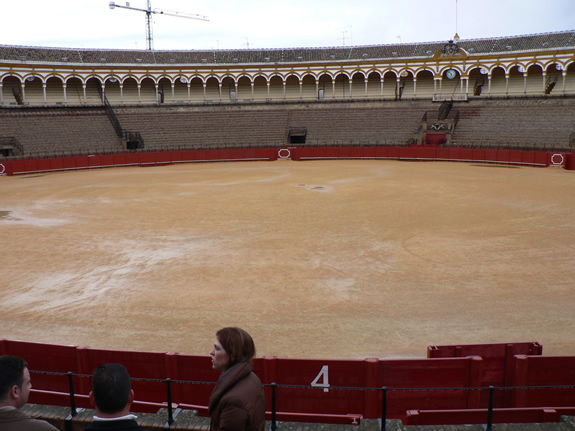 Art Gallery
No photos from here, but we did enjoy seeing the piece at this small (and free!) museum. It had a focus on somewhat lesser-known Spanish artists.
Alacazar (Cordoba)
An Alcazar is a fortress. We're not sure about the details of the history of the Cordoba Alcazar, because the explanations were all in Spanish. But it did have a lovely garden outside.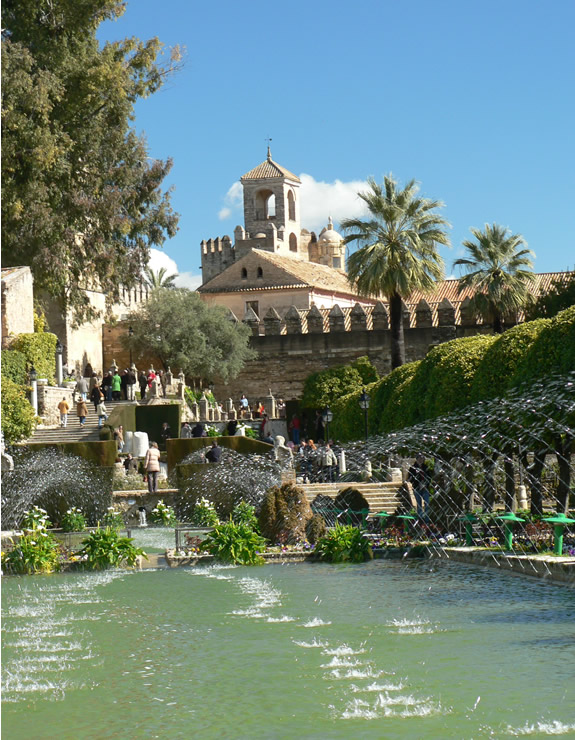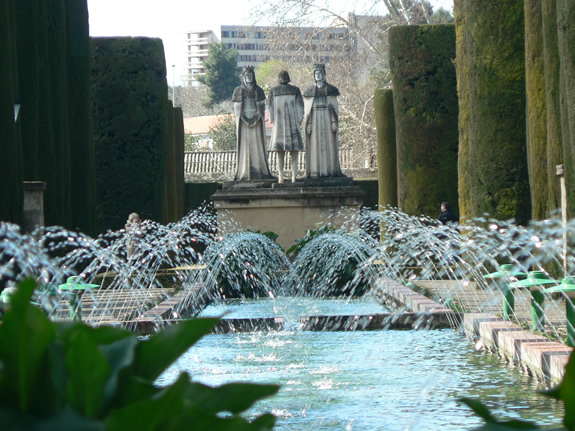 The Mesquita
The main tourist attraction in Cordoba, the Mesquita is an enormous mosque built when the Arabs lived in these parts, that has since been turned into a Christian church. Most of the original architecture has remained intact, but they did build an enormous Cathedral right in the middle of it. It's the oddest thing to see (and hard to capture in a picture, since everything is so big).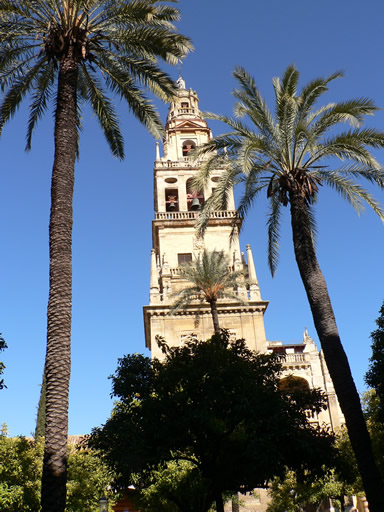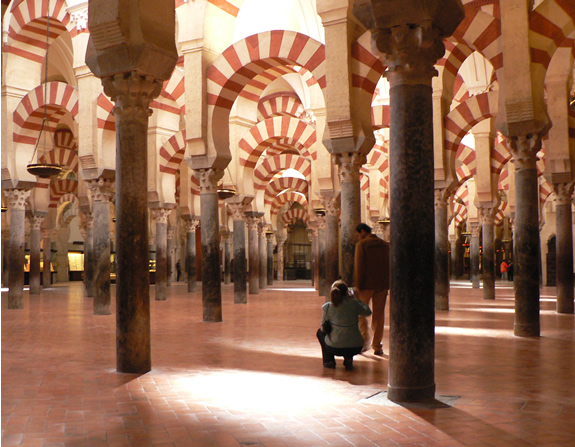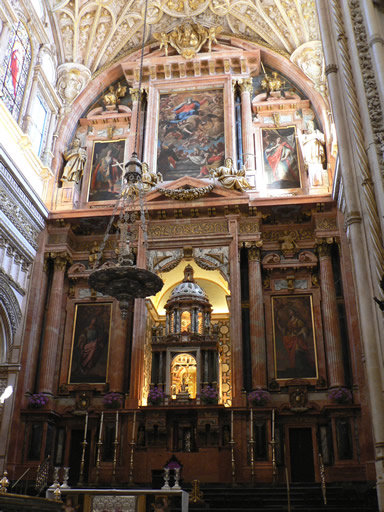 Activities
Walking around Cordoba
It's an interesting city with some lovely parks and interesting, Arab-influenced architecture.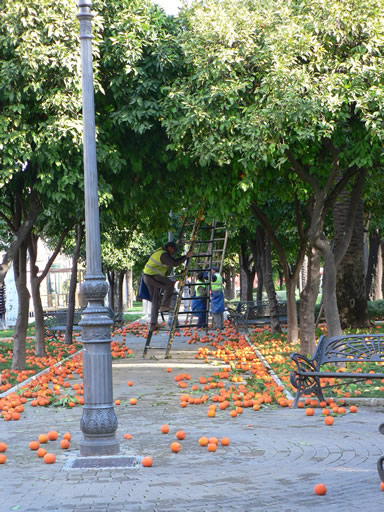 Window shopping in Seville
This is really the place! Mind you, all the shops were closed when we were walking around looking at them. But that's certainly a lot of shoes. I really don't know how you'd ever decide…
Watching the Oscar recap
The only English channel we had was CNN, but it did give us some Oscar news. Like everyone, I was surprised Brokeback Mountain didn't get best picture. Crash was pretty good, but I personally preferred Brokeback.
The food report
We did have a really fun, tasty dinner here at a bistro that happened to have a French (from France) waiter. Jean made the mistake of ordering port here, and was told we'd have to go to Portugal for that. (Or, you know, Canada. 🙂 But we got a Spanish wine-based aperitif instead that was nice. The food menu was rather large and confusing, so he said he would recommend dishes for us. He did a fine job. We had:
Sauteed oyster mushrooms—huge and very fresh
Cold tomato-based soup, typical of the region, quite tasty
Grilled fish—some type we don't have here, but it was quite mild
Grilled pork
For dessert we got complimentary Spanish dessert wine which, with the wine with dinner, was just enough to make us slightly tipsy. But hey, we weren't driving.
Unfortunately, this made our lunch in Cordoba kind of disappointing in comparison, since we ordered similar items but they just weren't prepared as well. It all seemed too greasy.
By this point (we'd also had a fried fish lunch—good, but), we were very much ready for different type of food. With vegetables. And maybe fruit. Both our guide books recommended this Italian place, and we decided that would be the ticket. But we didn't really have a good map of Seville—the tourist place was closed when we got there—and for some reason we didn't look up exactly where this restaurant was before leaving the hotel. We had the address, but…
So we were actually trying to find it by just walking around downtown and hoping we'd come across the street. Smart, eh? OK, so we finally asked a local. He didn't speak English, but we got enough down to find the place on our poor map.
And that Italian dinner was very nice. Big salad with vegetables and fruit; tomato-based and orange-based sauces on fresh pasta; and apple pie dessert. And the first sign of grains in the bread!
It was when checking out of our hotel that it finally dawned on me. Of course, a four-star hotel would have maps available for its clients. And indeed it did, all neatly stacked there on the check-in desk. D'oh.
Observations
Temperatures ranged from 10 to 18 degrees, which seems quite a bit warmer than Madrid. Still need the spring coat, but can now abandon the sweater underneath.
Palm trees everywhere, which is always seems surprising. It's like I expect those to grow only in the Caribbean.
Orange trees all over as well. They smell great, but apparently Seville oranges are pretty bitter—used mostly for making British marmalade.
We did notice more English, French, and German here, whereas Madrid really seemed just Spanish.
Cell phones! Spaniards are crazy about them. But everyone seems to have the same ring tone—odd.
No one offers to help you, ever. No matter how befuddled we looked with our maps, or lack of maps. When we stopped to ask people, they did try to help. But no volunteering happened.
Costa del Sol and Gibraltar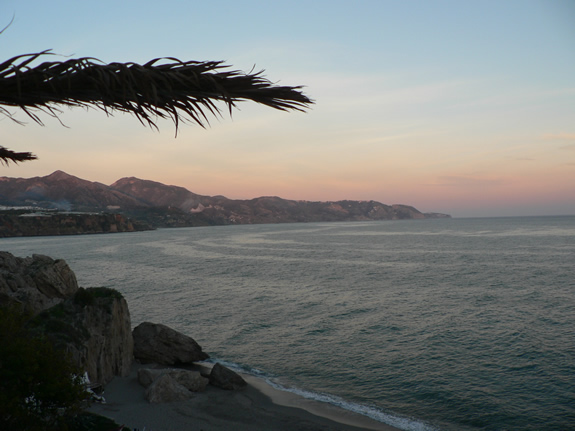 Transportation and hotel notes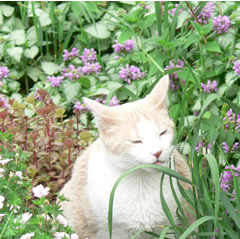 No high-speed train is available from Seville to Malaga, so we were booked on the regular train, leaving around 1:00 pm. So the morning was quite leisurely. The ride itself was less smooth and relatively longer than on the high-speed train, but everything went well. At the train tation in Malaga, we transferred to their regional train to get to Torremolinos. Then we walked from that train station to our hotel.
When we got to the hotel, the manager was on the phone. "You're Jean Lefebvre?" he asked. On confirmation, he said we had a phone call from "Michel". This odd turn of events was our cat sitter saying that Sandy had been to the vet and we should call them.
After a bit of flurry of checking in and figuring out the phone system, we got through to the Waterloo West Animal Hospital, and spoke to our vet. She went through the up and down saga of Sandy's hospitalization. But the final news was that he had passed away the previous night, before she even had a chance to figure out what the problem was.
So, though the Torremolinos beach (if not the town and hotel) was beautiful, this wasn't a time of many pictures. We walked along the very long beach boardwalk where we noticed that the town was frankly overrun with cats. A couple of the orange ones let me stop and pet them. Isn't that sweet?
Our hotel room, while nothing fancy and with no view to speak of, was perfectly fine. We had a little seating area with couch, table, and TV; we pushed the two single beds together; the shower was great.
As with Madrid, transportation to the Malaga Airport was convenient and cheap, by train. And Heathrow Bus problems didn't repeat themselves, so we had no trouble making our connection in London on the way back home.
Sights
Nerja Caves
The major site in Nerja—well, a short bus ride from Nerja—are the Nerja Caves. These are enormous and filled with stalagmites and stalactites. They're somewhat difficult to get pictures of, but just awe-inspiring to see. We bought a book of photos from the rather good tourist shop there. (But the picture below is Jean's.)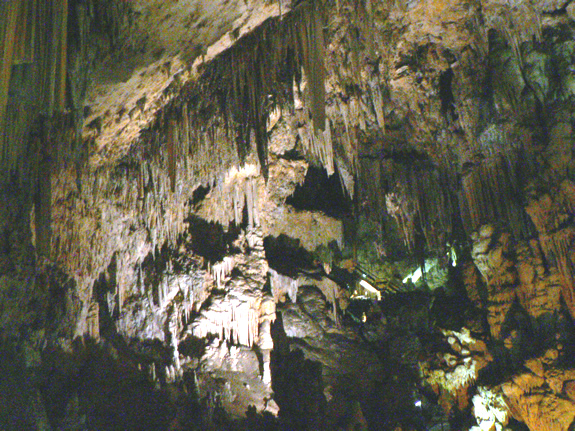 Gibraltar
To get to Gibraltar, which is a British-owned piece of land within Spain, we decided to sign up with a tour company. We did it for convenience (we were picked up right at our hotel), but later figured out that it was actually cheaper to do it this way. Initially we signed up just for the bus ride there, but en-route we decided to sign up for the guided tour as well. That was a good choice because it turned out to be a very worthwhile tour.
On the way, we saw some other Costa del Sol towns like Fuenjirola and Marbella. On arrival, we got off the bus and walked across the border to avoid the long car lineup. We then started our mini-bus tour with the local guide. The tour was all in English, but the guide's (Tony) accent was this odd mix of Spanish and British. Tony was a lot of fun.
We drove through very low tunnels and tiny streets. The first stop was at a very windy lighthouse area. The next was at St Michael's Caves. These too were quite impressive, and we probably would have been blown away if we hadn't seen the Nerja Caves the day before.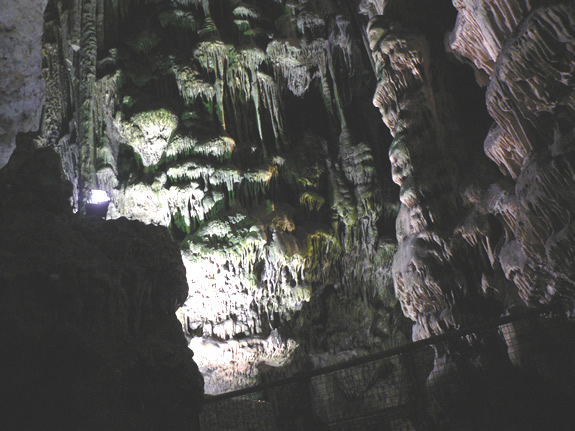 Our next stop was the Ape Cave, where the Gibraltar monkeys hang out. (Actually, some of them had migrated to the St Michael's Cave area, so we'd had a preview.) These guys aren't at all shy. It was something to be so close to wild monkeys (imported from nearby Africa many years ago).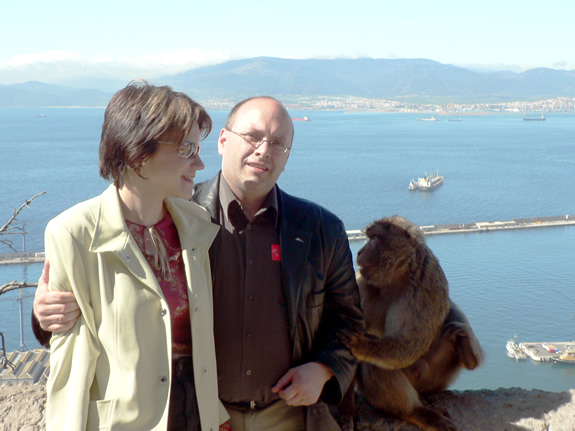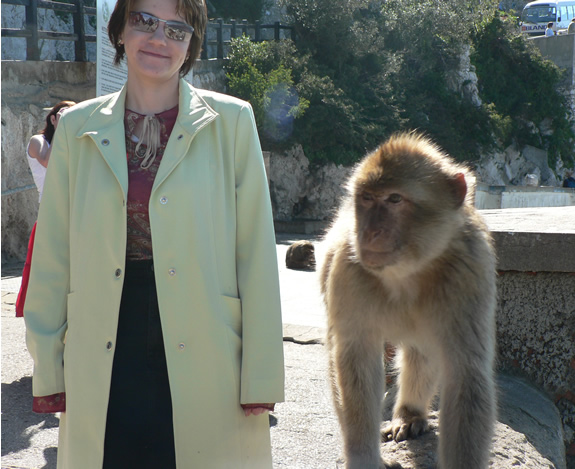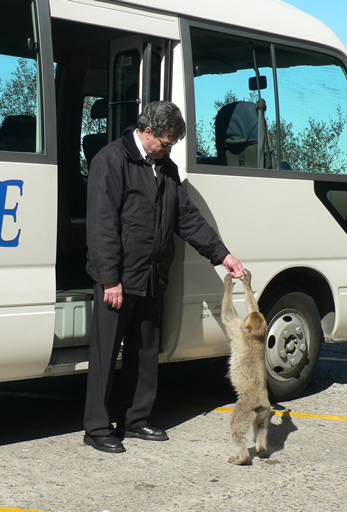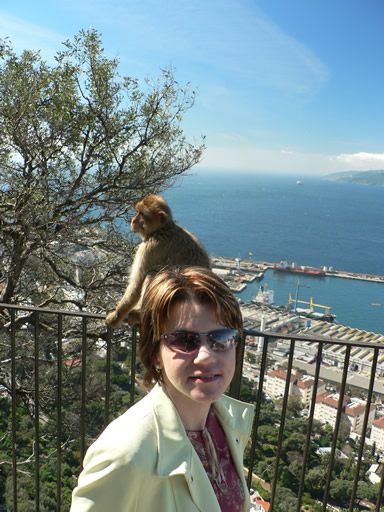 The last part of the visit was free time in the city part of Gibraltar, off the rock. We had lunch there and did some shopping—there are some interesting stores, but we didn't buy a whole lot.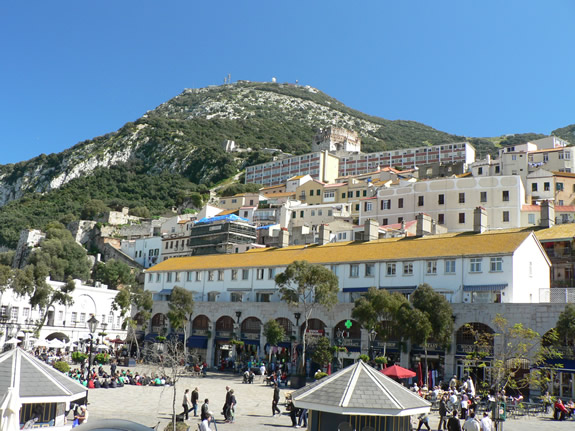 Activities
Hanging out in Nerja
The "white town" of Nerja was really quite lovely; we enjoyed our day there. The Balcony of Europe area overlooking the beach was especially nice. This city was also a good place to do some errands, like buy enormous strawberries and pick up some pharmacy supplies.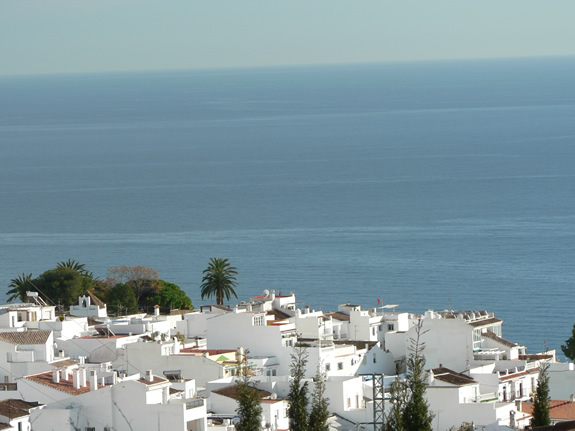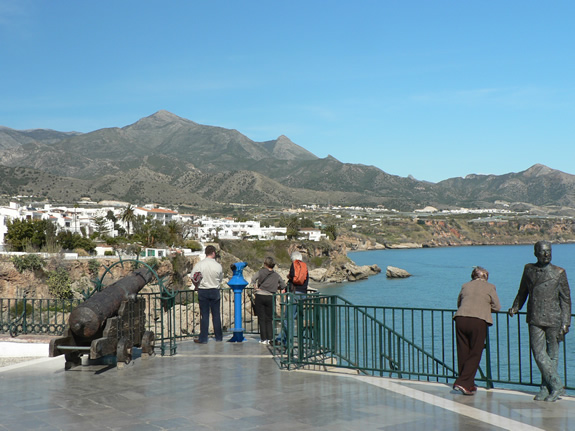 Visiting Mijas
Sherry had recommended a visit to Mijas, another little "white town" not far away. It was indeed a very pretty place, up in the mountains, with a lovely garden area and nice town square.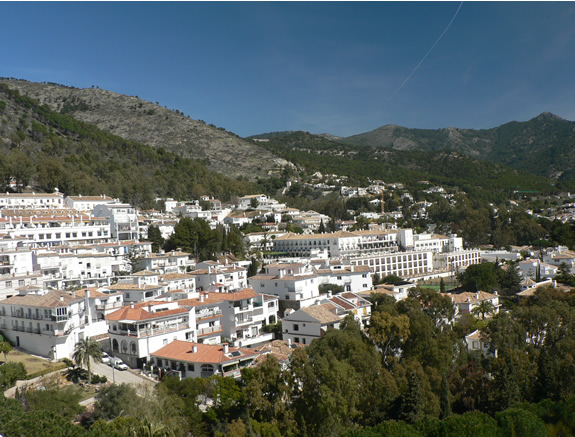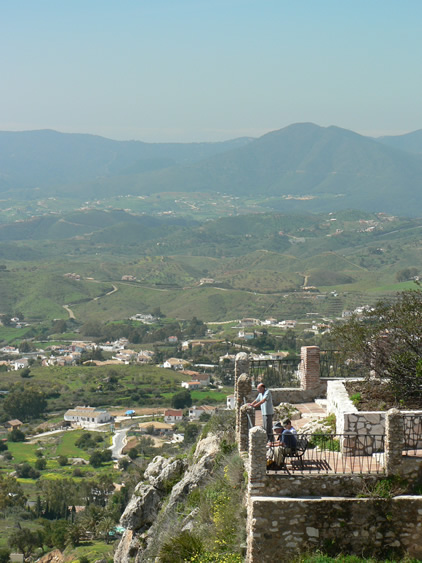 After touring around Mijas for a while, we decided to try to make it to Ronda, a mountain town further afield that features an enormous gorge. That meant busing to Fuenjirolas first. However, buses to Ronda just aren't as frequent, and we missed our connection. So we actually decided to go back to Mijas, and likely have supper there. To pass the time, we visited a few shops, including a Wine Museum that had some interesting information on the local wine industry, but also gave us a chance to pick up various Spanish wines not available here.
Then we made what turned out to be a big mistake and had a glass of sangria at a little pub. About an hour or two later, the wind had really picked up, and both of us felt a little queasy. Jean actually had to go to the bus station washroom to throw up. Dinner no longer seemed that appealing, so we took the bus back to the hotel. Our personal diagnosis: food poisoning, though sangria seems a weird thing to get it from. We spend the night sapped of energy, very thirsty, and thinking that we'd never eat again.
The one thing you can say is that, if we had to get food poisoning, that was about the best time to get it. It was the end of the vacation anyway, and it eased off by the time we had to fly out—we required no extra trips to the tiny plane washroom. We even managed to keep down a little airline food.
The food report
Our Torremolinos hotel, despite being the cheapest of the trip, was the only one that included meals. And not only breakfast; also dinner. Unfortunately, though not surprisingly, the buffet-style food was not very good. The supper we tried only the first night; only the plain spaghetti with plain tomato sauce was really decent. For breakfast, the eggs and related meats looked pretty scary. However, we did enjoy the fruit salad, yogurt, and it's really hard to get toast wrong (especially when you do your own toasting). They even had whole wheat bread.
We did get some pretty decent seafood in these parts, though. Highlights were:
Extremely fresh baby clams simmered in garlic, which we had at a generally good restaurant in Nerja. (The sardines—little ones like here, not the big ones we had in Portugal—and the octopus were decent also.)
Very good oysters a different restaurant in Nerja. Strangely, we were unable to find oysters on the menu anywhere else.
We also enjoyed our British pub lunch in Gibraltar, where we had good Indian food featuring distinctly un-mushy peas, and fish and chips!
Observations
Temperatures now 16 to 27 degrees, so coats could finally be abandoned (though we hadn't figured that out yet in Gibraltar).
We rather missed the compulsive street-washing of Madrid, as here we had to play "dodge the dog poo" (at least in the beach towns).
In preparation (we guess) for their busier Easter tourist season, there was a lot of street construction going on. Annoyingly so, at times, as it made it difficult to find a walking route to the beach.
Bathrooms. The story of the bathrooms is that there wasn't much of a story. They were all your normal toilets, except that the flusher was a pull-up thing. Except in Gibraltar, where they had the British-style big lever instead. Toilet paper was occasionally missing (we carried our own) and soap was often missing (hand sanitizer!). (Which may explain our little bout of food poisoning, actually.)
A lot of tourists here! Quite different from the other regions in that way. Most tourists are British, and most of those seem to have a fondness for ill-fitting shorts. But we also ran into some Americans, French Canadians (easy to pick out because of the accent), and even Spaniards from other parts of Spain.
Torremolinos seemed to not have any non-smoking restaurants, sadly. Afraid to offend the British tourists, maybe?