Very Important People at the Queen show
28 July 2019, Scotiabank Arena, Toronto, Ontario, Canada
I've already written about how the stress of fast-moving Queen + Adam Lambert tickets led me to invest (sure, let's call it that) in VIP tickets this time around. It was mainly for the better seats, but Jean wondered what else was included.
Not sure, I responded. Some kind of separate entry. Maybe a keychain or something.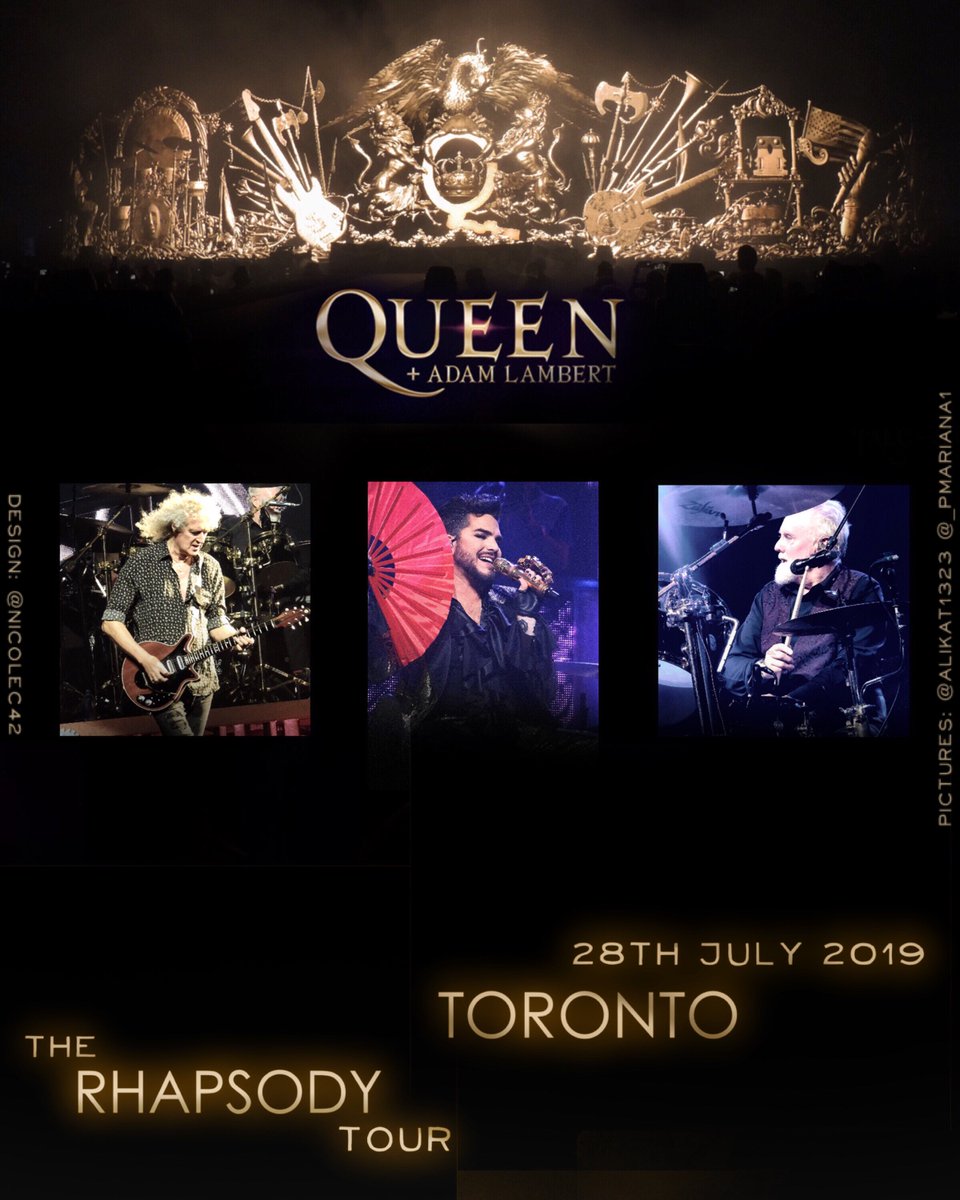 We received an email a few days before explaining where to go for the VIP entry. There was still a line-up there, but a shorter one. They checked our name off a list, gave us tickets (the old-fashioned paper kind), and handed us each a Queen-logoed bag with something in it.
The something turned out to be this purple silk boxing robe with the Queen crest front and back. What could be more perfectly Queen? It was ridiculous, but also fantastic. Who needs a T-shirt if you have this? (It also allowed me to avoid the huge, huge line-up to buy merchandise!)
We made our way to our seats in a very roundabout way (though we were trying to follow the instructions). We ended up 13 rows from the stage. Pretty good seats in a stadium regardless, but at a Queen show, it's even better than that, because they use a catwalk that goes right down into the floor section. When they were on that, we were very close to them.
Talking to some other fans, I realized that the popularity of this show wasn't only due to the movie, but also to the fact that this was one of only two Canadian shows this time out—they didn't play Ottawa, Calgary, or even Montreal… Just Toronto and Vancouver. So we had a few travelers joining the new Bohemian Rhapsody fans (who skewed the age a bit younger than at past QAL shows, though they've all been multi-generational).
Unlike the last iteration, this concert began fairly punctually, counted down by the last, untitled track from Made in Heaven, which people cheered throughout its 22 minutes. Then a bit of "Innuendo" (by which I mean the song, I'm not insinuating anything), and they took the stage. Now they were here. Now they were there.
There wasn't a ton of chatter during this 2.5 hour concert. They mostly let the music do the talking. The Bohemian Rhapsody movie was mentioned only once, when Brian asked if anyone had seen it, but it absolutely informed the set list. Every song from the soundtrack was included. Even "Doing All Right" (the song Smile performs). Even "Ay-Oh"—led by Freddie, of course. (Hey, first time I do "Ay-oh" with Freddie in a crowd, I think.) And including honorary soundtrack song, "I'm in Love with My Car." So we can all judge for ourselves whether it's "strong enough". (It is.)
This was great, because it meant hearing a lot of the early tracks that aren't as often performed, to which they added "Seven Seas of Rhye" and "Lap of the Gods". To fit everything in, many of the songs were shortened and medley-ed, which also suited me fine.
There were changes from past shows. Adam again noted the obvious fact that he wasn't Freddie, but fairly perfunctorily, and only after noting that he's been Queen's singer for 8 years now. He did not comment about trying to find somebody to love, now that he has fallen in love (and this time he knows it's for real.) He did not run around slapping people's hands during "Radio Ga Ga". (Was that disappointing, given that I was closer? Nah. I still wasn't within hand-slapping distance.) The tricycle was traded for a motorbike (for "Bicycle Races"). The sexy "Get Down, Make Love" was absent.
But the omissions were made up for by the additions, which were not all movie-inspired. Brian performed the wonderful "39" to images of the Apollo astronauts, in homage to the anniversary of the moon landing. They performed the truly obscure track, "Machines (or Back to Humans)" (from 1989's The Game), probably because its lyrics seem so contemporary.
And everything you wanted to be there still was.
Adam Lambert demonstrating that he's one of the best singers alive throughout, but particularly on tracks like "Somebody to Love", "Who Wants to Live Forever", and "I Want It All".
Brian managing to not bore everyone during a guitar solo, and only partly because of the very cool space effects.
Brian singing "Love of My Life", accompanied by the crowd, who also provided the lighting. And Freddie joining in at the very end, which somehow continues to bring me to tears.
The trio on the catwalk, performing "Under Pressure" (and a few other tunes).
Costume changes (and not only by Adam).
All the biggest hits—Another One Bites the Dust (with Adam dance), Crazy Little Thing Called Love, Bohemian Rhapsody, We Are the Champions, We Will Rock You.
The magnificent laser show during "Who Wants to Live Forever".
Confetti. We were drowning in it!
The crowd was fantastic, on its feet through the whole show (and not only in the floor section), and ably singing along. The next day on Instagram, Brian May said that Toronto was the loudest crowd so far! Both Brian and Adam made comments about putting phones down, and there were times I wish people had, as they do block the view. On the other hand, the wish is a bit hypocritical of me, as I have the luxury of being totally in the moment and not taking a single photo, secure in the knowledge that Jean was taking over a thousand of them (with a camera, and not a phone, but…).
Being so close, I had to remind myself to sometimes look at big screen to see what the projected effects were. Very cool, as always—like in "Radio Gaga", the band was integrated into what looked like scenes from the past. But much more prominent overall was a theme of forward movement, and looking ahead. Queen, founded in 1970 (or so), is one of hottest bands of 2019. Who woulda thunk.
More Jean photos (no, not a thousand—he picked out a few): https://www.jean-cathy.com/CathysPhotos/Queen-and-Adam-Lambert-2019/
And thanks to "Fiercealien" here, you can see video of the entire Toronto show, from seats on the opposite side and just a few rows closer than we were. (If you're hooked, Fiercealian also offers video of the New York, Vancouver, and Los Angeles shows. Expensive hobby!)
Also see: