Visiting the Charlevoix region
Our first trip to this region, with some other stops on the way. Main lesson: Not the best time of year to go. (That being October 22 to 30, 2005.)
First stop: The nation's capital
Out the night before at a play (Oleanna), we decided that it was just unrealistic to have an early start on this road trip. So we didn't—we didn't get on the road until about 11 AM. The ride to Ottawa was relatively dull and uneventful. Naturally, we arrived too late to do much more than take a walk into downtown (our hotel was near the downtown) and have dinner at Clair de Lune—a very acceptable meal, but nothing outstanding.
The next day was more active. Because Jean admires the building, we visited what used to be the Museum of Civilization but is now being transformed into a Museum of Nature. Displays were few at this stage, but what they had was quite interesting. Then we drove to Orleans to have lunch with Jean's brother and family. It was the first time we'd seen their house—quite nice.
Next was a visit to the new War Museum. It takes you through Canada's whole history of wars, in date order. Exhibits are well-done, but in the end, you are a bit tired of war and thinking, "Can't we all just get along?" But that's probably a very desirable outcome, when you think about it.
We had dinner at Domus, which specializes in using Canadian ingredients in its food. We were quite impressed! Jean had his first foie gras of the trip. Jean eats foie gras very slowly—so slowly, in fact, that our next course arrived before he was done. But the highlight could be the crème caramel for dessert—the first Jean feels comes close to the one he had in France on our honeymoon.
After breakfast the next day, we went to Stubbe Chocolate and stocked up on various goodies. Truly, these people make the best chocolate…
Next destination: Québec's capital city
Again, we didn't arrive super-early, but did have some time to walk around the Old City before supper. I think we tried La Crémaillère this time, which is a restaurant that Mom and Dad went to last summer. That was a nice experience. It's a very attractive room, excellent service, very good food, and slightly lower prices than many of the other high-caliber restaurants.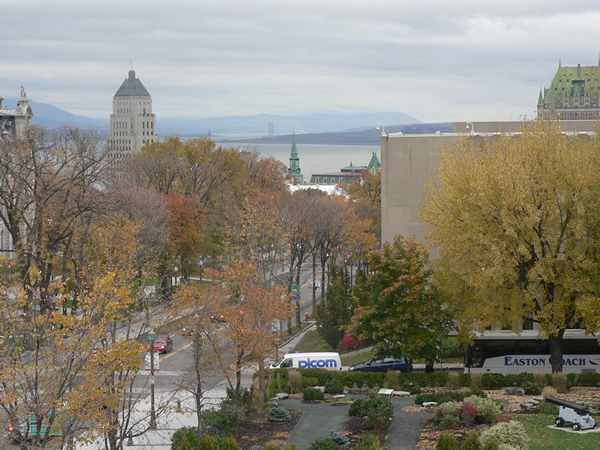 The next day we went looking for a mall, as the weather wasn't so hot. And this proved surprisingly difficult to locate (which does wonders for the mood, when you haven't had coffee yet). Anyway, we did eventually find a mall, get a mediocre breakfast, but then things improved as I bought the apple green coat that I've been getting compliments on ever since. Added bonus: It's much warmer than the coat I had brought, so was better for walking around in.
And that's what we did next, visiting the various little shops of Old Québec. Jean picked up a nice cardigan at a Tristan Amérique store. We decided to have lunch at Le St-Amour, a restaurant with just a beautiful interior, and food to match. For supper we went for Thai at Aspara.
Le Charlevoix
The entry point to Charlevoix is only about an hour from Québec City. On the way, we stopped at a Honey Museum, which shows the whole lifecycle of honey bees. They actually make honey there, so the exhibits feature real bees. We picked up a few honey-based products there—they ended up being so good, I wish I'd bought more.
The drive then got particularly interesting as we went through a mountainous region and actually encountered snow at the higher points. It was quite remarkable how quickly and dramatically the weather changed.
But the snow cleared again, leaving drizzle, when we arrived at Baie St-Paul, the entry-point city to the Charlevoix region. Two things quickly became evident, and would become recurring issues during our visit here:
The scenery was lovely, even though fall colours were a little past their peak and blue skies were relatively rare (see images below).
Being in low tourist season, between summer and skiing, a lot of things were closed or open only on weekends—but we were there during the week.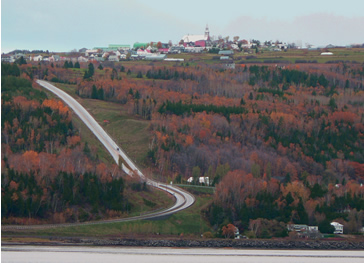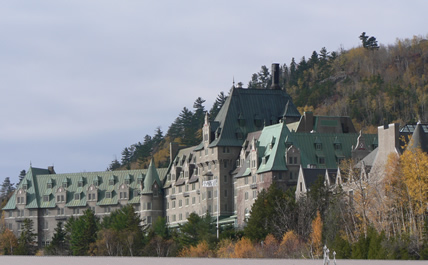 So at Baie St-Paul, for example, we found that Chocolaterie Cynthia was open, but was not serving the ice cream dipped in real dark chocolate that I had read about, nor the crepes advertised on the wall. (We sighed and bought a few truffles.) The three-star restaurant we really wanted to try was open only on weekends. We were able to visit and buy cheese at La Maison d'Affinage Maurice Dufour (they make two wonderful cheeses—the amazing blue Ciel de Charlevoix and a nice, milder cheese called Le Migneron), but their restaurant was closed.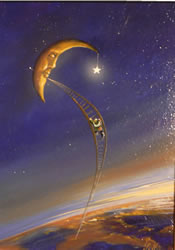 We had similar experience in trying to visit art galleries La Malbaie—they were nearly all closed, even those whose sign claimed they were open (which is just rude). We were able to visit the small but interesting Musée du Charlevoix, which had a nice little shop in it. And we finally found an open store called La Folklorique Boutique. Turned out it was the last week of opening before its fall closing break, so everything was on sale. We did buy an original painting by a Charlevoix artist who was born somewhere in Northern Ontario, but has lived in Québec most of his life. (At left.)
The auberge we stayed at was Auberge Beauséjour. It's large and nice with very friendly proprietors. And, we were absolutely the only guests (beginning to understand why everything is closed). We had signed up for the breakfast/sleeping package only, but with the difficulty in finding open restaurants, we ended up having both our dinners there as well. Not that it was a hardship. Despite being the only guests, we had a full menu of à la carte and specials to choose from. And the cooking was very good—I recall shrimps in anise sauce, grilled trout, and tarte au sucre (lost my trip notes, so I'm going on memory here…).
The second day we got ourselves to La Ferme Basque du Charlevoix by calling ahead to make an appointment. This duck farm, run by a woman formerly from France, specializes in foie gras and other duck products. We got to tour the area and meet the ducks at various stages of life. She pointed out how they had more space and individual care compared with larger operations. We also bought various foie gras products there.
We also took the ferry out to Isle-aux-Coudres. After stopping at the Verger Pedneault, and buying several of their cidars and ice wines, we drove around the rest of the scenic island, stopping for some extra pictures at a windmill.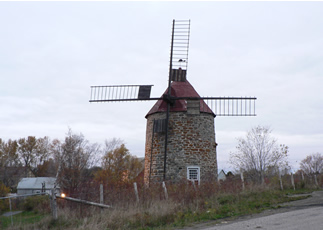 Visiting Montreal
We decided to spend the final weekend of our vacation in Montreal. This also proved to be the best weather of the trip—it got sunny and warmish. We took a wrong turn on the way in to Montreal, and ended up taking a slow route to my sister's. So that was a bit irritating, but we got there. My sister was still at work at this point, so we visited with her husband and three cats. We had dinner there (once she got home) and just had a quiet evening.
The next day we headed out for a little shopping. At a Jacob outlet, I got some pants and lingerie. We then headed into Old Montreal to visit its shops and art galleries; we also had lunch at one of the restaurants there. And, we visited a museum there that we hadn't been to before, presenting the history of Montreal, and also featuring a special exhibit on jazz. Nicely laid out.
A stop at my sister's to change, then we headed out for dinner to Laloux, one of our favourites in Montreal. It was Saturday, though, so it was busier there than we had ever seen it. We met up with up with a friend of Jean's who was in Montreal for conference, his wife, and their son. We all enjoyed our dinners, from the orange mussel soup to the Grand Dessert.
The next day we took my sister and husband out for breakfast, then headed back home.